The Traditional Grain Mixtures Project
Alex McAlvay and collaborators
Globally, we face unprecedented and interconnected challenges related to nutritional insecurity, climate change, and agrobiodiversity loss. Wheat, barley, and other small grains face substantial yield losses under all climate change scenarios. In the past, many grain fields in parts of Africa, Europe, and Asia looked more like wild grasslands, with mixtures of different species of wheat, barley, rye, and/or other crops. This practice of growing mixed grains, also called "maslins," persists, and may represent a risk-management strategy for coping with climate variability. This practice has been replaced by monocropping in most areas, due to an emphasis on uniform breeder's varieties.
Through funding from the Rockefeller Foundation and Atkinson Center for Sustainability, we are working to investigate and revitalize mixed farming practices in Ethiopia, Georgia, and Lebanon, countries that are already experiencing the impacts of climate change through altered drought cycles and range expansion of pests.
Press:
WIRED: This Ancient Grain-Sowing Method Could Be Farming's Future
Cornell Chronicle: Ancient farming strategy holds promise for climate resilience
Ambrook Research: Maslins, a Method of Planting Grains You've Probably Never Heard of
Yale Environment Review: Imagining the future of food with ancient answers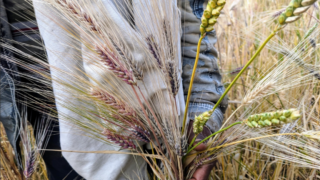 A mixture of wheat and barley varieties grown together by a farmer in South Wollo, Ethiopia.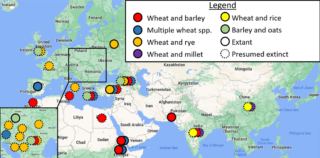 Map of historical and present grain mixtures.