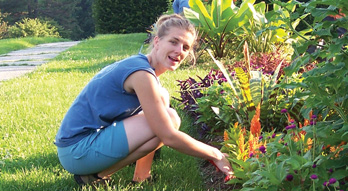 Designed by horticulturists and botanists,the academic courses introduce and explore the multi-faceted field of horticulture. Students are pre-registered for all required courses. Students complete 625 class hours of academic courses, and 60 hours of personal enrichment (optional). Classes are held in the Watson and Library buildings.
- Botany
- Horticulture
- Landscape Design
- Communications & Business Management
- College Credit Recommendation
- Personal Development

Botany
Courses encompass a broad range of topics, including plant physiology, systematics, ecology, evolution, field biology and entomology.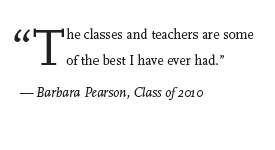 BOT 314 — Basic Science Review
Students discuss essential biological concepts and practice hands-on laboratory skills, such as working with compound, dissecting microscopes and making wet mount slides with fresh botanical material.
Hours: 9

BOT 315 — Botany I: Basic Concepts
Learn about the basic plant body, from the cell o the main component parts: roots, stems, leaves, flowers and fruit. Understand the basic chemistry describing the way plants function.
Hours: 20

BOT 316 — Botany II: Plant Anatomy and Physiology
This course covers primary and secondary plant growth, the role of plant hormones in growth and development, plant metabolism including photosynthesis, aerobic and anaerobic respiration and fermentation, the electron transport chain, glycosis, and the Krebs cycle.
Hours: 20

BOT 317 — Botany III: The Plant Kingdom
Study the evolution and classification of plants as the framework for a survey of the major divisions of the plant kingdom. Explore the basics of genetics, nutrient cycles, and plant ecology.
Hours: 12

BOT 431 — Morphology of Flowering Plants
Through lectures and laboratory work, examine the morphology of the vegetative plant body, flowers and fruit.
Hours: 16

BOT 432 — Systematic Botany
Explore the classification and evolution of the most dominant plants, angiosperms, and the characteristics and principles used to classify and identify them.
Hours: 21

Horticulture
Courses are designed to increase and enhance understanding of plant identification, culture, selection, and maintenance.
HRT 301 — Soil Science I: Physical Properties
Through lectures and labs, learn about the physical properties of soil, soil/water relationships, and soil development.
Hours: 18

HRT 302 — Soil Science II: Chemistry & Nutrition
Explore soil chemistry, nutrient cycles, the use of organic and inorganic fertilizers, and the relationship between nutrient exchange and plant growth. Soil ecology, composting, and soil pH are also covered.
Hours: 16

HRT 306 — Weed Identification
Talk a walk through the Garden to observe weeds in their natural habitat and discuss their identifying characteristics.
Hours: 6

HRT 311 — Horticultural Techniques: Landscape Gardening
Gain the basic techniques used in both garden and nursery, with an emphasis on the practical
skills used in horticulture.
Hours:18

HRT 312 — Horticultural Techniques: Greenhouse Techniques
Study greenhouse growing techniques, including equipment, growing media, fertilization, and more.
Hours: 18

HRT 314 — Horticultural Techniques: Basic Horticultural Construction
Learn basic horticultural construction techniques such as such as path and patio construction, lighting installation, and building dry walls. Proper material selection and tool use will be emphasized.
Hours: 12

HRT 315 — Horticultural Techniques: Turf Equipment
An introduction to various equipment useful in basic turfgrass care; safety, proper use, and maintenance procedures are discussed.
Hours: 8

HRT 321 — Pruning Principles and Practices
In classroom and hands-on work, learn maintenance-pruning techniques for evergreen shrubs and trees.
Hours: 14

HRT 331 — Ornamental Woody Plants: Fall Trees and Shrubs
Study the identification and landscape use of major groups of shade treed and shrubs grown for fall ornamental foliage and fruit. Plant groups covered include Acer, Quercus, and Viburnum, with an emphasis on United States Natives.
Hours: 12

HRT 332 — Ornamental Woody Plants: Broadleaved Evergreens
Study the identification, classification, and landscape use of broadleaved evergreens. Gain a working knowledge of the best species and cultivars of broadleaved evergreens for landscaping.
Hours: 8

HRT 333 — Ornamental Woody Plants: Conifers
Study the identification, classification, and landscape use of ornamental conifers. Gain a working knowledge of best species and cultivars of conifers for landscaping.
Hours: 12

HRT 334 — Ornamental Woody Plants:Spring Trees and Shrubs
The identification, classification, and landscape use of spring-flowering trees and shrubs is the focus of this course. Major plant groups include Magnolia, Malus, Prunus, Viburnum, and other genera that are particularly ornamental in the spring.
Hours: 12

HRT 335 — Maintenance of Shrubs, Vines and Small Ornamentals
Explore planting and cultural techniques such as rejuvenation of older plants, dormant season pruning, fertilization, winter protection, and other vital landscape issues.
Hours: 12

HRT 336 — Ornamental Herbaceous Plants: Spring Perennials
Learn identification, classification, and landscape use of perennials. Spring plants are explored separately. Learn the scientific names, common names, and identification of approximately 100 plants. Please dress appropriately for outdoors.
Hours: 9

HRT 337 — Ornamental Herbaceous Plants: Summer Perennials
Broaden your knowledge of identification, classification, and landscape use of perennial and selected biennial plants.
Hours: 9

HRT 341 — Ornamental Herbaceous Plants: Annuals
Examine the identification, culture, and landscape use of rare and familiar annuals and selected tender perennials.
Hours: 8

HRT 342 — Ornamental Herbaceous Plants: Bulbs
Discover spring, summer, and autumn flowering bulbs, from old favorites to lesser-known exotics.
Hours: 12

HRT 356 — Mathematics for Horticulturists
Master methods of calculating application rates for soil amendments, fertilizers, herbicides and other pesticides.
Hours: 6

HRT 357 — Preparation for Pesticide Applicator's Exam
A 30-hour course required by New York State for anyone wishing to take the Certified Commercial Pesticide Applicator's Exam. Pesticide safety and laws are covered.
Hours: 30

HRT 361 — Ornamental Tropical Plants
Learn the identification, classification, and culture of interior and greenhouse plants. Gain a working knowledge of this important group of plants through slide lectures and field visits to the Enid A. Haupt Conservatory and the Nolen Greenhouse.
Hours: 14

HRT 380 — Entomology
Using fieldwork on the grounds and specimen examination in the classroom, gain a basic understanding of the structure, growth, development, evolution, and classification of insects.
Hours: 16

HRT 381 — Insect Pests of Ornamental Plants
Study insects common on the northeastern United States that feed on ornamental plants. Learn how to identify insects, the type of damage they cause, judge the severity of an infestation, and how to select control measures based on an insect's biology.
Hours: 15

HRT 411 — Plant Propagation I: Basic Principles
Gain an understanding of professional methods of plant production, practicing the basic techniques of seed and asexual propagation.
Hours: 18

HRT 412 — Plant Propagation II: Commercial Applications
A continuation of HRT411 this course covers further propagation methods in detail.
Hours: 18

HRT 421 — Turf and Grounds Management
The basics of turf grass identification, selection, use, and care are covered here. The stress is on efficient management of soil and turf on large or small grounds. Learn landscape maintenance practices for use throughout the year.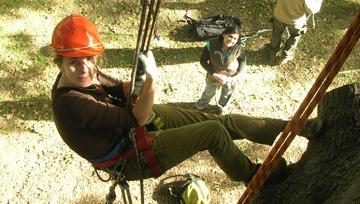 Hours: 16

HRT 422 — Tree Management
Trees living in artificial environments (such as gardens) require much more care than those in the forest. Explore the various techniques and procedures of tree care, viewing examples of tree problems, supplies, and tools.
Hours: 14

HRT 481 — Plant Disease Identification and Management
Learn about common diseases of woody and herbaceous ornamentals caused by bacteria, fungi, nematodes and viruses, and the cultural, biological, and chemical strategies for their control.
Hours: 15

HRT 482 — Effective Weed Management in Turf and Landscape
Learn to control weeds around the home, in the nursery, and in crop and turfgrass areas. Discussions include how chemicals kill weeds, and the use of non-chemical controls. The persistence of herbicides in the environment is examined. Weed biology and identification, common herbicides and their application techniques, calibration and care of equipment, and effective herbicide regimes are also discussed.
Hours: 12

HRT 511 — Greenhouse Management
Gain the knowledge necessary to operate a commercial greenhouse successfully and profitability. Topics include crop scheduling and planning, market trends and the development of a market, types of structures, methods of automation, energy conservation, and record keeping.
Hours: 14

HRT 512 — Nursery Management
An introduction to the practical application of the principles of nursery management, focusing mainly on wholesale growing techniques.
Hours: 16

Communication
courses help students prepare fort the horticulture profession by providing them with skills for public speaking, job acquisition, and business management.
COM 101 — Introduction to Public Speaking
Possessing effective public speaking skills is as crucial as knowing how to edge a display border. Both skills indicate that the practitioner has a high level of professionalism. Learn the skills to become a good public speaker: how to research, rite, and deliver. Students will deliver a short presentation at the end of the course.
Hours: 12

COM 102 — Career Preparation
How do I start? Where do I look? These are some common questions that people have, whether they are seasoned horticulturalists or looking for a career change. This course is geared specifically for the horticulture profession, from preparing resumes with key industry terms to targeting public gardens and dressing for the interview. This course prepares students to embark on their second-year internship search.
Hours: 8

COM 103 — Advanced Presentation Skills
This advanced level course focuses on how to create presentations for different purposes (sales pitch, slide presentation, and graduation speech), how to utilize audio-visual equipment and computer programs, and how to deliver varying lengths of speeches. Students prepare and deliver speeches of varying lengths.
Hours: 10

COM 104 — Introduction to Business Management
Through fieldtrips, lectures, and assigned readings, students learn different components of business management: staffing marketing, operations, financial management, and customer/client development. Students prepare a business plan.
Hours: 12

All communication classes are workshop style.
Landscape Design
Courses include graphics, design, development, and construction of outdoor landscapes.
LAN 301 — Landscape Design History and Theory
Theories and principles have shaped the design of landscapes throughout history from antiquity to the 21st century. Explore Eastern and Western garden traditions. Survey all types of gardens and landscapes including corporate and public spaces.
Hours: 20

LAN 311 — Graphics I
Graphics are used to develop and communicate landscape design ideas. Examine and practice techniques of graphic expression, and learn how to organize and render landscape plans for optimal presentation and construction work. Work with drawing materials and drafting equipment. A separate expenditure beyond tuition is necessary for drafting equipment.
Hours: 24

LAN 401 — Landscape Design I: Site Analysis and Schematic Design
Learn how to understand and analyze landscapes, and to formulate programmatic and functional requirements of a design project. Translate these into schematic design solutions. Take part in class discussions and critiques, and present projects. This is the first of four studio courses. Extensive out of class design homework is required.
Hours: 24

College Credit Recommendation
Most required courses are recognized by the New York State Education Department as equivalent to college-level credit under the National Program on Non-collegiate Sponsored Instruction (NPONSI). Students matriculating for a degree at a college or university may apply to that institution for credit for all NPONSI-approved courses taken at the Garden. The School is authorized under Federal Law to enroll non-immigrant, alien students, and is approved for the training of veterans by the New York State Education Department.

Personal Development
Students are allowed to take 60 hours of courses of their choosing offered by the Garden. These courses are optional and are solely for students' personal enrichment.