Poetry, Art, & Music | Family Programs | Tours & Classes | For Members | Calendar
The 2016 Orchid Show has ended. Stay tuned for information on the 2017 exhibition!
Poetry, Art, & Music
For more events and activities during your visit, view our calendar above.
World Beat: Music & Dance Around the World of Orchids
Saturdays and Sundays, plus Monday, March 28; 1 & 3 p.m.
*Exception: March 5 at 1 & 3:30 p.m. and March 13 at 1 & 2:30 p.m.
In Ross Hall, or seasonally, in Conservatory Plaza
Orchids fascinate and touch the lives of people in every country and culture. Hear stories about the travel and discoveries of early orchid collectors and delight in the music and dance of the countries they explored. Different artists perform throughout the season, highlighting many cultures.
See the full schedule of performers.
Poetry for Every Season Reading: Ada Limón
March 5; 2 p.m. (book signing begins at 1:30 p.m.)
In Ross Hall
In partnership with the Poetry Society of America and keeping with The Orchid Show's exploration theme, the poetry on display celebrates spring, flowers, and beauty. During this special reading that complements the ongoing Poetry Walk, meet Ada Limón as she reads selected works on nature and poems from her collections. Presented in collaboration with the Poetry Society of America
Learn more.
Film Screening: Vanilla: The Sacred Orchid
Saturday, April 2 & Sunday, April 3; 1, 1:30, & 2 p.m.
In Ross Hall
Learn the intriguing life process—from flower to pantry—of the world's favorite flavor. This scenic film examines the full-year cycle of this spice from Veracruz, Mexico. The orchid is still cultivated by the same indigenous people who have been growing it for centuries. The film is directed by Curtis Craven and runs 26 minutes.
Film Screening: Adaptation
Saturday, April 9 & Sunday, April 10; 2 p.m.
In Ross Hall
In this popular 2002 feature film inspired by Susan Orlean's book The Orchid Thief, Nicolas Cage plays Charlie Kaufman, a lovelorn L.A. screenwriter overwhelmed by feelings of inadequacy, self-loathing, and the screenwriting ambitions of his freeloading twin brother, Donald (also Cage). While struggling to adapt The Orchid Thief by Orlean (Meryl Streep), Kaufman's life spins from pathetic to bizarre. The lives of Kaufman, Orlean, and John Laroche (Chris Cooper), the orchid poacher and subject of the book, become strangely intertwined as each one's obsession collides with those of the others. (114 minutes, Rated R)
World Beat: Music & Dance Around the World of Orchids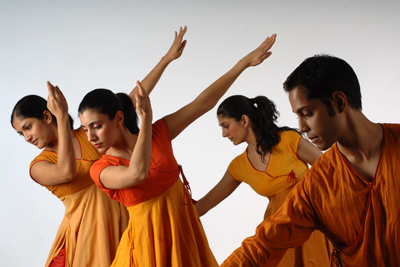 India: Parul Shah Dance Company
February 26, 27, & 28
Parul Shah's work builds on the dance form's mythological storytelling roots to explore universal narratives, using a rich movement vocabulary that communicates the dynamic and often paradoxical nature of modern life. While preserving the emotive quality unique to Indian classical dance, Shah tells her own stories that foster understanding, empathy, and relationships between audience and performer. kathakdance.com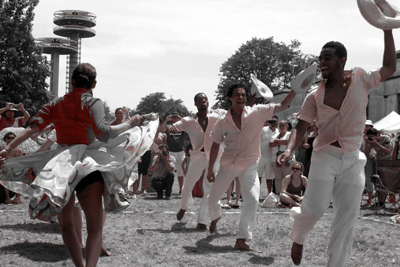 Colombia: Pajarillo Pinta'o Dance Company
March 5 & 6
Pajarillo Pinta'o Dance Company spreads the pure essence of Colombian Folklore to the world through music and dance. Founded in 2003 by Artistic Director Daniel Fetecua, performances of traditional dances from all regions of Colombia showcase a rich culture. They also continue to create new works that fuse and blend the traditional with contemporary. Pajarillo Pinta'o has performed throughout the U.S., Europe, and Latín America. pajarillopintao.org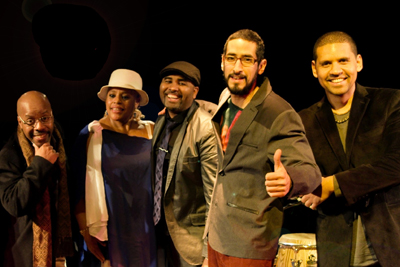 Peru: Hector Morales Afro-Peruvian Ensemble
March 12 & 13
Directed by Peruvian drummer Hector Morales, the ensemble performs uplifting festejos and zamacuecas, dazzling Peruvian waltzes, sensual landos, and classics of Afro-Peruvian culture. This remarkable ensemble includes former Peru Negro singer Mariela Valencia, percussionists Marcos Napa and Hector Ferreyra, award-winning Peruvian guitarist Yuri Juarez, and Laura Andrea Leguia on saxophone. hectormorales.net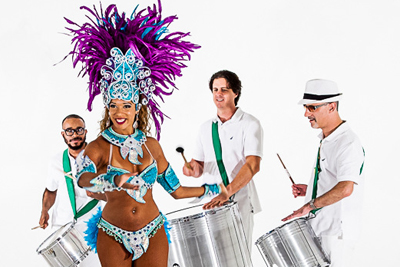 Brazil: Samba New York!
March 19 & 20
Take a journey through the exhilarating sounds and colors of samba—Brazil's most celebrated music and dance. Experience the fun and excitement of Rio Carnaval without getting on a plane! Samba New York! is dedicated to Brazilian samba culture, offering shows, drumming classes, and guided music trips to Brazil. The Estado de São Paulo, one of Brazil's most prominent newspapers, recently praised Samba New York! as "the most famous and active 'school of samba' in New York City." sambanewyork.com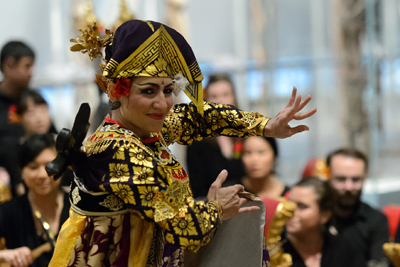 Indonesia: Gamelan Dharma Swara
March 26, 27, April 9 & 10
In Java and Bali, gamelan is the musical background to every social and cultural gathering, from religious rituals to mainstream radio broadcasts. At the core of gamelan culture is the belief that music is meant to develop and adapt its repertoire: this central idea animates the New York City-based Gamelan Dharma Swara. They are one of the most respected Balinese gamelan ensembles outside Indonesia. Their repertoire draws from classical gamelan literature and incorporates contemporary pieces specifically written for the group—a perfect example of tradition redefined by contemporary interpretation.

Performances on March 26, 27, and April 9 feature a batel ensemble, which traditionally provides vibrant musical accompaniment to Balinese shadow puppet plays; and April 10 will feature the shimmering sounds of the gamelan semara dana, the Balinese percussion orchestra, with some dance as well. dharmaswara.org
Mexico: Calpulli Danza Mexicana
March 28, April 2 & 3
Performances by New York City's premiere traditional Mexican dance company are always colorful, passionate, and inviting, featuring glorious costumes, contagious rhythms, and talented performers. Calpulli Danza Mexicana expands its audience's knowledge and appreciation of Mexican dance and culture, across the United States and globally, with a collective group that performs year round. calpullidance.org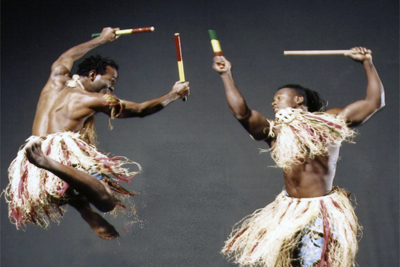 Brazil: Nego Gato Afro-Brazilian Music and Dance Ensemble
April 16 & 17
Join us for an exciting, energetic, elaborately costumed, engaging event that will have you dancing! Take a trip and experience the authenticity of the energy, vibrancy, and magic of Bahia, Brazil. The Nego Gato Afro-Brazilian Music and Dance Ensemble seeks to empower and enrich the world community through performance and education about the Afro-Brazilian arts of music, dance, and Capoeira, a form of martial art/dance. The ensemble brings to their audiences the living history of Africans brought to Brazil through music and dance that has survived for over 500 years. Director Jose Sena grew up immersed in the sounds of Carnaval, Candomble Spirituality, and the street music of Salvador, Bahia, Brazil. negogato.org
About the Poet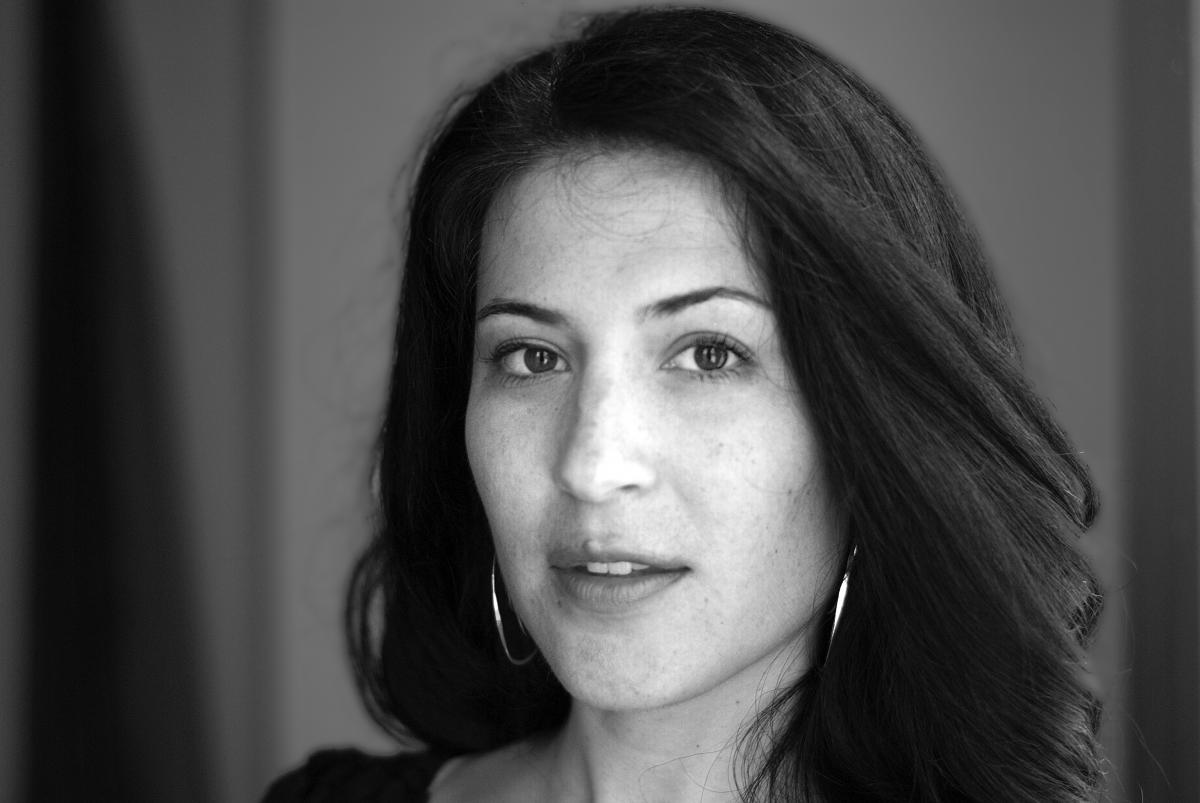 As a child in Sonoma, California, Ada Limón was greatly influenced by the visual arts and artists, including her mother, Stacia Brady. In 2001, she received an M.F.A. from the Creative Writing Program at New York University.
Her first collection of poetry, Lucky Wreck (Autumn House Press, 2006), was the winner of the 2005 Autumn House Poetry Prize. She is also the author of This Big Fake World (Pearl Editions, 2006), winner of the 2005 Pearl Poetry Prize, and Sharks in the Rivers (Milkweed Editions, 2010). Her poems have appeared in The New Yorker, the Harvard Review, and Pleiades.
A 2001–2002 fellow at the Provincetown Fine Arts Work Center, she has also received a grant from the New York Foundation for the Arts and won the Chicago Literary Award for Poetry. She splits her time between Lexington, Kentucky and Sonoma, California.
Founding Sponsor:


Major Sponsors:
Mr. and Mrs. Charles M. Royce
Sponsors:
Karen Katen Foundation