The Orchid Show:
Florals in Fashion
February 17–April 21, 2024
The 21st edition of NYBG's iconic and beloved Orchid Show will be a fashion-inspired celebration of all things orchids, featuring the unique designs of Collina Strada by Hillary Taymour, Dauphinette by Olivia Cheng, and FLWR PSTL by Kristen Alpaugh. Visitors will be invited to get up close to a variety of diverse orchid species amidst dramatic, picture-perfect installations created by these three featured designers and inspired by the captivating nature of these flowering plants. On-site activations and ongoing public programs will allow visitors to "walk the orchid runway" and show off their own personal style, their love for orchids, and their fashion-forward connections to the natural world.
Meet the Designers
Discover the lauded contemporary designers bringing this year's Orchid Show: Florals in Fashion to life with dramatic creations inspired by this diverse and colorful flowering plant.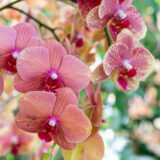 Orchid Nights Return!
March 30 & April 5, 6, 12, 13, 19, & 20, 2024
7–10 p.m. 
Join us as New York City's most spectacular after-dark outings return and enjoy signature cocktails, music, and myriad food and beverages for your enjoyment.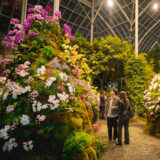 For Members
On Member Days, Members can take advantage of exclusive benefits including free parking, 20% off at NYBG Shop, 15% off dining, and up to 4 half-price tickets for guests.