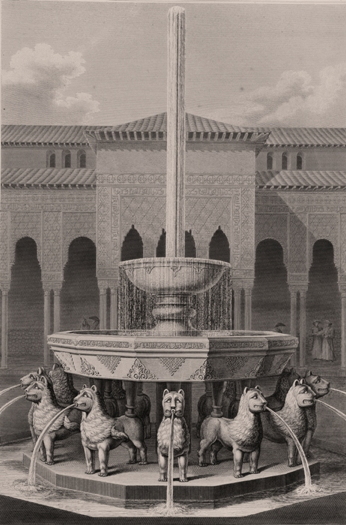 SPANISH PARADISE : Gardens of the ALHAMBRA at The New York Botanical Garden May 21–August 21, 2011
---
The lush gardens and poetic vistas of the Alhambra—the legendary Moorish palace in Granada, Spain will be the inspiration for the spring exhibition at The New York Botanical Garden. The Garden wide exhibition will explore the Alhambra through three components: a spectacular 15,000-square-foot interpretation of its gardens in the Botanical Garden's landmark Enid A. Haupt Conservatory; Historical Views: Tourists at the Alhambra, a display of rare folios, prints, photographs, artifacts and drawings of the Alhambra, on view in the Garden's Rondina and LoFaro Gallery and curated by Patrick Lenaghan, Curator of Prints and Photographs at The Hispanic Society of America and finally by a "poetry walk" featuring selected works of Federico García Lorca, selected in collaboration with the Poetry Society of America.

Art and Artifacts of the Alhambra in the Library Gallery
Interpretation of the Alhambra in art, literature, and the popular imagination has until recently been shaped by the accounts of foreign visitors rather than Spaniards. In the Library's Rondina and LoFaro Gallery, the exhibition Historical Views: Tourists at the Alhambra will look at the ways in which the palace complex was viewed by some of the many international travelers and artists who visited it. The materials on view have been drawn from the rich collections of The Hispanic Society of America, The New York Public Library and Historic Hudson Valley and range in date from the sixteenth to the early twentieth centuries.

The Gallery presentation includes some of the earliest published depictions of the Alhambra seen in topographical views of Granada; seventeenth century interior views of the palace and elaborate illustrations of Arabic architectural details. Early nineteenth century views feature "typical" Spaniards, including gypsies, bullfighters, bandits, fair maidens, and fat priests.

It was Washington Irving who created the popular image of the Alhambra as an alluring, mysterious palace. Irving lived in the Alhambra during the summer of 1829 and immortalized it in a collection of essays and stories published in 1832. On view will be one of Irving's Spanish diaries and a notebook in which he practiced the Arabic alphabet. Also featured are several artifacts from the Alhambra and a stunning series of early twentieth century watercolor views allowing visitors to become immersed in the history and design of the Alhambra.