For Families



Every day at the Garden families can embark on an exciting adventure to discover the world of plants. Each season brings new opportunities to explore and to make lifelong connections with nature.
The New York Botanical Garden is the perfect place to bring your family any time of the year. Every day there are hands-on, interactive experiences and activities for kids of all ages.
Explore nature and the outdoors everyday at the Everett Children's Adventure Garden complete with seasonally changing programs, themed outdoor galleries, a natural wetland and two mazes just for kids. Guided activities take place every afternoon starting at 1:30 and all day on Saturdays and Sundays.
Hands-on gardening activities are offered April through October at the Ruth Rea Howell Family Garden where children are allowed--no, encouraged!--to play in the dirt. Dig! Plant! Grow! with us every afternoon. Activities change monthly so there's always something to explore.
Throughout the year special events and programs for the family will have you coming back for more to explore. Family concerts, school break activities, adventure day camps, family workshops, birthday parties, and gardening programs for children are offered year-round.
Mario Batali's Kitchen Gardens in the Ruth Rea Howell Family Garden
Starts April 6
Kids can explore with Mario's Menu Mystery game, featuring favorite vegetables and herbs from nine of his restaurant's kitchens, including Otto and Del Posto.
Cooking Demonstrations in the Ruth Rea Howell Family Garden
Starts May 11
Cooking demonstrations take place every Wednesday, Saturday, and Sunday at 2 and 4 p.m. at the Whole Foods Market® Family Garden Kitchen.
Edible Academy Family Garden Picnic
Monday, June 10, 4-8 p.m.
Join Mario Batali for a delightful and delicious picnic, designed by the culinary master himself. Fun activities abound, including learning how to grow vegetables, face painting, tree climbing, and crafts, followed by a booksigning and exciting cooking demonstration by Mario and friends. Then enjoy a festive reception with signature Mario-inspired cocktails and culinary treats. All proceeds benefit the Garden's Edible Academy, hub of the children's vegetable gardening program. Separate ticket required.
Sign up here to receive an email alert when tickets are available to purchase.
Family Dinners with Mario Batali's Chefs
Sundays, July 28, August 11, & September 29; 5-7:30 p.m.
Celebrate the Edible Academy and Mario Batali's Kitchen Gardens with chefs from Mario's acclaimed restaurants. Each dinner features a three-course, family-style menu designed by one of Mario's chefs using fresh, seasonal ingredients like those grown in his gardens. Also enjoy hands-on gardening and craft activities, live cooking demonstrations by Mario's top chefs in the outdoor Whole Foods Market® Family Garden Kitchen, and more. Programming geared for kids ages 4 to 12. A MasterCard® Priceless New York event.
Sign up here to receive an email alert when tickets are available to purchase.
---
Want to know what's going on at the Garden right now? There are many ways to keep on top of Garden happenings! Find the one that's right for you, and we'll keep you updated with informative, beautiful, and interesting updates throughout the week.
---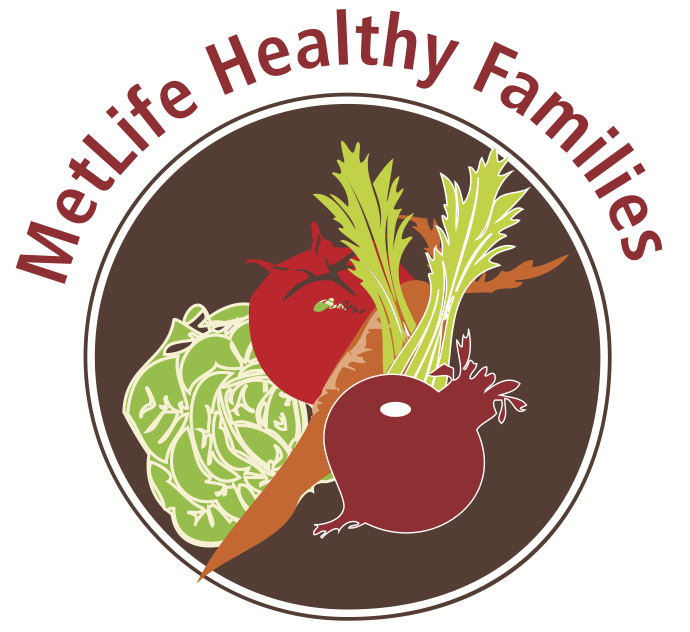 The Children's Gardening Program is a part of the MetLife Healthy Families Program at the Garden, made possible through the generous support of

Community Garden Programs sponsored by

Leadership support for Children's Education Programs is provided by the Altman Foundation, Mr. and Mrs. Jonathan C. Clay, Con Edison, Cleveland H. Dodge Foundation, Inc., The Everett Foundation, William Randolph Hearst Foundation, Mrs. Andrew Heiskell, Motorola Solutions Foundation, and the Stavros Niarchos Foundation.
Everett Children's Adventure Garden
Calling all young explorers! Enter a place made just for you to explore the wonders of science and nature.
Plants and imaginations grow in the Family Garden, where you're allowed (no, encouraged!) to play in the dirt.
Become a Plant Hunter and travel through a world of plants and discover 66 plants from around the globe that all live in the very same building. Each ''house'' of the Conservatory features a different biome, perfectly designed for the plants that grow there.
More to Explore
Budding Masters
Kids can explore their inner artists with interactive workshops that connect nature and art. Programs span a wide spectrum of disciplines, including painting, sculpture, architecture, and design, while delivering memorable experiences. Learn more at nybg.org/buddingmasters
Summer Camps
Starting July 8, 9 a.m. - 4 p.m. Sessions for 5- to 7-year-olds or 8- to 10-year-olds
Choose from three camps full of adventure, discovery, and creativity: Art of Nature, Wild Wetlands, and Forest Adventure. Early drop-off and late pickup options are available. To learn more and register, call 718.817.8181.
Programs in the Family Garden are supported by the Cleveland H. Dodge Foundation, Inc., and the Marion Moore Foundation, Inc.
Bronx Arts Ensemble Family Concerts
Jack and the Beanstalk
Sunday, May 12, 2013, 1 & 3 p.m.
The Bronx Arts Ensemble, with the New York Lyric Circus' master juggler, magician, and storytellers, tells this classic story. Look for wonder and magic--a moving haystack, a talking harp, and the goose that lays golden eggs.
The Three Little Pigs
Sunday, June 16, 2013, 11:30 a.m. & 1 p.m.
The Three Little Pigs meet Charlie's Angels in this hilarious Kung Fu Wolf Caper spoof of the classic children's story. Children will be introduced to the oboe, clarinet, and bassoon in musical selections before the show.
Birthday Parties at the Garden
Birthday parties at the Garden are fun and educational! Your party package includes:
* Garden instructor to conduct seasonal activities and a scavenger hunt
* Decorative paper goods and party materials
* Organic juice boxes, bottled water, and pizza from Little Italy's Arthur Avenue
* Complimentary guest parking
* All-Garden Pass for each guest, including entry to all exhibitions--the ultimate party favor!
For more information regarding seasonal pricing and availability, call 718.817.8687 or e-mail grouptours@nybg.org