23rd Annual Landscape Design Portfolios Lecture Series: David Rubin
Monday, November 1, 2021
6:30 p.m. EDT | Online
Known for his design talent and advocacy for social justice within urban spaces, David Rubin will share his concern that the connective tissue of our cities-the "third spaces" between work and home-are not truly public or reflective of the general population. His work reflects his belief that "accessibility begins with the invitation to participate." In this presentation, Rubin will illustrate how his designs explore issues of identity and accessibility with a focus on Franklin Park and the National World War I Memorial in Washington, D.C., as well as Eskenazi Health Hospital and the Cummins Distribution Headquarters in Indianapolis.

The founding principal of DAVID RUBIN Land Collective in Philadelphia, David Rubin, PLA, FASLA, FAAR, has garnered awards for his empathy-driven designs from the American Society of Landscape Architects and the American Institute of Architects, in addition to the prestigious Garden Club of America Rome Prize in Landscape Architecture from the American Academy in Rome in 2011. A graduate of Connecticut College and Harvard's Graduate School of Design, he is a Design Critic at Harvard.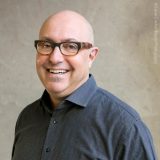 We offer Continuing Education credits (CEUS) for LACES for successful completion of this course.
CART Interpretation will be provided at this event. For accommodation requests related to a disability, questions, comments, or more information about the accessibility of this event, please contact Lisa Whitmer at access@nybg.org or 718.817.8765.