Alley Creek Wetlands, A Floristic Quality Assessment
Friday, August 21, 2020
11 a.m. | Online
The Alley Creek wetlands are located at the mouth of Little Neck Bay, in northeastern Queens, NY. Consisting of a tidal estuary bordered by marsh, meadows, ponds, wetland, and upland forests, this ecosystem hosts a considerable diversity of plant life. After years of neglect, this area is being slowly restored to its natural diverse habitat through ongoing projects. Using a combination of technology and field work, a Floristic Quality Assessment was done of the Alley Creek Wetlands which gauges the health of native plant life in light of the recent restoration efforts and provides a methodological foundation for future assessments.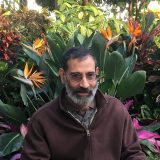 About the Speaker
John Virzi is a citizen scientist with the New York City EcoFlora Project. He has also conducted floristic field surveys in Central California and the Cape Floristic Region of South Africa.
He holds an AAS degree in Horticulture from Farmingdale State College and is an advocate for the use of native plants in garden design for the benefit of biodiversity. Mr. Virzi brings a data driven sensibility and approach to floristics that stems from his long career as an electronics engineer, during which time he developed a quality metric to guide the procurement and reuse of silicon intellectual property. He also holds BS and MS degrees in Electrical Engineering.
Support for the Humanities Institute provided by The Andrew W. Mellon Foundation