Brian Boom, Daniel Atha and collaborators
The New York City EcoFlora project is designed to serve two complimentary purposes: (1) to meaningfully engage New Yorkers in protecting and preserving the City's native plant species, and (2) to assemble new, original observations and data on the City's flora to better inform policy decisions about management and conservation of the City's natural resources. The metropolitan area is home to a significant diversity of plants, animals, fungi, and habitats that provide such vital ecosystem services as cleaning the air and filtering the water. But this biodiversity is under increasing threat by development, invasive species, and a changing climate.
The project, in the prototyping phase through 2017, seeks to engage the public as citizen scientists to observe, collect, and compile information about the City's plants and their relationships with other organisms, such as birds, insects, and mushrooms, and combine these data with all that is already known from natural history collections and scientific publications. The New York City EcoFlora will be a real-time, online, ongoing checklist of plants—the first ever to connect plants in the web of life in New York City—that will result in a dynamic resource for conservation planning as well as in New Yorkers that are better informed about the importance of urban ecologies and who can contribute to protecting them.
Science
Preliminary Checklist of the Vascular Plants of New York City
New York City EcoFlora: Herbarium Specimen Data
New York City EcoFlora: Citizen Scientists' Observations
First report of Arum italicum invasive in New York
First report of Hydrocotyle batrachium in North America and Hydrocotyle sibthorpioides in New York
First report of Gamochaeta pennsylvanica in New York
The historic and extant spontaneous vascular flora of The New York Botanical Garden
Press
NYBG Press Release: NYBG's Center for Conservation Strategy Launches New York City EcoFlora Project
The Riverdale Press: Present (Almost) at Creation
Edible Brooklyn: The New York Botanical Garden Wants You to Help Study the City's Ecology
Bay Nature: Identify Anything, Anywhere, Instantly (Well, Almost) With the Newest iNaturalist Release
Queens Chronicle: BioBlitz highlights Alley Pond ecosystem
New York Times: A Mission to Catalog Hidden Life in Central Park
Broadway World: NYC Parks' Arsenal Gallery to Open New Exhibit 'Chroma Botanica: Ellie Irons & Linda Stillman
Blogs
NYBG Science Talk Blog: A surprising find in Central Park
NYBG Science Talk Blog: The Pumpkin Ash: An Update on a Rare New York Tree
BHL …Notes & News from the BHL Staff: John Torrey's Calendarium Florae for the Vicinity of New York (1818, 1819 & 1820)
NYBG Science Talk Blog: Roaming the Wilds of Early 19th-Century Manhattan and Beyond—and Taking Notes
Get involved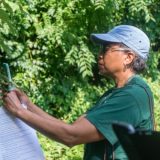 City Nature Challenge Practice Sessions, March - April 2018
Everyone is welcome to attend these events to help New York City do well in the upcoming City Nature Challenge, a global competition to find out which city in the world can do the most to observe nature.
Last year New York City finished in ninth place, just behind Boston, and ahead of Chicago. This year there are 60 cities competing worldwide, and with your help we hope to finish in the top ten!
Upcoming Events (click links for information):
*Saturday, March 3: Mini Nature Challenge, Randall's Island Park, Manhattan
*Saturday, March 10: Mini Nature Challenge, Oakland Lake, Queens
*Saturday, March 17: Mini Nature Challenge, Clay Pit Ponds State Park, Staten Island
*Saturday, March 24: Mini Nature Challenge, Soundview Park, Bronx
*Thursday, April 19: Mini Nature Challenge, Brooklyn Bridge Park, Brooklyn
*Friday – Monday, April 27 – 30: City Nature Challenge, Bronx, Manhattan, Brooklyn, Queens, Staten Island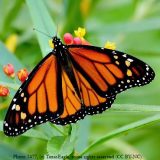 EcoQuest Challenge
EcoQuests, part of the NYC EcoFlora Project, challenge New Yorkers to become citizen scientists and observe, study and help conserve the native plants and animals of the City, using iNaturalist, an easy-to-use mobile App.
Each month, NYBG EcoFlora will announce a new Challenge where we need your help to document the flora and fauna of New York City by taking and sharing photos via iNaturalist, an easy-to-use mobile App.
Learn more and participate in our newest EcoQuest Challenge