Climate Week 2022
September 19–25, 2022
Online & At the Garden
At this time in human history, one of the primary roles of a botanical garden—to teach people about plants and their foundational importance to all life on Earth—has never been more crucial. Join NYBG for Climate Week NYC 2022 for a series of thought-provoking programs that forefront the importance of plants to help solve the climate and biodiversity crisis.
Climate Week 2022 Symposium
If you missed this event live, we will be sharing it in the NYBG Education Lecture Library in the coming month.
As leaders from around the world convene in New York City for Climate Week 2022, NYBG will host a symposium to investigate new trends in climate science, why forests are crucial in mitigating climate change, and what individuals can do to make a difference.
The keynote address, Why Climate Change Matters to You and What You Can Do About It, will be given by Katharine Hayhoe, Ph.D., followed by Forests: A Force for Change, a panel of five distinguished experts—from advocates to scientists and forest managers.
Remarks:
Jennifer Bernstein, CEO and The William C. Steere Sr. President, The New York Botanical Garden
Keynote Speaker:
Katharine Hayhoe, Ph.D., Chief Scientist, The Nature Conservancy & Distinguished Professor and Chair, Texas Tech University
Forests: A Force for Change
The Thomas E. Lovejoy, Ph.D. and Edward O. Wilson, Ph.D., Panel:
Josefina Braña Varela, Vice President & Deputy Lead of Forests, World Wildlife Fund
Lúcia Lohmann, Ph.D., Professor, University of São Paulo & Executive Director, Association for Tropical Biology & Conservation
Douglas C. Daly, Ph.D., B.A. Krukoff Curator of Amazonian Botany, Institute of Systematic Botany, NYBG
Eliot Nagele, Director of the Thain Family Forest, NYBG
Panel Moderator:
Cristián Samper, newly named Managing Director and Leader of Climate Solutions, Bezos Earth Fund
If you missed this event live, we will be sharing it in the NYBG Education Lecture Library in the coming month.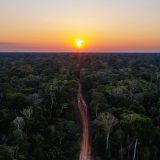 Disappearing Plants
Native Plant Garden
Signage on-site and in the Bloomberg Connects App

Take a self-guided tour of the Native Plant Garden to learn about plants from this site that have been extirpated—meaning they are locally extinct and no longer grow here spontaneously.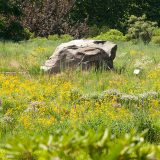 Around the World's Table in the Conservatory Palm Dome
An artful data visualization installation created by information designer Giorgia Lupi and Pentagram, conveys the global impact of food production and consumption on the planet. The installation comprises 100 partially submerged sculptures representing the major food groups we consume, their share in the global diet, and their relative carbon footprint.
Using the basin of the palm dome pool as a metaphor for the world, the size of the installation reflects the percentage of the world's habitable land used for agriculture—roughly 50 percent. The color, height, placement, and features of the sculptures visually represent 2019 data on global food production and consumption gathered from the United Nations Food & Agriculture Organization and Our World in Data—an open-source, knowledge-sharing platform for scholars and researchers.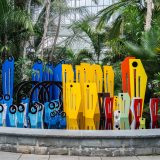 The Bond of Live Things Everywhere
September 17–November 6
Mitsubishi Wild Wetland Trail
Curated by poet and scholar Joshua Bennett, The Bond of Live Things Everywhere stages Black poetry and performance in the open air, in close proximity to the water and the trees, as well as the live things that evade such identification or proper names.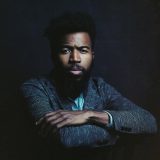 Learn How to Make Your Own Herbarium Specimen
Creating a herbarium specimen hasn't changed much in centuries!
Make one from your favorite houseplant, or venture outdoors to collect what you encounter on an expedition and compare what you find in NYBG's William and Lynda Steere Herbarium.
Herbarium specimens document the diversity of life through time and across geographic space, directly impacting conservation and biodiversity research. These specimens are used to describe and name new species, and devise conservation solutions for endangered species.
Engage with some of our past content
Here Today, Gone Forever: Plant Extinction Now and Conservation Strategies for Tomorrow – Part I
Here Today, Gone Forever: Plant Extinction Now and Conservation Strategies for Tomorrow – Part II
Traditional Farming and Crops Diversity for a More Resilient Future
Finding the Mother Tree: A Conversation with Suzanne Simard