Early Morning Yoga with CorePower Yoga
Saturday, June 22; 9:30–10:30 a.m.
Edible Academy Amphitheater
All are welcome to forge a deeper connection with nature during an early morning yoga session with CorePower Yoga and The Sill. Push past physical boundaries with an open mind and a beating heart during this free session that captures the essence of yoga. Yoga mats will not be provided; please bring your own. RSVP required: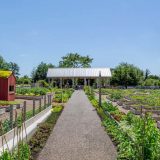 About Summer Solstice Weekend
Celebrate the start of summer at the Edible Academy.  Join us for the first big harvest of the growing season with gardening fun, crafts, yoga, live music and more to celebrate the long summer days ahead.