Summer Solstice Weekend
Saturday, June 22, 2019 – Sunday, June 23, 2019
10 a.m. – 6 p.m.
Summer Brings Outdoor Fun for the Whole Family
Celebrate the start of summer at the Edible Academy. Join us for the first big harvest of the growing season with gardening fun, crafts, yoga, live music and more to celebrate the long summer days ahead.
Make Music New York Performance
Friday, June 21; 4–6 p.m.
Kick off Summer Solstice Weekend with a Make Music New York performance featuring the BrasCuba Group, led by Nanny Assis and Bobby Sanabria, two legendary Latin American musicians who are joining forces to lead an all-star, 10-piece ensemble.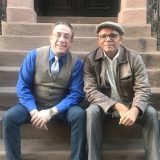 Gardening Activities
Get ready for the summer growing season–help us tend our vegetable beds and pot up your own plant to take home.
Saturday and Sunday; Ongoing
In the Green Thumb Garden, Global Garden, Children's Gardening Program Garden, and Greenhouse
Dig, Plant, Water, and Harvest
Help us plant, tend, and harvest the crops in our garden.
Pot up a Sunflower Seed
Grow your own flower that follows the sun by potting up a seed to take home.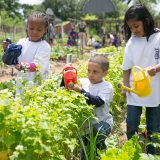 Solstice-Inspired Activities
Crafts, yoga and more to celebrate the long summer days ahead.
Saturday and Sunday; Ongoing
Harvest Bag Stamping
Solar Pavilion Makers Station
Decorate a harvest bag with stamps that celebrate the sun.
Sun Salutations
Event Lawn
In India, the Summer Solstice is said to be the day that Adiyogi, the first practitioner of yoga, met with his students. Join us to reach, stretch, and celebrate the long daylight hours.
Face Painting
Event Lawn
Brighten your day with fun designs in all shapes and sizes.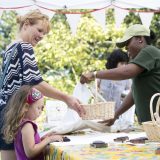 Culinary Demonstrations
Saturday & Sunday; 10:30 a.m., 12, 1:30, 3, & 4:30 p.m. 
Pauline Gillespie Gossett Overlook Pavilion

Take part in culinary workshops presented by local chefs and culinary educators, featuring ingredients fresh from the garden that will inspire chefs of all ages. Samples are shared following each workshop.
Saturday, June 22
Sunday, June 23
Born Juice / Bronx Restaurant Cooperative — 10:30 a.m.
The Bronx Salad
Henry Obispo
La Morada, Bronx — 12 p.m.
Fiesta Pico de Gallo
Carolina Saavedra
Garden to Café / NYC Dept. of Education — 1:30 p.m.
Fresh Fruit and Fennel Salad
George Edwards, M.A.
Farmer and Fish — 3 p.m.
Seared Hawaiian Tuna, Wasabi Arugula, and Costata Zucchini with Watermelon Sparkler
Mike Kaphan
Lehman College (City University of New York) — 4:30 p.m.
Blueberry-Almond Smoothie
Kate Gardner Burt, Ph.D., R.D.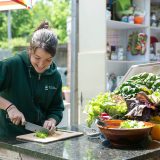 Edible Academy Tours
Tours and more offer you the chance to learn more about the Edible Academy's gardens and state-of-the-art facilities, and the joy of vegetable gardening, as we celebrate its first full year in operation.
Tours of the Barnsley Beds
Take a guided tour of the Barnsley Beds, a collection of intensively planted edible gardens and learn tips on organic gardening techniques and plant selections. Tour times to be announced
Explore the E.A.T. Lab
Learn about vegetables from the LuEsther T. Mertz Library staff with fun activities including puzzles and picture games, and titles from our unique cookbook collection. Pose for a photo as a "vegetable person" using beautiful, historical images from the Library's special collections.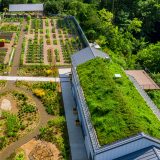 Live Music
Saturday; 12:30, 2, & 3:30 p.m.
Sunday; 12:30, 2, & 3 p.m. 
Susan P. and Coley Burke Amphitheater
Local musicians provide a festive afternoon of family friendly songs to get everyone dancing and singing along.
About the Performers:
La Cumbiamba eNeYé features original and traditional repertoire in the Gaitas y Tambores / Cumbia Roots format. La Cumbiamba delivers a high-energy performance that invites the listeners and dancers to join their celebration of Colombian culture.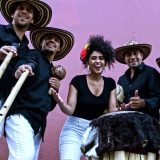 Early Morning Yoga
Saturday; 9:30–10:30 a.m.
Edible Academy Amphitheater
All are welcome to forge a deeper connection with nature during an early morning yoga session with CorePower Yoga and The Sill.