Earth Day Weekend Celebration 2023
April 22 & 23, 2023
10 a.m.–6 p.m.
Deepen Your Connection with Nature
Each year, NYBG's Earth Day celebration highlights the Garden's central work to save the plants of the world and offers visitors a beautiful space to honor our surroundings. Meet NYBG Staff from our Horticulture, Library, and Herbarium departments to learn about the work they do each day to support our environment. Explore the Thain Forest and its rich historical connections to Indigenous Peoples. Watch as local chefs share advice on how to make your diet more plant-friendly! All our celebrations culminate with a lecture and master class led by contemporary artist, Sam Van Aken.
NYBG Open House
April 22 & 23; 11 a.m.– 2 p.m.
Mosholu Gate Entrance
Ever wonder what goes on behind the scenes at NYBG? How our collections are cared for and our research conducted? Join us for our NYBG Open House with hands-on activities and opportunities to learn from NYBG representatives.
Meet the Scientists
The Science Division of The New York Botanical Garden encompasses several departments and programs and includes more than one hundred scientists, including staff, graduate students, Emeritus Curators, and Adjunct Scientists. All are working toward the Garden's scientific mission to explore, understand, and conserve the Earth's vast botanical diversity.
Stop by to learn from the following:
Saturday & Sunday: Morgan Halane on EcoQuest and iNaturalist Projects
Saturday: Ken Karol and Kate Armstrong will present on species discovery from the Midwest
Sunday: Ben Torke and Fabian Michaelangeli present a plant pressing demonstration
Connect with the Mertz Library Collections

The Library's outstanding collections represent over a century of commitment to botanical and environmental research. The skilled Library staff serve as an invaluable resource by providing the highest-quality resources and services to meet the needs of the Garden's diverse research, instructional and outreach programs including the Garden's research staff, botanists and horticulturists as well as scientific, scholarly, and artistic communities worldwide and the public at large. Sign up for a Mertz Library Card or take home a coloring books featuring some of the Library's favorite plates from its rare books related to botany, landscape design, and horticulture!
Composting with Bronx Green-Up
Saturday only
Solar Pavilions; 11 a.m.–2 p.m.

The NYC Compost Project Hosted by The New York Botanical Garden works to provide New Yorkers with the knowledge, skills, and opportunities they need to produce and use compost locally. Join us at our table to learn about our programming, the various ways you can turn your food scraps into compost in New York City, and the Master Composter Certificate Course. Also, while you're there, check out our composting worms and pick up a reusable bag!
Herbarium Hoopla
NYBG's William and Lynda Steere Herbarium is a National Systematics Research Resource Center containing contains approximately 7.8 million specimens, making it the second-largest herbarium in the world, according to Index Herbariorum. Learn how these specimens are collected, preserved, mounted, and categorized with NYBG's Herbarium team. Admire their display of specimens, enjoy a mounting demonstration, and try your hand at creating a specimen to take home with you!
NYBG Thain Family Forest
As the largest uncut expanse of New York City's original wooded landscape, the Thain Family Forest remains a magnificent reminder of the beauty and resilience of nature in the face of complex human-caused disturbances. Learn about the importance of urban forests and what you can do to help protect our precious natural ecosystems.
Steere Herbarium Tour
12:15 p.m.; Saturday Only
Meet in Ross Gallery
Want an inside look at the Herbarium? Join a Herbarium staff member for a 45-minute tour highlighting how specimens are digitized and incorporated into into The Hand Lens.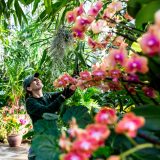 Food for Thought
April 22 & 23
12–3 p.m.
Leon Levy Visitor Center
This series of demonstrations by local chefs that introduces healthy and affordable ways to make your diet more sustainable—such as reducing consumption of processed foods, buying in-season and local, and eating more plants!
Protein Power with Plant Candy
Learn healthy tips and tricks for keeping your plant-based meals both delicious and protein-packed. Brandy Cochrane, founder of Plant Candy, is a chef, recipe developer, teacher, author, and founder of the plant-based companies Entrepreneur Meal Plan and Plant Candy. Learn about Brandy's work to improve both the personal and professional lives of individuals through plants.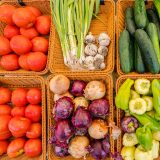 Learn more about Fiskars with a Special Offer
This Earth Day Weekend, Fiskars is proud to sponsor the New York Botanical Garden, deepening a mutually shared commitment to a more sustainable future.
As one of the leading premium lifestyle brands in the gardening, cooking and creating categories around the world, Fiskars has championed the ageless principles of high quality, intuitive and sustainable design since 1649. They empower every enthusiast to follow their passions and create the life they want.
From products designed to help cultivate a better garden to tools to reclaim your yard, Fiskars has versatile gardening tools that are equipped with smart technologies and award-winning, ergonomic features that make it easier and more enjoyable to transform outdoor spaces.
This Earth Month, Fiskars and NYBG urge gardeners (of all skill sets) to commit to growing a greener future, with the help of Fiskars' high-quality long-lasting tools and by implementing more environmentally-friendly practices.
To kickstart your sustainability gardening journey visit Fiskars.com and use code 'NYBG20' for 20% off your order.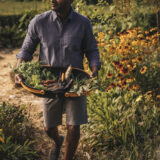 Celebrate Earth Day with Sam Van Aken
Contemporary artist Sam Van Aken joins NYBG as part of our Earth Month Celebration on April 22 to host an Apple Grafting Master Class and lead a lecture in Ross Hall entitled "Re-Orcharding New York," which spotlights the cultural and historical significance of fruit trees.
Learn more about Apple Grafting Master Class
Learn more about Re-Orcharding New York
Complementing these special Earth Day programs, an exhibit in Ross Gallery on view through April 30 features botanical works crafted by Van Aken. They highlight the many different fruit varieties he combines in a unique grafting process to create hybrid trees, as seen in The Open Orchard, his project on Governors Island. Displayed alongside fruit specimens in NYBG's own William and Lynda Steere Herbarium, his works underscore the integral role of grafting in improving local biodiversity and habitat conservation.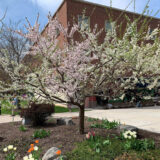 Tours
Join expert guides for explorations of Indigenous plants and their uses, as well as spring bird walks.
Indigenous Plants & People Walks
April 22; 11:30 a.m.
Meet at Thain Family Forest Entrance
Join one of our guided tours with Moskehtu Consulting to learn more about native plants, birds, and people.
Indigenous Plant Identification Tour
April 22
This tour will begin with an overview of the history and traditional culture of Indigenous peoples, guiding participants through natural areas and explaining how particular plants are identified and harvested in traditional and modern times. The guide will show participants which parts of a plant can be utilized, how to identify and pick the right plants, and how to safely store them for later use.
About Your Guide
Rodrick Bell is a Historian and Canoe Instructor whose life's work is centered on the preservation of both the history and cultural traditions of Indigenous eastern woodlands First Nations. Descending from both the Carolina Algonquin and Virginia Powhatan first contact tribes, he is passionate about creating outdoor restorative experiences that help reshape the attitudes of all participants—in turn encouraging them to redevelop a love and respect for the Earth.
Native Forest with Chenae Bullock
Ongoing
Thain Family Forest
Read and Walk! As you explore, look for signs written by Chenae Bullock, Founder of Moskehtu Consulting, featuring some of the useful and edible plants utilized by the Indigenous inhabitants of the Northeast.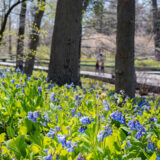 NYBG Shop
Spring is in the air! Whether you are looking for tools to tend to your garden, home decor, stationary, or beautiful plants, NYBG Shop has a wide selection of seasonal merchandise for everyone.