Fall Forest Weekends
November 4–5 & 11–12, 2023
10 a.m.–3 p.m. | At the Garden
Your Local Leafer HQ
The Thain Family Forest—New York City's largest remaining tract of old-growth woodland—is your fall foliage headquarters! Leaf locally and explore the Forest's 50 acres full of vibrant fall color–a front row seat to the best views of the season right at home. These weekends will offer Native American Heritage Month activities, tours, educational demonstrations, and more.
Activity Hub
Throughout the weekend
Main Entrance to the Thain Family Forest
Enjoy hands-on crafts and activities, and meet NYBG staff to learn more about the research, conservation, and care that goes into our mission to advocate for the plant world
Leaf ID Activity Table
November 4, 5, 11, & 12, 2023; 10 a.m.–3 p.m.
Learn more about the colorful fall leaves of the Thain Family Forest—and pick up a guide to the trees of New York City's five boroughs.
Sapling Giveaway
November 5 & 12, 2023; 10 a.m.–3 p.m.
Pick up a seedling of your choice to take home! Chestnut oak and white oak seedlings are available on a first-come, first-served basis.
Mounting Demonstrations
November 4, 5, 11, & 12, 2023; 10 a.m.–3 p.m.
Join staff from the William and Lynda Steere Herbarium as they demonstrate the process of protecting and preserving the specimens that NYBG's Herbarium receives from all over the world. Mount a specimen yourself to take home!
Explore New Books with NYBG Library Staff
November 4, 5, & 11, 2023; 10 a.m.–3 p.m.
Check out a selection of new books from the Mertz Library, sign up for a library card, get a free bookmark, enjoy coloring our special Library coloring books, and other fun activities!
Pop-Up Field Science Station
November 4, 5, 11, & 12, 2023; 11 a.m.–2 p.m.
Without plants, life on Earth would be impossible, yet the plant diversity that sustains us is imperiled today as never before in human history. Meet NYBG scientists responding to the biodiversity crisis by conducting cutting-edge research on plants and their habitats and taking institutional action to protect them—securing a healthy future for our planet and our children.
Meet the Scientists
November 4: Brad Oberle and Matthew Pace
November 5: Kate Armstrong and Michael Balick
November 11: Larry Kelly and Alex McAlvay
November 12: Ben Torke and Fabian Michelangeli
Bronx Green-Up Compost and Worm Bin Giveaways
November 4, 2023; 10 a.m.–3 p.m.
Join the NYC Compost Project Hosted by NYBG at their info table! Learn about Bronx Green-Up and their work with the community, and get informational tip sheets on how to compost at home and in New York City. Enjoy a Worm Bin demo and discover how worms make compost out of food scraps, then play our fun composting spin-wheel game to win some prizes!
Discovery Table with Explainers from the Everett Children's Adventure Garden
November 4, 5, 11, & 12, 2023; 10 a.m.–3 p.m.
Explainers showcase tree specimens from the forest and their uses by the Lenni Lenape people in honor of Native American Heritage month. In addition, kids can make their own tree cookie necklace to take home.
Design within Nature: Tote Bag Crafts with Artist Carlos Encarnación
November 4, 5, 11, & 12, 2023; 12–3 p.m.
Create your own tote bag with stencils and stamps that celebrate NYBG's trees, designed in collaboration with visual artist Carlos Wilfredo Encarnación.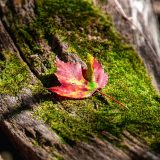 Big Tree: A Conversation with Author Brian Selznick and Dr. Jamie Boyer
November 4, 2023; 11 a.m.–12 p.m.
LuEsther T. Mertz Library, 6th floor Reading Room
This family-friendly conversation and book reading is an introduction to author Brian Selznick's children's book Big Tree. Lauded by The New York Times as "exquisitely illustrated … We need brave, big stories like this," the book explores what it means to live on this planet. Selznick is joined by Dr. Jamie Boyer, Vice President for Children's Education at NYBG, and their conversation will be followed by a book signing.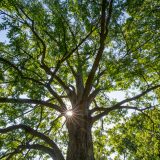 Library Open Hours
November 4, 2023; 10:30 a.m.–3 p.m.
The LuEsther T. Mertz Library is open for exceptional weekend hours! Don't miss this opportunity to peruse the stacks, sign up for a library card, and learn more about the over 11 million artifacts in the Library's collection.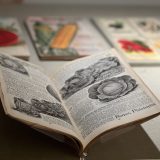 Indigenous Perspectives with Moskehtu Consulting
November 4, 5, & 12, 2023; 2 p.m.
Meet at the Entrance to the Thain Family Forest
These tours will begin with an overview of the history and traditional culture of Indigenous peoples, and will guide participants through natural areas, explaining how particular plants are identified and harvested in traditional and modern times. These tours are curated by Moskehtu Consulting.
November 4:
Lauren Peters of Moskehtu Consulting
Lauren Peters, a proud Mashpee Wampanoag member, is passionate about preserving the traditional practice of gardening in her Tribal community. In her engaging talk, she delves into the rich heritage of the Wampanoag people, specifically focusing on the traditional methods of growing corn. Lauren will also host a workshop on corn husk doll making. Guiding participants through the intricate process, she imparts the artistry and significance of crafting these beautiful dolls, which hold a special place in Wampanoag culture. Lauren Peters invites attendees to honor and celebrate the ancestral traditions while fostering a deeper appreciation for the importance of corn in the Mashpee Wampanoag way of life.
November 5:
Chenae Bullock of Moskehtu Consulting
Join Chenae Bullock, a proud Shinnecock tribal citizen, as she shares her knowledge and experiences on the continued practices of environmental sustainability within tribal communities. Chenae explores the deep connection between Indigenous cultures and the preservation of our natural world, and aims to shed light on the traditional wisdom and innovative approaches employed by the Shinnecock people to ensure the balance and harmony of their surroundings. Discover how age-old practices, such as land stewardship, sustainable agriculture, and resource conservation, are still actively embraced by tribal communities today, and gain a renewed appreciation for the ongoing efforts to protect and nurture our environment.
November 12:
Rodrick Bell of Moskehtu Consulting
In this insightful talk and tour, Rodrick Bell, a knowledgeable guide and descendant of the Powhatan people, will delve into the rich cultural lifeways of the Powhatan people, highlighting how these ancient traditions continue to be practiced today. As you explore the stunning garden grounds, you'll learn about the deep connection between nature and the Powhatan community, gaining a deeper appreciation for their sustainable practices, herbal remedies, and traditional knowledge. Don't miss this unique opportunity to gain a fresh perspective on Indigenous cultures and their ongoing contributions to our world.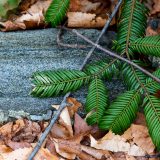 Tours & Walks
Throughout the weekend
From the historic landscapes of NYBG to bird walks, herbarium tours, and more, explore the Garden's collections and beyond with expert guides.
Pre-History of NYBG with Landscape Ecologist Dr. Eric Sanderson
Saturdays, November 4 & 11, 2023; 12 p.m.
Meet at the Entrance to the Thain Family Forest
What was here before the garden was here? Dr. Eric Sanderson, the best-selling author of Mannahatta: A Natural History of New York City, will take us back in time to the Bronx's landscape before Broncks, immediately prior to European Contact. We will discuss matters relating to geology, ecology, nature, and culture as we stroll the Garden grounds, and preview some themes that relate to the next 400 years of the remarkable landscape we call New York City.
Herbarium Tour
November 4, 2023; 1 p.m.
LuEsther T. Mertz Library, 4th floor
The William and Lynda Steere Herbarium is the largest collection of its kind in the western hemisphere, with 7.8 million specimens from around the world. View a selection of specimens and see our digitization lab to learn how this collection is used by researchers to document plant and fungal biodiversity, study the effects of climate change, and examine biocultural topics.
Expert Bird Walk with Guide Gabriel Willow
November 4 & 5, 2023; 10 a.m.
Meet at the Entrance to the Thain Family Forest Urban naturalist, photographer, educator, and tour guide Gabriel Willow explores the many feathered friends found in the Thain Family Forest.
Beginner Bird Walk with NYC Audubon Guides
November 11 & 12, 2023; 11 a.m.
Meet at the Entrance to the Thain Family Forest
Join an expert bird guide from NYC Audubon for a tour of NYBG's diverse landscape to learn why this unique green space is such a vital haven for a great variety of species year-round. NYC Audubon is a grassroots community that works for the protection of wild birds and habitat in the five boroughs, improving the quality of life for all New Yorkers. Participation is on a first-come, first-served basis.
Natural History of the Thain Family Forest Tour
Sundays, November 5 & 12; 12:30 p.m.
Explore the Forest grounds with a member of NYBG's Forest Staff.
Spotlight on Kiku: Japanese Chrysanthemums
Saturdays, November 5 & 12, 2023; 1 p.m.
Nolen Greenhouse
See the culmination of meticulously trained kiku displays in the Sullivan Bourke Display House of the Nolen Greenhouse, featuring Japanese chrysanthemums that have been expertly trained over the past 11 months into modern and ancient styles.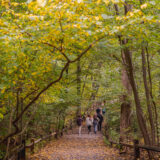 Gardens & Collections
Fall fun is just a borough away at NYBG. There's so much fall beauty to explore and discover, so be sure to check what's beautiful throughout the season through our Gardens & Collections page!