Fall Forest Weekends
November 4, 5, 11, & 12, 2017
11 a.m. – 4 p.m.
Explore the Thain Family Forest, the largest remaining tract of old-growth forest in New York City, and immerse yourself in the magnificent colors of fall foliage. See the Forest from a different perspective with a scenic canoe trip down the Bronx River and spot birds that call this woodland home. Live bird demonstrations, guided tours, and more make for an unforgettable autumn experience.
On November 11 & 12, please join us for excerpts from A Midsummer Night's Dream, highlighting the lover's quarrel. In this immersive theater experience, action will take place throughout the forest. Please feel free to follow any character at any point in time to see the story through their point of view.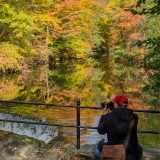 Fall Foliage Tracker
The Forest becomes a vivid patchwork of reds, oranges, and yellows in fall! Follow along with the changing foliage as the Garden prepares for winter.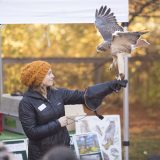 Events & Activities
NYBG in fall is a world of adventure waiting to be explored. Join in on canoe trips, watch woodworking in action, and sit for demonstrations featuring some of the Garden's resident raptors.
Shakespeare in the Forest
November 11 & 12; 12, 1, & 2 p.m.
A high-energy troupe of performers, Hamlet Isn't Dead, transforms the Thain Family Forest into an enchanted Shakespearean woodland—presenting highlights from A Midsummer Night's Dream. Over the course of the afternoon, faeries will plot, lovers will quarrel, and slapstick characters will have you in stitches. Catch one scene, or follow the troupe from place to place and see them all. Experience Shakespeare's poetic and comic genius in the natural splendor of the Garden's autumn landscape.
Birds of Prey Demonstrations
1 & 3 p.m.
Along the Mitsubishi Wetland Trail
Hawks, owls, and falcons deftly swoop through the air, alert for prey. Their unique design and deadly weapons place them on top of the food chain. Learn how to identify these birds while gaining a greater understanding about their adaptations and habitats.

Volunteers for Wildlife is a non-profit wildlife hospital and education center founded in 1982. Located in Locust Valley, New York, Volunteers for Wildlife is dedicated to preserving Long Island's wildlife and natural habitats.
Urban Bat Project
11 a.m.–4 p.m.
Across from the Native Plant Garden entrance
The Urban Bat Project was launched at NYBG this summer through partnership with Organization for Bat Conservation and the Explainer Program to bring awareness to the importance of our urban bat populations. Come learn about our efforts to monitor bat activity through acoustic monitoring surveys in the Garden. Get information about what you can do to help support urban bat populations through bat-friendly gardening, bat house installation, and environmental stewardship.
Fiddle Player
November 4 & 5, 12–3 p.m.
Ian Moore was born in Queens, NY, and most recently lived as a fiddler in the Blue Ridge Mountains, North Carolina, for almost two decades. During his life he has explored a wide range of acoustic music styles: old timey ballads, blues, bluegrass, rags and reels, hornpipes and hoedowns, polkas, waltzes, gospel, swing jazz, Cajun and Irish tunes, old honkeytonk numbers, jugband pieces, rockabilly, songs about love, trains, and chickens. He has also made music for theatrical productions, short films, and composed a 45-minute ballet.
Canoe Trips on the Bronx River
November 4 & 5; 11 a.m.–4 p.m.
Limited spaces available; first-come, first-served basis. Weather contingent.
Enjoy a short paddle on the Bronx River with the Bronx River Alliance and experience the beauty of this reclaimed local gem, home to an incredible variety of fish, birds, and even beavers! The Alliance works toward the conservation of the river as an ecological, economic, and community resource.
The Bronx River Alliance serves as a coordinated voice for the river and works in harmonious partnership to protect, improve and restore the Bronx River corridor so that it can be a healthy ecological, recreational, educational and economic resource for the communities through which the river flows. The Alliance works in close partnership with the New York City Department of Parks & Recreation to achieve these goals.
Woodcrafting Demonstration
November 4 & 11; 11 a.m.–4 p.m.
Near the Thain Family Forest entrance on Azalea Way
Watch Ivan Braun create unique wooden bowls created from fallen trees of the Garden and learn about the art and value of this craft. Take home one of his unique creations from NYBG Shop.
Bronx-based craftsman Ivan Braun has collected wood from felled trees such as yew, red maple, plum, juniper, white oak, cherry, apple, and zelkova (a Japanese elm), crafting them into exquisite bowls and vases. He turns each piece by hand, letting the individual character and form of the tree influence the final shape, making each truly one of a kind. In addition to working with wood all his life, he has worked for several nonprofit social-service organizations.
Citizen Science at the Garden
11 a.m.–4 p.m.
Ridge Trail

NYBG volunteers have been tracking the tree cycles of leaf, flower, and fruit development for more than five years. They will help you look closer at the trees within the Forest, giving you an entirely new perspective from the trails. Get help with tree and plant identification so you can explore the trees in your neighborhood more closely. Learn more about how you can be part of this ongoing project.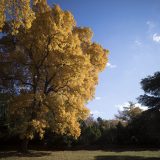 Thain Family Forest Tours
Meet at the Forest Main Entrance
Themed discovery walks of the Forest take place throughout each day. Wear comfortable shoes and seasonal attire for the weather.
11 a.m – Birds of the Forest
12:30 p.m. – Natural History of the Thain Family Forest
1:30 p.m. – Forest Forays for Families
2:30 p.m. – Forest Tour
3:30 p.m. – Forest Ecology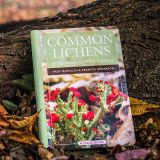 Common Lichens of Northeastern North America
New from NYBG Press, make the most of your woodland outings with this comprehensive guide to the lichens of the northeast. Learn to identify the subtle but important species that thrive in our region.