Fall Forest Weekends
November 6 & 7 and 13 & 14, 2021
10 a.m. – 5 p.m.
Immerse yourself in autumnal splendor
Revel in the unique beauty and resilience of the largest expanse of New York's original wooded landscape as the Thain Family Forest's seasonal transformation takes hold. Explore this historic old-growth forest's 50 acres, discovering its ecological importance through tours, citizen science activities, and more. It all makes for an unforgettable fall experience that you don't want to miss.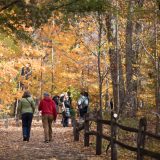 Discover the Thain Family Forest
Daily; Meet at the Forest Main Entrance
Thain Family Forest
Themed discovery walks of the Forest take place throughout each day. Wear comfortable shoes and seasonal attire for the weather.
10:30 a.m. – Natural History of the Thain Family Forest
Join us for a guided walk through this 50-acre, old-growth Forest to learn how it has changed, adapted, and survived over the years.
11 a.m. – Bird Tours
Explore the diversity of migrating birds that find food and habitat in the Thain Family Forest. Learn more about ongoing efforts to make NYC a safer place for our "fine feathered friends."
3 p.m. – Ecological Restoration & Plant ID Tour
Join a member of our Horticulture staff on a guided tour highlighting NYBG's ecological restoration efforts and identification of native and invasive species.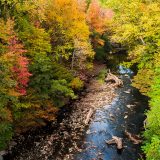 History of the Bronx River
Presented by the Bronx River Alliance
November 13 & 14; 11 a.m. & 3:30 p.m.
Meet at the Reflecting Pool in the Leon Levy Visitor Center

In this 30-minute tour, follow the flow of New York City's only freshwater river to explore its rich history with expert guides from the Bronx River Alliance.
About the Bronx River Alliance Guides
Rodrick Bell is a historian and traditionalist whose life work is centered on the preservation of the history and cultural traditions of indigenous eastern woodlands First Nations. He is a descendant of both the Carolina Algonquin and Virginia Powhatan first contact tribes. With BXRA, Rodrick is a Recreation Coordinator, where he enriches river paddle journeys with his ancestral knowledge of Algonquin traditions along the east coast.
Amelia Zaino is a Bronx-born and raised environmental educator with a passion for cartography and the power of place. She has taught and created lessons at the City University of New York, Wave Hill, NYCH2O, and the Bartow-Pell Mansion Museum, and participated in NASA's DEVELOP National Program. In her spare time, she volunteers with the Hutchinson River Restoration Project and City Island Oyster Reef.
Christian Murphy is the Ecology Coordinator for the Bronx River Alliance, working to manage the collection and processing of water quality data and organize volunteers who participate in stewardship along the Bronx River. He also helped design and lead the first successful microplastic pilot study on the Bronx River.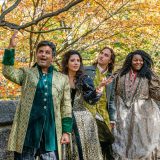 Shakespeare in the Forest: The Sonnet Stroll
Daily; 12 p.m.–3 p.m.
Along Thain Family Forest Path
Interact with the cast of Hamlet Isn't Dead's Resident Acting Company as they perform Shakespeare's greatest sonnets on nature's beauty.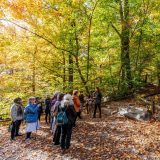 Learn About Forest Phenology
Daily; 10:30 a.m.–4 p.m.
Azalea Way
Forest Staff will help you look closer at the trees within the Forest, giving you an entirely new perspective from the trails. Get help with tree and plant identification so you can examine the trees in your own neighborhood more closely.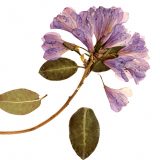 Explore Herbarium Specimens
Daily; 11 a.m.–4 p.m.
Azalea Way

NYBG Herbarium staff showcase samples collected from NYBG's Thain Family Forest as well as from forests across the U.S. Learn more about the plant specimens housed in the collection and how to collect and preserve samples.
12 & 2 p.m. – Demonstrations by Herbarium Staff
Learn how to collect, press, and preserve leaves. Visitors will be invited to collect leaves that have fallen onto the Forest paths that they can use to press and take home.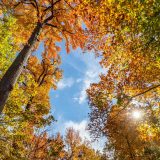 Fiddler in the Forest
Daily; 11 a.m.–3 p.m.
Along Thain Family Forest Trails
Listen for the charming tones of roaming fiddlers mimicking the natural sounds of the forest as you walk along the paths.