Fall Forest Weekends
November 2 & 3 and 9 & 10, 2019
11 a.m. – 4 p.m.
Immerse yourself in autumnal splendor
Revel in the unique beauty and resilience of the largest expanse of New York's original wooded landscape as the Thain Family Forest's seasonal transformation takes hold. Explore this historic old-growth forest's 50 acres, discovering its ecological importance with tours, citizen science activities, and more. As you explore, listen for the sounds of NYBG Composer-in-Residence Angélica Negrón's Chorus of the Forest, an original series of interactive choral experiences and rich, layered soundscapes that give a voice to the trees around you. It all makes for an unforgettable fall experience that you don't want to miss.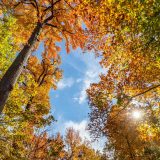 The Sounds of the Forest Come to Life with the Premiere of Chorus of the Forest
November 2 & 3; 1 & 3 p.m.
Be among the first to hear NYBG Composer-in Residence Angélica Negrón's newly commissioned, site-specific work for chorus and soundscape in the Thain Family Forest.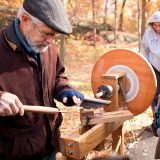 Deepen Your Connection with the Forest
Forge a deeper connection with nature during forest bathing, become a citizen scientist for the day, and watch woodworkers carve out works of art.
Awaken Your Senses with Forest Bathing
Daily; Meet at the Forest Main Entrance
11 a.m.
Feel the tranquility and connectedness of nature with the ancient Japanese practice of Shinrin yoko ("Forest Baths"). Slow down, be present, and awaken your senses to the forest as never before on this guided tour.
Get Involved with Citizen Science at NYBG
Daily; 11 a.m.–4 p.m.
Near the Thain Family Forest entrance on Azalea Way

Deepen your connection with the Forest as NYBG volunteers help you get a closer look at its trees. With the knowledge our volunteers have gained from ten years of tracking tree cycles, they'll provide an entirely new perspective on the Forest and show you how to identify trees and plants in your neighborhood. And if you're interested in joining us in our efforts, be sure to ask how you can join our Citizen Science programs.
See Master Woodcrafters at Work
November 2 & 9; 12 p.m.–3 p.m.
Near the Thain Family Forest entrance on Azalea Way
Watch as woodturner Ivan Braun creates unique wooden bowls from the Garden's fallen trees and learn about the art and value of this craft. Then, head to NYBG Shop to purchase one of his unique creations.
Bronx-based craftsman Ivan Braun has collected wood from felled trees such as yew, red maple, plum, juniper, white oak, cherry, and apple, crafting them into exquisite bowls and vases. He turns each piece by hand, letting the individual character and form of the tree influence the final shape, making each truly one of a kind. In addition to working with wood all his life, he has worked for several nonprofit social-service organizations.
Learn All about Living with Wildlife
Daily; 12 & 2 p.m.
Wetland Trail
Discover what makes the eastern deciduous forest so unique and meet several of its inhabitants including live mammals, reptiles, and birds.
Volunteers for Wildlife is a non-profit wildlife hospital and education center founded in 1982. Located in Locust Valley, New York, Volunteers for Wildlife is dedicated to preserving Long Island's wildlife and natural habitats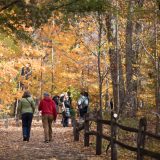 Explore the Forest with Guided Tours
Daily; Meet at the Forest Main Entrance
Thain Family Forest
Set out on the Forest's winding trails, discovering its vast and varied landscape and breathtaking landmarks. Be sure to bring comfortable shoes and seasonal attire for the weather.
11 a.m. – Birds of the Forest (Saturdays only)
Discover the diversity of the migrating birds that find food and habitat in the Forest and learn more about ongoing efforts to make NYC a safer place for our fine feathered friends.
1 p.m. – Natural History of the Thain Family Forest
Dive into the deep history of the largest uncut expanse of New York's original wooded landscape as you learn about its trees, geology, and ecology.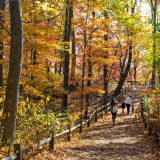 Shakespeare in the Forest
November 9 & 10; 12 & 2 p.m.
Thain Family Forest
A high-energy troupe of performers, Hamlet Isn't Dead, transforms the Thain Family Forest into an enchanted Shakespearean woodland—presenting highlights from A Midsummer Night's Dream.
Over the course of the afternoon, faeries will plot, lovers will quarrel, and slapstick characters will have you in stitches. Follow our narrator, Puck, from place to place and see them all. Experience Shakespeare's poetic and comic genius in the splendor of the Garden's autumn landscape.