Fall Forest Weekend
November 12 & 13, 2022
11 a.m. – 4 p.m.
Explore over 50 acres of the Thain Family Forest—New York's largest old-growth woodland landscape—in its full fall splendor! You'll experience the forest through a different lens with a new visual tour from Chenae Bullock, a member and historian of the Shinnecock Nation, and in-person guided tours centering the indigenous history of the Bronx River and its environs from Moskehtu Consulting. Try your hand at colorful fall leaf identification, learn how the NYBG Herbarium staff mount and preserve botanical specimens, and more during this annual spotlight on the forest's natural beauty, history, and ecological conservation efforts.
Native Forest with Chenae Bullock
Ongoing
Throughout Thain Family Forest
Join Indigenous perspective historian and entrepreneur Chenae Bullock on a self-guided tour of the Thain Family Forest, featuring some of the useful and edible plants utilized by the Indigenous inhabitants of the Northeast.
Bullock is an enrolled Tribal Member of the Shinnecock Indian Nation and descendant of the Montauk Tribe in Long Island, New York. Bullock lends her extensive knowledge of Northeastern native plant life to explore contemporary and historic perspectives on some of the forests' most important plants.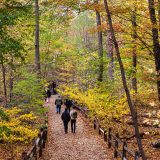 Interactive Demonstrations
11 a.m. – 3 p.m.
Along the Mitsubishi Wetland Trail

Stop by our Education Hub to learn from NYBG Forest and Herbarium Staff.
Tree Identification
NYBG Staff will share tips for identifying various kinds of leaves found in our forest.
Herbarium Collections on Display
Learn how specimens are collected, preserved, mounted, and categorized with NYBG's Herbarium Team. Admire samples in NYBG's collections, and learn how to create your own dried specimens at home.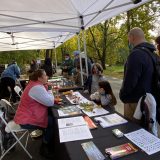 Tours
11 a.m. – 4 p.m.
Bird Walk and Forestbathing Tours will meet at the Reflecting Pool. All other tours will depart from the Main Entrance to the Thain Family Forest. We recommend that visitors wear comfortable footwear.
Join a tour around the Garden to learn about plant identification and Garden history with NYBG staff and guest tour guides.
Forest Tours with Representatives from Moskehtu Consulting
November 12 & 13; 11 a.m., 1:30, & 3 p.m. 
Join representatives from Native American-owned Cultural & Heritage Preservation firm, Moskehtu Consulting, for guided tours of the forest. These tours look at the ecology of the forest from an Indigenous perspective to protect and share the culture, perspective, and history of this space. Founder Chenae Bullock, also known as Netooeusqua, translating to "Butterfly Woman," is an enrolled Shinnecock Indian Nation Tribal Member and descendant of the Montauk Tribe in Long Island, New York.
Natural History of the Thain Family Forest
November 12 & 13; 12 p.m. 
For thousands of years, this old-growth Forest has changed, adapted and survived. Join us for a walking history of this old growth forest, and discover the unique beauty that inspired the location for the New York Botanical Garden in 1895.
Forest Identification Walk with NYBG Forest Staff
November 12 & 13; 2 p.m. 
The beauty of the Forest can be appreciated in a new light during this one-hour walking tour. Expertly trained guides will present facts about the trees as well as the history, geology, and ecology of the Forest.
Bird Walk
November 12 & 13; 11 a.m.
Meet at the Reflecting Pool
Join a birding expert from NYC Audubon for a tour of NYBG's diverse landscape to learn why this unique green space is such a vital haven for a great variety of species year-round.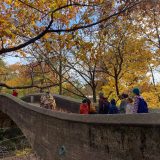 Nature Within Design: Foliage Block Printing
12–3 p.m.
Stone Mill Patio
Join artist Carlos Wilfredo Encarnación for a hands-on block printing activity and take home your very own NYBG tote bag inspired by the foliage in our Thain Family Forest! Participation is on a first-come, first-serve basis.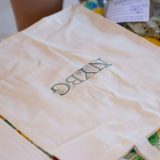 Forestbathing Tour with Treebath, Inc
2:30 p.m.
Experience the ancient Japanese practice of shinrin-yoko ("forest baths"), gentle tours that enhance tranquility and connectedness through sensory immersion. Slow down, be present, and awaken your senses to the forest as never before on this guided tour. Self-guided audio tours are also available.