Fourth Annual New York City EcoFlora Conference
Friday, November 5, 2021
Online | 10 a.m.–12 p.m. EDT
Wetland Research and Conservation in New York City
Join leading practitioners in the conservation of biodiversity in endangered wetlands. Learn about local, collaborative approaches to wetland conservation and working with state and city governments to protect these areas and their ecosystems, with special emphasis on managing New York City's wetlands.
About the New York City EcoFlora Project
Learn more about The New York City EcoFlora project, engaging New Yorkers in protecting and preserving the City's native plant species, and assembling new, original observations and data on the City's flora to better inform policy decisions about management and conservation of the City's natural resources.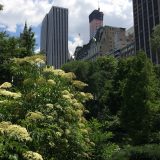 Welcome and Introduction
Lawrence M. Kelly, Ph.D., Vice President for Science Administration, New York Botanical Garden
Speakers and Presentations
Aram JK Calhoun
Conserving Wetlands in Human-dominated Landscapes through Local, Collaborative Approaches
Wetland regulations in the United States are often difficult for citizens to navigate as rules for wetland permitting may vary among local, state, and federal agencies. In addition, for small or wooded wetlands such as vernal pools, regulations are not sufficient for maintaining the long-term vitality of the ecosystem. As federal and state regulatory frameworks are shaped by politics, we feel that local, place-based stewardship of wetland resources will lead to the best conservation outcomes. Here we present an innovative vernal pool conservation strategy available to New England towns that addresses both economic and conservation concerns for our towns.
About Aram JK Calhoun:
Aram JK Calhoun is a Professor Emerita of Wetland Ecology in the Department of Wildlife, Fisheries, and Conservation Biology at the University of Maine. Her research focuses on conservation of wetlands with a focus on vernal pool ecosystems.
She is particularly interested in conservation of natural resources on private lands and collaborative approaches to conserving wetlands through locally driven initiatives. Dr. Calhoun is active in working at all levels of government on wetland policy and conservation issues.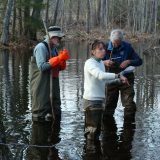 Rebecca Swadek and Marit Larson
Wetlands Management Framework for New York City
New York City (NYC) has lost over 85% of historical salt marsh acreage and stream miles and 99% of freshwater wetland habitat since Europeans arrived. Despite state and federal regulations, those remaining wetlands remain at risk to further loss and degradation from sea level rise, development, and pollution. Though significantly altered, NYC's wetlands provide natural beauty, support diverse wildlife, and offer recreational opportunities. From 2013-2017, NYC Parks and the Natural Areas Conservancy assessed over 1,300 acres of tidal and freshwater wetlands and 30 miles of freshwater streams. These assessments identify the condition of each stream and wetland, inform strategies and actions for their long-term management. Results culminate in a Wetlands Management Framework for New York City, which provides the first comprehensive roadmap for the preservation, restoration, and management of all wetlands and streams managed by NYC Parks. The Framework also identifies the necessary financial support and recommended policy changes to manage and protect urban wetlands under a changing climate.
About the Speakers
Rebecca Swadek is the Senior Program Manager for Wetlands Restoration at NYC Parks where she oversees an interdisciplinary team focused on protecting and managing the streams, rivers, lakes, and wetlands on NYC's parkland. Trained as a botanist, she has over 12 years of experience ranging from plant taxonomy, to ecological restoration, green roofs, and land management in Texas, California, and New York. Rebecca holds a master's degree in environmental science from Texas Christian University and a bachelor's degree in biology from Texas A&M University.
Marit Larson is the Chief of Natural Resources for NYC Department of Parks and Recreation. She oversees the protection, restoration, management and conservation of New York City Parks' 10,000 acres of natural spaces. She is responsible for forest and wetlands restoration, conservation research, and stormwater green infrastructure design and construction, as well as for New York City's native plant center and its Urban Field Station – a collaboration with the U.S. Forest Service. Over her career she has worked on urban wetland and stream restoration projects and watershed plans across on the U.S., and in Germany and Australia. She holds master's degrees in environmental engineering and in natural resource management from the University of Washington and from the University of California at Berkeley.