Honey & Harvest Weekend
Saturday, October 6, 2018 – Monday, October 8, 2018
10 a.m. – 6 p.m.
Celebrate the Edible Academy's bounty with a cornucopia of harvest traditions. Learn about bees and honey with a live hive viewing, sample honey and honey comb, and take home recipes inspired by the fall harvest. Roll up your sleeves and don your apron to dig into the fun and enriching workshops all weekend.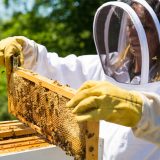 Investigate a Hive and Honey
Culinary Overlook
Ongoing, 10 a.m.–5:30 p.m.
Explore the workings of a beehive, try on a beekeeper's suit and tools, sample honey, and talk to local beekeepers.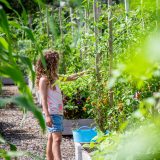 Gardening Activities
Ongoing, 10 a.m.–5:30 p.m.
Enjoy drop-in, hands-on activities throughout the gardens of the Edible Academy.
Seed Saving Exploration Station
EAT Lab

Join us in the EAT Lab to learn about the traditions and techniques of seed saving. Scoop, shuck, and strain seeds from vegetables, flowers, herbs, and fruits to save for our next growing season. A hands-on experience!
Dig, Plant, Grow
Green Thumb Gardens
Dig for decomposers and plant a fall crop seed in the Green Thumb Gardens, and water throughout the Family Garden.
Stamp A Garden Passport
Global Gardens
Learn about harvest traditions from around the world from our Global Gardeners and learn more about the wide range of fruits, vegetables, flowers, and herbs in their beautiful garden beds.
Make a Seed Ball
Greenhouse

As we prepare the harvest, we look ahead to next year and the spring season. Make a seed ball that you can sprout at home over the winter, or save in a cool, dry place for next spring.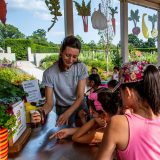 Culinary Workshops
Culinary Pavilion
Cooking Demonstrations at 10:30 a.m., 12 p.m., 1:30 p.m., 3 p.m., & 4:30 p.m.

We're cooking up a cornucopia of recipes to celebrate the harvest! Join us for family-friendly recipes featuring the best of what the season has to offer, from produce to honey.
Saturday, October 6
Sunday, October 7
Monday, October 8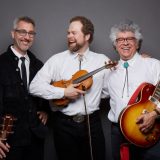 Live Music
The Doc Wallace Trio
October 6 & 7; 12:30, 2, & 3:30 p.m.
Burke Amphitheater
Milton
Monday, October 8; 12:30, 2, & 3:30 p.m.
Burke Amphitheater
About the Artists
The Doc Wallace Trio has been thrilling listeners with its unique blend of jazzy, Texas-style fiddling and swing since their first performance in 1999. The trio's presenters include Carnegie Hall, Lincoln Center, Midori & Friends, Young Audiences, the New York Philharmonic, HERE Arts Center, and the Levitt Pavilion. Never content to let music remain in the clubs or the concert halls, the Doc Wallace Trio is committed to engagement with underserved communities, and actively brings its artistry to schools, hospitals, psychiatric facilities, homeless shelters, houses of worship, and correctional facilities.
A songwriter's songwriter, Milton is known for his lyric craft, distinctive voice, and soulful songs steeped in classic rhythm & blues, pop, jazz, folk, and country. Milton first gained notoriety in his hometown of New York City when his song "In the City" became a hit on New York's WFUV radio. His live performances, which include material from every one of his albums, are praised for their wit, humor, and captivating charm.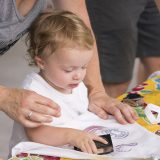 Makers Pavillion
Ongoing, 10 a.m.–5:30 p.m.
Explore hands-on activity stations in the Solar Pavilion.
Decorate a Harvest Bag
Decorate a harvest bag and then join Edible Academy staff in the garden to learn how to harvest some of fall's tastiest vegetables.
Make Simply Organic Herb Popcorn
Measure and mix fall herbs to make a savory treat celebrating one of our favorite fall fruits – popcorn!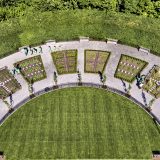 Barnsley Bed Tours
Open all day; tours at 11 a.m., 1 p.m., & 3 p.m.
Explore the potager vegetable gardens featuring a wide range of crops and different gardening techniques you can learn from for your own home garden.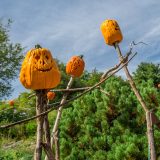 More for Families: Spooky Pumpkin Garden
Also during your visit, make sure to check out The Everett Children's Adventure Garden's spooky Halloween makeover with eye-popping pumpkins, silly scarecrows, and plenty of fun!