Honey & Harvest Weekend
October 12–14, 2019
10 a.m.–5:30 p.m.
Join us for the sweetest fall weekend in New York City
From sweet, sticky honey to hearty harvest vegetables like squash and beans, nothing beats the rich flavors and textures of fall. Dig into the traditions of the season as we celebrate the Edible Academy's bounty with honey samples and honey-inspired recipe tastings. Meet up with our busy bees as they work in their hive, help out with our vegetable harvest, and take in the sights and sounds of the season during this weekend dedicated to all things autumn.
Investigate a Hive and Honey
Learn more about this beloved natural sweetener as you explore a beehive, try on a beekeeper's suit and tools, sample honey, and talk with local beekeepers.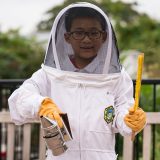 Help Us Grow with Gardening Activities
Ongoing; 10 a.m.–5:30 p.m.
Our gardeners always welcome a helping hand, and they're happy to share their years of knowledge to help you grow a garden at home. Water and harvest, meet our fun team, and form a seed ball to start growing at home.
Dig, Plant, Water, and Harvest
Green Thumb Gardens
Help us plant, tend, and harvest the crops in our garden. We're planting cover crops to prepare the soil for next year and harvesting leafy greens and sweet carrots!
Meet our Global Gardeners
Global Gardens
Meet the Global Gardeners and learn about what they are growing in their gardens—including their favorite tomatoes.
Start a Garden
Greenhouse
Mix compost, potting soil, and clay together with seeds to make your own seed ball to start growing at home. Choose a mix of seeds for a garden of edible greens or pollinator-friendly plants.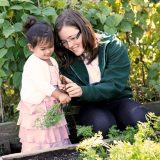 Taste Flavorful Fall Recipes at Culinary Workshops
Watch as NYC-area chefs cook up tasty, healthy recipes featuring honey and some of our favorite fall ingredients. Be sure to try them all!
Saturday, October 12
Sunday, October 13
Monday, October 14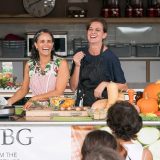 Dance Along to Live Music
12:30, 2, & 3:30 p.m.
Susan P. and Coley Burke Amphitheater
Get moving with live, family-friendly music performances throughout the day.
The Doc Wallace Trio has been thrilling listeners with its unique blend of jazzy Texas-style fiddling and swing since 1999. The trio's presenters include Carnegie Hall, Lincoln Center, Young Audiences, the New York Philharmonic, and the Levitt Pavilion.
The trio consists of Juilliard-trained, prize-winning Texas-style contest fiddler David Wallace; multi-genre acoustic guitarist and composer Daniel Levy; and veteran jazz, rock, and R & B electric guitarist Dana Scofidio. Together, The Doc Wallace Trio takes rollicking Texas fiddle music out of the tin-roofed pavilions and rodeo grandstands and gives it new life with its imaginative improvisations and jazzy, New York edge.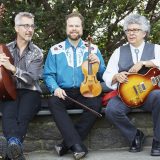 Get Crafty at the Makers Pavilion
Ongoing; 10 a.m.–5:30 p.m.
The end of the season is full of bright flavors and a bountiful harvest. Make your own colorful harvest bag using botanical stamps to make your creative statement. Then put your taste buds to work flavoring popcorn with zesty herbs.
Decorate a Harvest Bag
Decorate a bag with honeybee- and garden-inspired stamps to bring along with you to help hold your harvest.
Herb Popcorn Station
A bag full of popcorn is always a welcome treat. Measure and mix dried herbs to add a flavorful punch.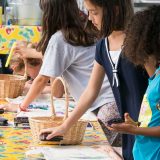 More for Families: Spooky Pumpkin Garden
Encounter more than a hundred silly scarecrows and nearly a thousand peculiar pumpkins and gourds as you explore the twisting, turning trails of the Everett Children's Adventure Garden.