Scarecrows & Pumpkins
September 18 – October 31, 2021
10 a.m. – 6 p.m.
NYBG's Scarecrows & Pumpkins Takeover Returns
Discover plentiful pumpkins and hordes of gourds by the Mertz Library Building and Haupt Conservatory Plaza, and keep an eye out for displays of whimsical scarecrows throughout the Everett Children's Adventure Garden.
Scarecrows & Pumpkins are included with KUSAMA Garden Pass and KUSAMA Garden & Gallery Pass tickets.
Whimsical Scarecrows Return
September 18–October 31
Everett Children's Adventure Garden
Encounter more than 100 silly scarecrows along the twisting trails of the Everett Children's Adventure Garden.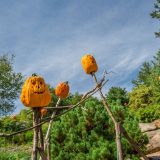 Puppets on Parade
Saturdays & Sundays, September 18–October 31; 1–4 p.m.
Everett Children's Adventure Garden Ribbon Gate and around the Garden

Larger-than-life pumpkins and skeletons, specially commissioned by Chilean American puppeteer Lucrecia Novoa, greet you during your visit.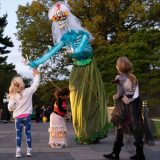 Pumpkin Carving Demonstrations
October 2, 3, 9, 10, 16, 17, 23, 24, 30, & 31; 1–4 p.m.
Everett Children's Adventure Garden

Watch as amazing pumpkin faces and designs emerge from pumpkins of all shapes and sizes.
About Adam Bierton:
Adam Bierton is a professional sculptor and pumpkin carver based in New York. In 2015, Bierton was asked to participate in the Food Network series Halloween Wars—and won. The Food Network contacted Bierton again in 2017 to return to defend his title on a new mini-series called Halloween Wars: Hayride of Horror, where he carved some of the largest pumpkins from all over the country.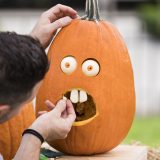 Giant Pumpkins
On display October 23–31
Top off the Halloween season by checking out some of the largest pumpkins in the world, meticulously cared for each year by elite growers, with some weighing in at more than 2,000 pounds.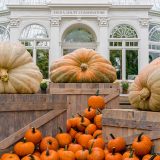 Archie's Halloween Adventure
October 23, 24, 30, & 31; 2–5 p.m.
Clay Family Picnic Pavilions
In this theatrical production, follow the story of Man chasing his dog, Archie, who has escaped into the mysterious Garden one afternoon in October, leading him on an adventure through the forest—full of tricks and treats. The 10-minute live performance will be presented several times throughout the afternoon.
About Hit the Lights! Theater Company
HIT THE LIGHTS! THEATER CO. is an award-winning company created out of an artistic agreement to tell simple stories through unconventional ways. The company is comprised of five experienced multidisciplinary artists: puppeteers, actors, musicians, artisans, and everything in between. Their work is of a heightened style, hyper-theatrical in nature, with performers multitasking on-stage in real time to create the technical, musical, and narrative components of a story simultaneously. Believing that motion, color, sound, and atmosphere are more evocative and experiential than spoken text, a heavy emphasis is placed on dialogue-free, action-oriented storytelling.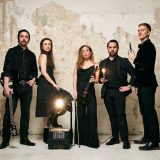 Plethora of Pumpkins
Explore everything the Garden has to offer this season, from pumpkin carving tips to fall recipes and decoration ideas.