Scarecrows & Pumpkins
Saturday, September 23, 2017 – Tuesday, October 31, 2017
10 a.m.–6 p.m.
Guided Activities:
Weekdays; 1:30–5:30 p.m.
Saturdays & Sundays; 10 a.m.–5:30 p.m.
Enjoy this bountiful time of year with eye-popping pumpkins, spooky scarecrows, and plenty of fun in the Everett Children's Adventure Garden. Kids can explore more than 100 friendly scarecrows set among rare and unusual pumpkins and gourds or take part in guided activities like potting up a spooky spider plant or investigating creepy crawlers in our pond and soil. Throughout this fall celebration of frights and fun, take part in special activities and demonstrations featuring creepy creatures, hands-on crafts, and more.
See How the Adventure Garden Prepared for Fall at NYBG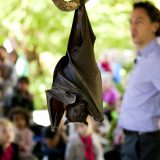 Creepy Creatures of Halloween
Saturdays & Sundays, 1 & 3 p.m. starting September 30
(2 p.m. only on 9/30)
At the Clay Family Picnic Pavilions
Some of the animals that make us scream are actually the coolest animals around. Meet critters from our big backyard and beyond during this live animal presentation and discover the unique adaptations which help them survive in their habitats.
On Columbus Day Weekend, bats are back by popular demand! Come face-to-face with different bats from around the world—the North American Big Brown bat, the endangered Rodrigues bat, and the Malayan Flying Fox, a beautiful bat with a six-foot wingspan. Learn how bats impact humans and keep our environment healthy as well as easy ways to make your backyard a refuge for these important animals.
About the presenting organizations:
My Reptile Guys
September 30, October 1, 14, 15, 21, 22, 28, 29
As a family owned and operated corporation, My Reptile Guys have delivered fun & educational reptile adventures to thousands of families, schools, libraries, and camps since 2008.
Organization for Bat Conservation
October 7, 8, 9
The Organization for Bat Conservation shares information concerning the benefits of bats, the need for their conservation, and what we can do to help these unique mammals. They invite everyone to step into the mysterious world of bats and explore their benefits, habitats, and nocturnal strategies.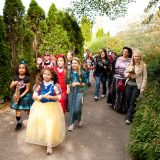 Whole Foods Market® Trick-or-Treat Trail
October 21 & October 22, 10 a.m.–5:30 p.m.
Come dressed in your favorite costume to visit the Whole Foods Market® Trick-or-Treat Trail in the Children's Adventure Garden. Decorate a bag to collect wholesome goodies during this extraordinary weekend of hands-on activities and special events.
Sponsored by: