Spooky Pumpkin Garden
Saturday, September 22, 2018 – Wednesday, October 31, 2018
10 a.m.–6 p.m.
Guided Activities:
Weekdays; 1:30–5:30 p.m.
Saturdays & Sundays; 10 a.m.–5:30 p.m.
The Everett Children's Adventure Garden gets a spooky Halloween makeover with eye-popping pumpkins, silly scarecrows, and plenty of fun!
Every day kids can explore more than 100 friendly, larger-than-life scarecrows set among nearly 1,000 rare and unusual pumpkins and gourds; pot up a spooky black coleus to take home; put on their own haunting show with insect, owl, and scarecrow puppets; and investigate a mysterious Victorian playhouse to learn all about bats. Weekends bring even more fall fun with pumpkin carving demonstrations by some of NYC's best artists and live presentations featuring creepy creatures like snakes and lizards. Break out your costumes for after-dark adventures during Spooky Pumpkin Nights on October 26 & 27, when kids can decorate gourds, explore the Spooky Pumpkin Garden with flashlights, and collect wholesome treats.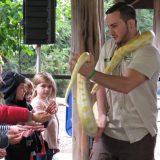 Weekend Fun
Weekends bring even more fun with expert pumpkin carving and creepy creatures demonstrations.
Pumpkin Carving Demonstrations with Master Carvers
October 6, 7, & 8; Edible Academy
October 13, 14, 20, 21, 27, & 28; Leon Levy Visitor Center
12–4 p.m.

Watch as a master carver showcases a variety of carving skills to transform pumpkins of all shapes and sizes into spooky works of art.
Adam Bierton
October 6, 7, 8, 27, & 28
Adam Bierton is a professional sculptor and pumpkin carver based in New York. In 2015, Bierton was asked to participate in the Food Network series Halloween Wars—and he won! The Food network contacted Bierton again in 2017 to return to defend his title on a new mini-series called Halloween Wars: Hayride of Horror, where he carved some of the largest pumpkins from all over the country.
Hugh McMahon & Friends
October 13, 14, 20, & 21
Hugh McMahon and his master carving assistants have been carving spectacular gourds and melons in the NYC area for decades. McMahon is an original artist whose talent for carving pumpkins has been featured at the Whitney Museum, American Museum of Natural History and on many television programs.
Creepy Creatures Live Animal Presentations
Saturdays & Sundays, October 13–28; 12 & 2 p.m.
At the Clay Family Picnic Pavilions
Some of the animals that make us scream are actually the coolest animals around! Come face-to-face with different reptiles from around the world and from our own backyard during this live animal presentation.
My Reptile Guys
October 13, 27, & 28
As a family owned and operated corporation, My Reptile Guys have delivered fun & educational reptile adventures to thousands of families, schools, libraries, and camps since 2008.
Alley Pond Environmental Center
October 14, 20, & 21
The Alley Pond Environmental Center (APEC), a nonprofit environmental education organization, is dedicated to educating children and adults in the New York metropolitan area, and advocating for sustainable environmental policies and practices. APEC's Outreach programs educate children about the wonders of our natural environment.
Photo: Patricia Gonzalez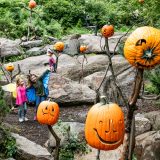 Spooky Pumpkin Nights
October 26 & 27
Dress in your favorite costume, grab a flashlight, and head into the Spooky Pumpkin Garden for a nighttime adventure, exploring scarecrows and pumpkins, decorating gourds, meeting larger-than-life skeletons, and learning about creepy creatures. Learn more.
Take a Peek at the Spooky Pumpkin Garden
An Inside Look at the Spooky Pumpkin Garden