Hispanic/Latinx Heritage
Month 2022
Through October 15
On-site & Online
Honoring cultural traditions and botanical heritage
NYBG celebrates Hispanic/Latinx Heritage Month with a lively variety of on-site and digital programs—to spotlight the important contributions and histories of the plants and people making up this diverse community—with educators, gardeners, artists, authors, scientists, and plant tours.
Welcome Video from Oswald Feliz, New York City Councilmember, District 15
Heritage Around the Table
Featured in NYBG's recent exhibition, Around the Table: Stories of the Foods We Love, Bronx artist Jill Cohen-Nuñez's table was inspired by their Dominican and Jewish ancestry and explores an imagined realm—one that uses the setting of the Passover Seder to host sculpted representations of their forebears. Each figure touches on a different stage of life, and a different stage of grieving, offering a unique perspective for connection.
Bronx Foodways Oral Histories Project
As part of Hispanic/Latinx Heritage Month, join us in learning from the compelling food stories of Bronx community gardeners, many of Latin American and Caribbean heritage, who have been instrumental in creating, caring for, and cultivating community in these critical spaces. These stories are part of the Bronx Foodways Oral Histories Project, launched in 2021, to preserve the food histories and life experiences of longtime community gardeners and urban farmers across the borough.
The Bronx Foodways Oral Histories Project is made possible with support from the Mellon Foundation.
Follow the path of Reynier Leyva Novo: Methuselah
Launching online to the public on September 22 to coincide with the Fall equinox, NYBG is excited to share El Museo del Barrio project Reynier Leyva Novo: Methuselah.
Conceived by the Cuban-born and Houston based artist Reynier Leyva Novo, the digital artwork virtually reproduces the 6000-mile transnational migratory journey of a single monarch butterfly, tracking its travel from southern Canada across the United States to Mexico. Embodied through the life of a virtual avatar, the epic journey is hosted and reproduced in real time on a specially designed, open-access, dedicated website.
ABOUT METHUSELAH
Working with butterfly experts, taxidermists, animators, computer modelers, and software designers for over a year, artist Novo translated the monarch butterfly from an analog specimen into a digital animation. Accessible online, the virtual avatar can be observed 24 hours a day during a one-year cycle as it flutters, flies, feeds, and rests with the ease and delicacy of a real insect. At any given time, the software program determines the butterfly's movements in space, drawing upon numerous data points related to monarch migration patterns. No single observed motion is the same. This presentation offers viewers a privileged and unprecedented look at a day in the life of a single monarch butterfly, a phenomenon that until recently was impossible to observe or track.
Image: Reynier Leyva Novo, Methuselah, 2021-2022. Digital artwork. Commissioned by El Museo del Barrio with generous support from VIA Art Fund. Courtesy the artist.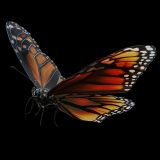 From the Shelves of the LuEsther T. Mertz Library
Enjoy a rotating selection of books highlighting Hispanic and Latinx authors. There are also many inspiring titles in the Children's Collection, including Just Ask! Be Different, Be Brave, Be You, by Sonia Sotomayor, Puerto Rican Bronx native and first Latina appointed to the U.S. Supreme Court.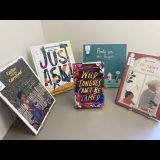 Dive In with Plant Talk Blogs
Learn all about the incredible work our staff and community partners are doing!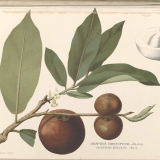 Reduce, Reuse, Revitalize!
Create Your Own Planter
Tiffany Gomez is a Bronx-based sustainable artist, designer, and founder of Gomez Design Studio. Join her for a look back on the craft techniques she shared for Earth Day, helping you reduce and reuse at home.
Look Closely at Plant Discovery with The Hand Lens
Magnify your knowledge of plants and culture through behind-the-scenes stories of adventure and discovery. Learn about the work of NYBG scientists and collaborators in Latin America and the Caribbean where they are leading efforts to conserve ecosystems that are among the most diverse in the world.
Get started with highlights from the collection featuring stories from the Caribbean and South America:
And learn more about behind-the-scenes stories at The Hand Lens.