Bronx Foodways
Oral Histories Project
Launched in 2021, the Bronx Foodways Oral Histories Project exists to preserve the food histories and life experiences of long-time community gardeners and urban farmers across the borough.
This oral history collection is invaluable. It provides intimate first-hand portraits of the growers, volunteers, and activists—keeping their personal journeys alive for future generations, and underscoring the importance of neighborhood gardens as centers for food, heritage, community, and social justice.
As a social and historical resource accessible to students and the broader community, the project and archive will continue to grow over time. Below, you can explore the first wave of stories, collected in 2021.
The Bronx Foodways Oral Histories Project is made possible with support from the Mellon Foundation.
All photographs of the gardens and gardeners were taken by students from the Bronx Documentary Center. We thank this year's student photographers: Lucki Islam, Pamela Ysabel Rozon, Adanna Taylor, and Bronx Documentary Center Coordinator, Ricardo Partida.
The Mural Project
Each year The New York Botanical Garden commissions two public murals celebrating Bronx gardeners and farmers from the Oral Histories project. Bronx artist André Trenier is creating the initial works in 2022.
History of the Bronx Community Gardens
Formed in 1988, the Botanical Garden created the Bronx Green-Up program to support the volunteer efforts of residents that were beginning to clean up and beautify vacant lots in the Bronx.
Bronx Green-Up, the community gardening outreach program of The New York Botanical Garden, provides horticultural education, training, and technical assistance to Bronx residents, community gardeners, urban farmers, local schools, and community organizations. The program is the visible presence of the Botanical Garden beyond the Garden's gates, inspiring NYC residents to get involved in improving their communities through greening projects.
Learn more about the history of Bronx Community Gardens.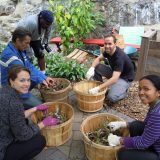 Around the Table: Stories of the Foods We Love
Saturday, June 4–Sunday, September 11, 2022
Food is at the center of many of life's most important events. When we gather together for a meal, the dishes we share often tell a story—and we share a bit of ourselves.
Explore the rich cultural history of what we eat throughout this multifaceted, engaging exhibition that examines the art and science of foodways and food traditions, many dating back thousands of years. From global dietary staples such as rice, beans, squash, and corn to the regional spice and flavor provided by peppers, greens, and tomatoes, plants are at the base of all culinary customs. Discover the diversity and beauty of plants that are grown for cuisine around the world. Across NYBG's 250-acre landscape, uncover the botanical origins of the foods you think you know; gain a deeper understanding of the environmental and social impacts of food choices throughout history; and gather at artist-designed tables that explore the significance of the featured plants, bringing to life inspiring stories of community and survival.