NYBG Pride
Tuesday, June 1, 2021 – Wednesday, June 30, 2021
Online
Join us virtually throughout the month of June to celebrate the LGBTQ+ community, its history, and its contributions to the plant world. Programs include a conversation about the role of LGBTQ+ people in botanical science, a dance performance with The Bronx Academy of Arts and Dance, an account of the ecological history of Fire Island, and more.
Welcome from U.S. Representative Ritchie Torres
Congressman Ritchie Torres of the Bronx delivers welcoming remarks on the importance of Pride Month.
Queering Botanical Science: A Discussion in Celebration of LGBTQ+ Pride Month
Join us for a look back on this important conversation that brought the role of the LGBTQ+ community in the development of botanical science to the forefront, presenting and facilitating a broader understanding of the history of modern botany. Watch the 2020 webinar here, then read a recap of the event.
Garden Set: Alone Together
The Bronx Academy of Arts and Dance
Recorded at the Enid A. Haupt Conservatory plaza, renowned dancer and choreographer Arthur Avilés and co-founder Charles Rice-Gonzalez of BAAD! present Alone Together, a dance by Arthur Aviles and performers Alethea Pace and Richard Rivera with music by Retumba, a moving performance that honors the resilience of the human spirit.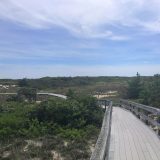 The Hand Lens
Fire Island: Preserving a Unique Ecological & Cultural Resource
A landscape with both cultural and environmental importance, Fire Island is the subject of a new story on NYBG's Steere Herbarium blog The Hand Lens, highlighting its fascinating natural history as well as its place in LGBTQ+ history.