NYBG Pride
Tuesday, June 1, 2021 – Wednesday, June 30, 2021
Online
Join us virtually throughout the month of June to celebrate the LGBTQ+ community, its history, and its contributions to the plant world. Programs include a conversation about the role of LGBTQ+ people in botanical science, a dance performance with The Bronx Academy of Arts and Dance, an account of the ecological history of Fire Island, a family storybook reading of Julian Is a Mermaid, and more.
Welcome from U.S. Representative Ritchie Torres
Congressman Ritchie Torres of the Bronx delivers welcoming remarks on the importance of Pride Month.
Queering Botanical Science: A Discussion in Celebration of LGBTQ+ Pride Month
Join us for a look back on this important conversation that brought the role of the LGBTQ+ community in the development of botanical science to the forefront, presenting and facilitating a broader understanding of the history of modern botany. Watch the 2020 webinar here, then read a recap of the event.
Children's Story Hour:
Julian Is a Mermaid
Kids can join NYBG's Teen Explainers for a virtual reading of the book Julian is a Mermaid, by Jessica Love. After the story, stick around for a hands-on activity that demonstrates how to craft a botanical crown to wear in celebration of Pride Month.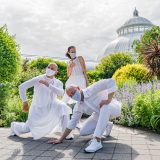 Garden Set: Alone Together
The Bronx Academy of Arts and Dance
Video by June 15
Recorded at the Enid A. Haupt Conservatory plaza, renowned dancer and choreographer Arthur Avilés and co-founder Charles Rice-Gonzalez of BAAD! present Alone Together, a dance by Arthur Aviles and performers Alethea Pace and Richard Rivera with music by Retumba, a moving performance that honors the resilience of the human spirit.
About BAAD
Co-founded in 1998 in Hunts Point's historic Banknote Building by award-winning dancer/choreographer Arthur Avilés and writer/activist/publicist Charles Rice-Gonzalez, BAAD! (The Bronx Academy of Arts and Dance) began as a home for Arthur Avilés Typical Theatre, a contemporary dance company that explores works on the margins of Latinx and queer cultures.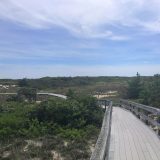 The Hand Lens
Fire Island: Preserving a Unique Ecological & Cultural Resource
A landscape with both cultural and environmental importance, Fire Island is the subject of a new story on NYBG's Steere Herbarium blog The Hand Lens, highlighting its fascinating natural history as well as its place in LGBTQ+ history.