Rose Garden Weekend 2023
June 3–4, 2023
12 p.m. | At the Garden
Enjoy a Breathtaking Array of Roses All Season Long

Join us to celebrate the iconic Peggy Rockefeller Rose Garden as it bursts to life! With over 500 varieties of roses, this display of classic summer color is not to be missed.
Tours
Take an in-depth look at the Rockefeller Rose Garden with guided tours.
Rose Garden Tours with NYBG Volunteers
12 & 1 p.m.
Immerse yourself in the fragrance, color, and beauty of the award-winning Peggy Rockefeller Rose Garden on a tour with an NYBG Tour Guide. Learn the differences between heritage and modern roses and between floribundas and hybrid teas, as well as facts about rose history, cultivation, and folklore.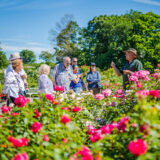 Stop and Study the Roses
Feeling inspired by the beautiful blooms? Join one of our Continuing Education classes to learn the history of roses, how to grow and care for them at home, and the various benefits of the members of the Rosaceae family.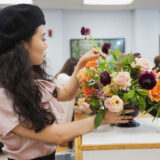 Watch Spectacular Color Unfold
The Peggy Rockefeller Rose Garden is a place of iconic spring beauty. Starting in June, follow this season's bloom as it heads toward peak color with our Rose Tracker.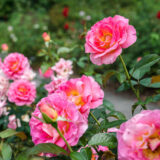 About the Peggy Rockefeller Rose Garden
The Peggy Rockefeller Rose Garden is among the most popular destinations at the Garden from May to October, when more than 650 varieties of roses are in peak bloom.