Orchid Care & Conservation
Orchids come in all sizes and colors, making them a favorite at home and at NYBG. Experience this year's orchid show featuring some of our favorite orchids from our world-renowned collection—which includes over 2,000 varieties. Explore orchid care tips and videos and learn more about the diverse world of orchids from home.
Orchid Care Tips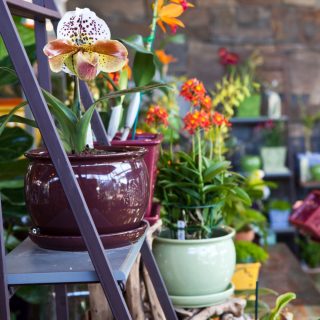 Where to purchase
Plant nurseries tend to have a wider variety, and the orchids are generally in better condition than those found at big box stores.
Getting the orchid home
Orchids are sensitive to changes in temperature. If it is a cold day, request the that vendor wrap the plant for your trip home, or keep the orchid in a bag.
Once home
The orchid needs time to adjust to its new environment. Establish a regular watering routine, keep it away from other plants for three weeks, and check regularly for signs of pests or disease.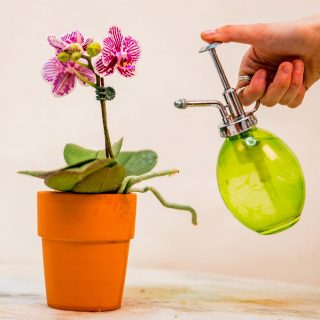 Watering starts with the right pot
Orchids need water, but it is easy to overwater if you're not careful. Make sure your plant's pot has good drainage.
Orchids love humidity
This can be achieved at home through misting the leaves, setting up a humidifier near the plant, or placing its pot atop a tray of pebbles in water.
The amount of water an orchid needs depends on the type of orchid and the potting medium. Here is a good place to start.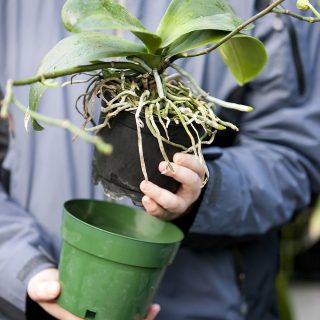 Orchids should be repotted every one to two years. Look for roots growing out of the pot, or potting medium that is compacted or rotting.
Wait until after the orchid has finished flowering, otherwise the flowers will wilt and fall off from the shock of repotting.
Keep it clean. Orchids are at their most vulnerable when being repotted. Before starting, soak the new potting medium and thoroughly clean all tools and pots.
How to Repot an Orchid
Learn the simple steps to keeping your own orchid thriving at home.
About Orchids
Orchids are one of the largest and most highly evolved flowering plant families. An estimated 30,000 naturally occurring orchid species and tens of thousands of artificially created hybrids grow worldwide in habitats ranging from rain forest to desert, making Orchidaceae the largest plant family on Earth. Orchid breeders have augmented this remarkable natural diversity by hybridizing and naming more than 100,000 horticultural varieties.
Orchid Conservation
NYBG remains a sanctuary for a renowned collection of orchid specimens, among which are included many species threatened by poaching, international trade, and habitat loss. Together with nations and botanical institutions around the world, the Garden continues its work to protect and repair the legacy of these important plants.
There are more than 6,000 orchids representing 2,273 taxa (different types) in the Garden's permanent collection, which has orchids from all of the floristic regions of the world, including Australia, Africa, South America, and Madagascar.
The Garden's resident orchid expert is Marc Hachadourian, Director of Glasshouse Horticulture & Senior Curator of Orchids. With more than 15 years of commercial and specialized horticultural experience, he supervises the care of the botanical collections, including the extensive orchid collection and exhibition plants in the Nolen Greenhouses.
Many wild orchids are at risk of extinction due to over-collection and the destruction of their native habitats. Through the Convention on International Trade in Species of Wild Fauna and Flora (CITES), dozens of countries are working together to curb the exploitation of wild species and ensure trade does not threaten their survival. Despite regulations, many orchids are still imported illegally.
The NYBG, a designated CITES Plant Rescue Center since 1990, cares for many confiscated plants. Hundreds of orchids from Brazil, India, Mexico, Peru, the Philippines, and Thailand have arrived here in poor condition, but through careful study of their needs and the use of appropriate horticultural techniques, the Garden has successfully rejuvenated a majority of these ailing specimens.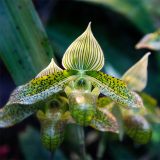 GUERLAIN Orchid Research & Conservation
For more than 15 years, Orchid Show sponsor, GUERLAIN has been researching the orchid, developing a unique and rich expertise on this endangered species. To discover all the secrets of this fascinating and virtually immortal flower, a dedicated research center has been created: The Orchidarium®.
It is made up of three complementary centers of expertise, whose goal is to study, understand and protect orchids, the precious flowers at the heart of the Orchidée Impériale skincare collection.
The Experimental Garden in Geneva, Switzerland: Led by Guerlain ethnobotanist François Gérard, this greenhouse gathers over 3,000 specimens and is the ideal research site to identify orchid species with the highest performance for cell longevity to be used in the Orchidée Impériale skincare range.
The Research Laboratory in Geneva, Switerland: Led by Quentin Favre-Godal, this research center targets and analyzes the most powerful phytochemical properties of the chosen orchids.
TianZi Exploratory Reserve in Yunnan, China: Led by Minguo Li Margraf, with whom Guerlain has forged a special partnership since 2011. GUERLAIN has reintroduced almost 20,000 orchids into their natural environment, restoring this precious flower to the heart of one of its native habitats. GUERLAIN reintegrates and protects endemic orchid species, while also safeguarding endangered flora and fauna. Additionally, GUERLAIN leads the reforestation of 7.5 acres every year with a rainforestation farming method. By 2031, GUERLAIN and TianZi will double this surface area to reach a total of 148 acres in which regenerative agriculture practices will be implemented.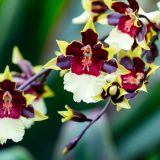 #NYBGFacts: Vanilla Orchid
Did you know vanilla comes from an orchid? Check out this video to learn more about this amazing flower.
Orchidelirium: The Hand Lens
Explore our virtual herbarium—a repository of dried examples of plant species from around the world—and read about our favorite orchids.
Orchids for Home
Orchids are the largest plant family, with over 28,000 identified species! Learn about the most commonly cultivated orchids – and some that will be sold at NYBG Shop!
Dancing Ladies
These "dancing" orchids are all in the genus Oncidium.
No Leaves, No Problem
Not all plants have leaves, and many leafless plants are orchids.
New York Orchids
Orchids can be found all around world, even right here in New York.
History of Vanilla
Edmond Albius, a 12-year-old enslaved Black boy from the island of Réunion, was the first to discover how to hand-pollinate the vanilla orchid—the source of one of the world's most treasured flavors.