Orchid Evenings
March Events Cancelled; April 3, 4, 10, 11, 17, & 18
7–10 p.m.
(Entry Times at 7, 7:30, 8, & 8:30 p.m.)
NYBG is temporarily closed and Orchid Evenings will not take place. Learn more.
---
Step Into a World of Color and Style
Lose yourself in twists and turns of color at New York City's most spectacular night out. Discover famed designer Jeff Leatham's colorful and bold vision for The Orchid Show—a kaleidoscopic display of dazzling orchids, mirrored sculpture, dramatic lighting, and more. Experience the singular style and high energy of Princess Lockerooo and her collective of performers, who set the stage for cocktails and local flavors from the Bronx Night Market.
Ticket Information
Non-Member $39 / Member $29 (Adults 21 and over)
Advanced purchase recommended to guarantee admission; events do sell out. When purchasing a ticket, select an entry time to enter the Conservatory to view The Orchid Show. You may arrive anytime between 7–10 p.m. to enjoy the evening, although entry into the Conservatory is at the time indicated on your ticket.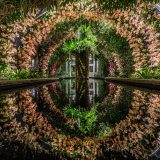 About The Orchid Show
Featuring the dazzling floral creations of Jeff Leatham, the famed artistic director of the Four Seasons Hotel George V, Paris and floral designer to the stars. Leatham's bold vision unfolds through captivating installations and designs, transforming each gallery of the exhibition in the Haupt Conservatory into a different color experience, like the turn of a kaleidoscope.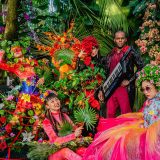 Get Ready to Vogue and Walk the Runway
Leading Vogue and Waacking-style dancer-choreographer Princess Lockerooo teams up with renowned musician Harold O'Neal and a collective of performers for a fierce and fabulous evening of dance, live music, and DJ sets. Come dressed in your boldest botanical-inspired attire, express yourself on the runway, and experience high floral fashion by House of Hallucination.
About the Artists
Princess Lockerooo (Not performing March 20 & 21)
A multifaceted performance artist, content curator, educator, and activist, Princess Lockerooo has appeared on So You Think You Can Dance, worked with top artists such as Madonna and Icona Pop, and produced entertainment for events across the world, including Lincoln Center and Summerstage.
Harold O'Neal (Not performing March 20 & 21)
This pianist, composer, actor, and dancer has performed with U2, appeared in Jay-Z's Young Forever music video, and portrayed a piano-playing hepcat in HBO's Boardwalk Empire. He has been featured on MTV, NPR's All Things Considered, and more, drawing comparisons to Duke Ellington and Maurice Ravel by The New York Times.
The Illustrious Blacks (March 20 & 21 only)
Drawing inspiration from artists such as Prince, David Bowie, Grace Jones, Depeche Mode and George Clinton, The Illustrious Blacks fuse futuristic funk, hypnotic house, space disco, and synth-pop into pulsating positivity for the planet.
House of Hallucination
A collective of other-wo​rldly, live-art beings and characters conceived and created by Hector Perez, a New York City based designer and performance artist.​ House of Hallucination designed and created the floral couture for the Orchid Evening performers.
Dance Collective
Ali Castro
Andrew Barret Cox
Shane Fowler
Yukino Ichijo
Masumi Kanbayashi
Rinre Kunni
Chun Venus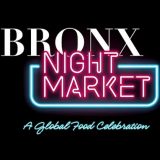 Taste Local Flavors at the Bronx Night Market
Called New York's Best Outdoor Food Fair by the New York Times, the Bronx Night Market brings together handpicked food vendors in celebration of our city's diverse culture. A special pop-up during Orchid Evenings features a rotating selection of Market favorites for purchase.
March 14
Cbao
ChefBoyarNetty
Mixto Tacos
MozzArepa
Pop Pasta
Sweet Shots by AJ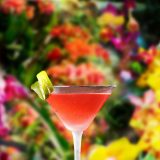 Enjoy Signature Drinks and Pre-Show Dinner
Purchase a signature cocktail, beer, wine, and more from one of our seasonal bars. On Saturday nights, enjoy a pre-show meal or light bite at the Hudson Garden Grill (last reservation at 5:30 p.m.). Make your reservations on opentable.com