Orchid Evenings
March 17, 24, & 31;
April 6, 7, 13, 14, 20, & 21, 2018
6:30–9:30 p.m.
(Entry Times at 6:30, 7, & 7:30 p.m.)
Stroll through The Orchid Show in the lush Conservatory while music, performers, and unmatched beauty create one of New York City's most unique and spectacular evening outings.
This year's exhibition showcases a series of installations crafted by Belgian floral artist Daniel Ost—each a living sculpture celebrating the complex beauty of these stunning flowers. Explore the exhibition after hours and enjoy music and performers with a sea of vibrant orchids cascading behind them.
Ticket Information
Non-Member $38 / Member $28 (Adults 21 and over)
Media Partner: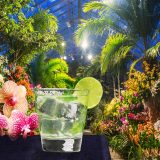 Dining & Specialty Cocktails
Enjoy specialty cocktails like the Dancing Lady—created just for Orchid Evenings by Edible Bronx's head mixologist and refreshments in the Conservatory. Or head to the Hudson Garden Grill for a pre-show meal and light bites.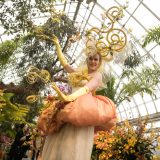 Music & Performers
Warm up with fire pits in the Conservatory Plaza, then head into the Conservatory to explore the exhibition. Live Orchid Dancers add extra flair to the stunning displays of orchids, while curated music by DJ X-RAY creates the perfect atmosphere to explore the Conservatory.
Orchid Dancers
Alice Farley's whimsical Orchid Dancers roam the Conservatory throughout the evening.
Conservatory Plaza Fire Pits
Meet friends and warm up with two fire pits custom designed for NYBG, then grab a cocktail in the Conservatory for a stroll through The Orchid Show. 
Curated Music by DJ X-RAY
Known for being a sought-after DJ to the stars, X-RAY has been spinning internationally for over 20 years.  His specially curated mix made exclusively for Orchid Evenings sets the scene for a fun, vibrant night out.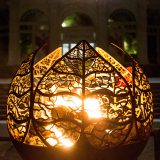 Hours & FAQs
Orchid Evenings are from 6:30–9:30 p.m. You may enter the Conservatory to view The Orchid Show at the entry time indicated on your ticket.
How to Get Here
The Garden is located at Bronx River Parkway and Fordham Road in the Bronx, and is easy to reach by car, subway, bus, and Metro-North. Get directions.
Admission
Non-Member $38/Member $28.
Orchid Evenings are for adults 21 and over; Make sure to bring your ID.
Visitor Services Support
For assistance planning your visit, reserving tickets, or to share your feedback about a recent visit, contact the Visitor Services Ticketing Support Hotline.
Telephone: 718.817.8716, seven days a week, 10 a.m.–5 p.m.
Email: ticketingsupport@nybg.org