Orchid Evenings
March 16, 23, 30 (SOLD OUT); April 5, 6, 12, 13 (SOLD OUT), 19, 20, 26, 27 (SOLD OUT)
7–10 p.m.
(Entry Times at 7, 7:30, & 8 p.m.)
The Energy and Nightlife of Singapore Come to the Bronx
New York City's most spectacular evening outings exclusively for adults 21 and over are back, bringing the color and nightlife of Singapore with them. Step into one of the world's greenest cultures as Supertrees come alive around you, exhilarating with a display of lights and orchids after dark in the Conservatory. Sip a Singapore Sling and purchase a bite to eat from the Bronx Night Market Pop-up while freestyle dancers and DJs perform throughout the night, and explore the kaleidoscope of orchid varieties from the "City in a Garden" and beyond.
Ticket Information
Non-Member $38 / Member $28 (Adults 21 and over)
Advanced purchase recommended to guarantee admission; events do sell out.
When purchasing a ticket, select an entry time to enter the Conservatory to view The Orchid Show.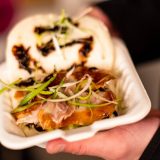 A Taste of the Bronx Night Market
The Bronx Night Market brings together handpicked food vendors in celebration of our city's diverse culture. A special pop-up during Orchid Evenings features a rotating selection of Market favorites and Asian-inspired dishes.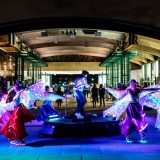 Orchid Evening Entertainment
Experience the sights and sounds of Singaporean nightlife with original music and playlists created by musical artist Eli Tyler along with the energetic urban choreography of Venus Chun and her dance company.
About the Choreographer: Venus Chun
Born on the sunny island of Singapore, Chun has been dancing freestyle for 8 years professionally, performing as a finalist in numerous dance competitions such as Singapore Dance Delight Vol.1, Singapore Best Dance Crew, Groove in the West, Dance Xplosion!, Suntec Dance as Sickin' Freaks, Blonde Voyage Crew, Danz Edition and Backstreet Girlz. In 2010, she won Best Dancer at Singapore Best Dance Crew. Now based in New York City, she has performed in Off-Broadway productions like Double It, as well as full dance productions like Estado Ingravitto choreographed by Ashle Dawson. She has also danced on Good Morning America, ABC Live, and for companies such as the New York Times (Times Square), PureWow, Pastry Sneakers, and at Lincoln Center Summerstage, NYC Dance Parade and at Brooklyn Arts Museum.
About the Musical Artist: Eli Tyler
Eli Tyler is a Producer/Singer/Songwriter from Singapore/Canada, who now calls New York City home. Listed as one of Deli Magazine's "Best Emerging Artists" in New York City, Eli got his start producing music for major-label artists in Asia and performing at various music and fashion festivals around the world. For The Orchid Show, Eli produced a special edition E.P., titled Lily In An Orchid Garden. The tracks evoke the sonic diversity of Singapore, and are infused with his signature urban-electronic soundscape. Eli will be DJ-ing tracks from the E.P. and performing a curated mix of his originals, including his new single "Breathe Again."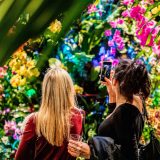 Signature Drinks and Pre-Show Dinner
Purchase a signature cocktail like the Singapore Sling, beer, wine, and more from one of our seasonal bars. On Saturday nights, enjoy a pre-show meal or light bite at the Hudson Garden Grill (last reservation at 5:30 p.m.). Make your reservations on opentable.com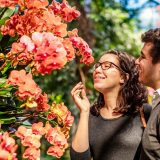 Hours & FAQs
Orchid Evenings are from 7–10 p.m. You may enter the Conservatory to view The Orchid Show at the entry time indicated on your ticket.
How to Get Here
The Garden is located at Bronx River Parkway and Fordham Road in the Bronx, and is easy to reach by car, subway, bus, and Metro-North. Get directions.
Admission
Non-Member $38/Member $28.
Orchid Evenings are for adults 21 and over; make sure to bring your ID.
Visitor Services Support
For assistance planning your visit, reserving tickets, or sharing your feedback about a recent visit, contact the Visitor Services Ticketing Support Hotline.
Telephone: 718.817.8716, seven days a week, 10 a.m.–5 p.m.
Email: ticketingsupport@nybg.org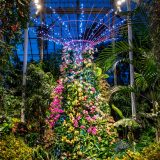 About the Orchid Show
The 17th annual Orchid Show is a dazzling tribute to Singapore, the vibrant "City in a Garden" where these storied flowers are an integral part of the culture and landscape.
Orchid Evenings are supported by Singapore Tourism Board