Garden Sets: Musical Performances at NYBG
Join us for short musical sets, centered in some of the Garden's most stunning locations. Enjoy inspiring performances, paired with the beauty of NYBG in summer.
From the Edible Academy:
Ali Dineen
This three-song set, filmed on a perfect summer day at the Edible Academy, is the ideal introduction to a stirring new voice on the American music scene.
From the Native Plant Garden:
Harold O'Neal
Recorded for Make Music New York 2020, O'Neal performs a mix of improvisations as well as variations on Imagine by John Lennon surrounded by water, trees, grasses, and wildflowers native to our area.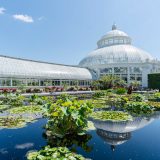 From the Conservatory Courtyards: Anthony McGill and Nancy Allen
Two stars from the New York Philharmonic, principal clarinetist Anthony McGill and principal harpist Nancy Allen weave together a magical program of selected pieces by Debussy, Ravel, Satie, and J.S. Bach. Surrounded by brilliant water lilies and lotuses at their peak, McGill and Allen will deliver a rich and mesmerizing set that permeates the Conservatory Courtyards.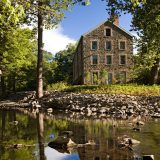 From the Lillian and Amy Goldman Stone Mill: Judith Insell and the JOTB Collective
On the terrace of one of New York City's most scenic landmarks, at a picturesque bend in the Bronx River, violist Judith Insell and her ensemble of piano, trumpet, and percussion, weave improvisations on jazz standards and spontaneous works inspired by the sounds of nature. Artistic Director of the Bronx Arts Ensemble, Insell and her provocatively-named "Jump Off This Bridge" collective are not to be missed!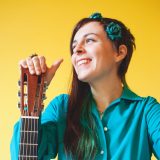 Ali Dineen
Lin Manuel Miranda said, "If I'm alone on [an] island, I'd pick Ali Dineen because it would give me hope."  Indeed, Dineen's songs, rooted in American folk, speak to our moment perfectly. Her lyrics highlight the intersections between personal experience, larger histories, and systems of power.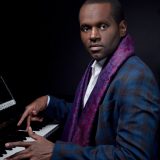 Harold O'Neal
Inspired by the sights and sounds of nature, Jazz pianist Harold O'Neal's music invites us to connect with our emotions and work to create the beauty we imagine in the world.