Garden Sets: Musical Performances at NYBG
Join us for short musical sets, centered in some of the Garden's most stunning locations. Enjoy inspiring performances, paired with the beauty of NYBG in summer.
From the Native Plant Garden:
Harold O'Neal
Recorded for Make Music New York 2020, O'Neal performs a mix of improvisations as well as variations on Imagine by John Lennon surrounded by water, trees, grasses, and wildflowers native to our area.
From the Home Gardening Center: Doreen Montalvo
Updated 10/18/20: The New York Botanical Garden acknowledges with great sadness the passing of Broadway musical actor Doreen Montalvo. We invite you to remember her talent and celebrate her life and career with this special Garden Set recorded at NYBG on September 28 to commemorate Fiesta de Flores.
In celebration of Hispanic Heritage Month, Doreen Montalvo plays selections from her album American Soul/Latin Heart against the lush backdrop of the Home Gardening Center.
From the Wetland Trail: Endless Field and Meera Dasgupta
As part of Climate Week NYC, NYBG's second annual Climate Change Arts Exchange goes virtual with video by the acclaimed Biophilia Records duo, Endless Field, and the 2020 National Youth Poet Laureate, Meera Dasgupta.
From the Edible Academy:
Ali Dineen
This three-song set, filmed on a perfect summer day at the Edible Academy, is the ideal introduction to a stirring new voice on the American music scene.
From the Stone Mill: Judith Insell and the JOTB Collective
Violist Judith Insell and her ensemble of piano, trumpet, and percussion weave improvisations on jazz standards and spontaneous works inspired by the sounds of nature.
From the Haupt Conservatory: Amanda Gookin, Leila Adu, & Jessica Meyer
Surrounded by orchids, GRAMMY-nominated cellist Amanda Gookin performs classical selections intercut with interviews by acclaimed contemporary female composers Leila Adu and Jessica Meyer.
From the Haput Conservatory plaza: The Bronx Academy of Arts and Dance
Renowned dancer and choreographer Arthur Avilés and co-founder Charles Rice-Gonzalez of BAAD! present Alone Together, a dance by Arthur Aviles and performers Alethea Pace and Richard Rivera with music by Retumba, a moving performance that honors the resilience of the human spirit.
From the Conservatory Courtyard: Anthony McGill and Nancy Allen
Two stars from the New York Philharmonic, principal clarinetist Anthony McGill and principal harpist Nancy Allen, performed surrounded by brilliant water lilies and lotuses at their peak.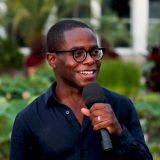 Harold O'Neal
Inspired by the sights and sounds of nature, Jazz pianist Harold O'Neal's music invites us to connect with our emotions and work to create the beauty we imagine in the world.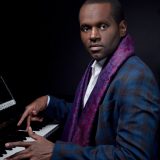 Doreen Montalvo
Updated 10/18/20: The New York Botanical Garden acknowledges with great sadness the passing of Broadway musical actor Doreen Montalvo. We invite you to remember her talent and celebrate her life and career with this special Garden Set recorded at NYBG on September 28 to commemorate Fiesta de Flores.
Doreen Montalvo was an active actress and recording artist. She had recently released her solo album American Soul/ Latin Heart distributed by Broadway Records.
Broadway and television credits include an original cast member of the Tony Award winning In the Heights, and roles in On Your Feet, Madame Secretary, and The Good Wife. Most recently, she appeared in the original Broadway cast of Mrs. Doubtfire. Doreen can be heard on many recordings including Disney's Moana, the original cast recording of In The Heights, Frida, and more. You can see her in the film release of In the Heights and West Side Story, directed by Steven Spielberg.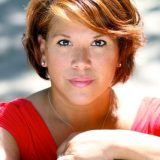 Endless Field & Meera Dasgupta
Recorded overlooking the abundant ecosystem of the Wetland Trail with the artists playing instruments amplified by the power of the sun, their performances highlight the important role that culture plays in informing hearts and minds to act in nature's defense.
About the Performers:
Endless Field performs selections from their newly-released album Alive in the Wilderness. A collaborative instrumental duo featuring guitarist Jesse Lewis and bassist Ike Sturm, they draw upon inspiration from nature, and seek to bring music to outdoor spaces. Endless Field has toured internationally and across the U.S., performing at Lincoln Center, the U.N., and live on NPR's Echoes Radio. To underscore their commitment to environmental activism and the preservation of treasured American landscapes, Lewis and Sturm are donating all proceeds to the Natural Resources Defense Council. "We want to help support their work combating climate change and protecting the very wilderness areas where we recorded," Lewis remarks. "We want this album to create awareness and inspire action." Active artists with the Harlem-based Biophilia Records label, they are united by a common interest in having a positive impact on the environment and our communities.
Meera Dasgupta performs her original work Happily ever after, The End. Meera is the 16-year-old National Youth Poet Laureate Ambassador of the Northeast, Federal Hall Fellow, and Van Lier Fellow who advocates for the youth voice on issues spanning gender equity to climate justice. An avid member of Powerplay NYC, Period NYC, Climate Speaks, Girl Be Heard, and Urban Word NYC, she has been featured by PBS, the Climate Group, and various other organizations due to her appearances at the Apollo, NY Historical Society, LinkedIn, Apple, and more.
The Youth Poet Laureate program is an initiative of Urban Word NYC. This reading is co-presented by the Poetry Society of America.
Climate Week NYC at NYBG supported by: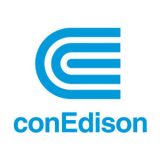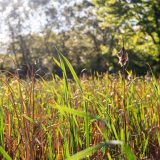 Ali Dineen
Lin Manuel Miranda said, "If I'm alone on [an] island, I'd pick Ali Dineen because it would give me hope." Indeed, Dineen's songs, rooted in American folk, speak to our moment perfectly. Her lyrics highlight the intersections between personal experience, larger histories, and systems of power.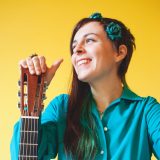 Judith Insell & The JOTB Collective
Judith Insell is a champion for musical diversity and music education advocacy. She has been an active member of the New York jazz, classical, and pop scene since the mid-nineties performing and recording with artists including Lee Konitz, Steve Coleman, Beyonce Knowles, and India.Arie.
She is a founding member of the avant-garde jazz ensemble, JOTB Collective, which features Virg Dzurinko on piano, Eli Asher on trumpet and Leonid Galaganov on percussion. Ms. Insell has recently been named the Artistic Director for the Bronx Arts Ensemble and was formerly a member of the Juilliard School's Educational Outreach Team.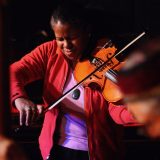 Anthony McGill & Nancy Allen
Clarinetist Anthony McGill is one of classical music's most recognizable and brilliantly multifaceted figures. He serves as the principal clarinet of the New York Philharmonic — that orchestra's first African-American principal player — and maintains a dynamic international solo and chamber music career.
Hailed for his "trademark brilliance, penetrating sound and rich character" (The New York Times) and "exquisite combination of technical refinement and expressive radiance" (The Baltimore Sun), Anthony McGill is recognized as one of the classical music world's finest solo, chamber, and orchestral musicians. Mr. McGill also serves as an ardent advocate for helping music education reach underserved communities and for addressing issues of diversity, equity, and inclusion in classical music. He took part in the inauguration of President Barack Obama, premiering a piece written for the occasion by John Williams alongside violinist Itzhak Perlman, cellist Yo-Yo Ma, and pianist Gabriela Montero. He is the 2020 winner of the Avery Fischer Prize.
Hailed by The New York Times as "a major artist" following her New York recital debut in 1975, Nancy Allen joined the New York Philharmonic in June of 1999 as Principal Harp. She maintains a busy international concert schedule as well as heading the harp departments of The Juilliard School and the Aspen Music Festival and School, and teaching at Stony Brook University. In addition, Ms. Allen appears regularly with The Chamber Music Society of Lincoln Center and the Orpheus Chamber Orchestra. In May 2000 Ms. Allen was featured in the Philharmonic's US Premiere of Siegfried Matthus's Concerto for Flute, Harp, and Orchestra, with Music Director Emeritus Kurt Masur and Principal Flute Robert Langevin.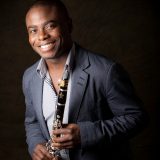 Amanda Gookin, Leila Adu, & Jessica Meyer
Praised for her "expert technical work" (The Strad), cellist and Forward Music Project founder Amanda Gookin "pushes Classical forward" (LA Times) and champions the future of music through the creation and bold performance of new works, and a dedication to education, culture, and community engagement
Her initiative, Forward Music Project, commissions new multimedia works for solo cello that elevate stories of feminine empowerment. Her newly released album, Forward Music Project 1.0, was celebrated by the NY Times as "communal joy embedded in a music of cooperation." She was the founder and decade-long cellist of the contemporary improvising string quartet, PUBLIQuartet, with whom the socially conscious album Freedom and Faith was nominated for a GRAMMY in 2019.
Composer Leila Adu is an astonishing force in the space where electropop, avant-classical, and singer-songwriter meet. Exploring her roots in New Zealand, Britain, and Ghana, Adu is an international artist who has performed at festivals and venues across the world. She has composed for Bang on a Can, the New Jersey Symphony Orchestra, the Brentano String Quartet, So Percussion, Gamelan Padhang Moncar, Orchestra Wellington, as well as performing and having compositions performed at Ojai Music Festival, and acted as a co-composer on the 2020 opera Magdalene.
Since embarking on her composition career only six years ago, Jessica Meyer (Bronx, NY) has had works premiered by acclaimed vocal ensembles Roomful of Teeth and Vox Clamantis, the American Brass Quintet, cellist Amanda Gookin for her Forward Music Project, Sybarite 5, PUBLIQuartet, and NOVUS NY of Trinity Wall Street. Her orchestral works have been performed by the North Carolina Symphony, the Nu Deco Ensemble in Miami, Vermont Symphony, Sinfonia Gulf Coast, and the Studio Orchestra at Peabody Conservatory.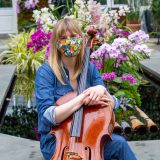 Garden Set: Alone Together
The Bronx Academy of Arts and Dance
Co-founded in 1998 in Hunts Point's historic Banknote Building by award-winning dancer/choreographer Arthur Avilés and writer/activist/publicist Charles Rice-Gonzalez, BAAD! (The Bronx Academy of Arts and Dance) began as a home for Arthur Avilés Typical Theatre, a contemporary dance company that explores works on the margins of Latinx and queer cultures.