Rooms of the Perennial Garden
A vast palette of the colors and textures of flowers and foliage makes the Perennial Garden a living work of art year-round. This garden is designed as a series of "rooms," each individual space defined by a distinct color palette or seasonality. All the rooms contain a blend of perennials, grasses, bulbs, shrubs, and trees that flower or produce fruit at various times, ensuring color and fragrance throughout the year.
Explore more of the Perennial Garden with our mobile guide.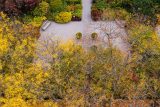 The Fall Room reaches its peak color and texture in autumn.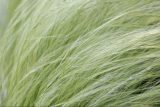 Mexican feather grass (Nassella tenuissima 'Pony Tails') forms arching, fountain-shaped clumps of very fine, soft foliage that sways in the wind. It turns from pale-green to golden-bronze in winter.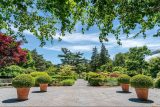 In spring and summer, the scene is just as lovely, showcasing a variety of flowering shrubs and annuals beneath leafy green trees.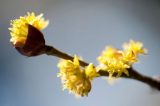 Japanese spicebush (Lindera obtusiloba) flowers in early spring before its leaves emerge, so the bright-yellow blooms are easy to spot. Its leaves turn golden in fall.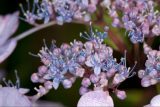 The flower heads of the cultivar Hydrangea macrophylla cultivar 'Lady in Red' are pink in spring, then turn deep, rosy red. Its leaves and stems are also red-tinged.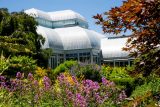 The Bog Room was originally designed as a garden for plants that grow in moist or wet soil such as in a bog. Today horticulturists have shifted their focus to interplanting a mosaic of diverse plants, as in the other rooms, with an emphasis on native northeastern flora.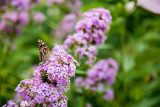 Native throughout the eastern United States, garden phlox (Phlox paniculata) produces large clusters of small flowers beloved by butterflies.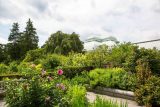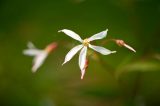 Bowman's root (Gillenia trifoliate), a native wildflower, thrives in moist shaded beds. Its small white flowers resemble five-pointed stars.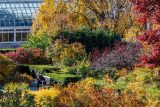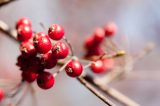 Native to the Atlantic coast, from Newfoundland to Florida, red chokeberry (Aronia arbutifolia) sports masses of small white flowers in spring and shiny fruit in fall. Don't eat the berries—they are so bitter, they may cause you to choke.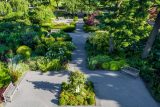 The Hot Room is ablaze with color throughout spring. Its yellow, orange, and red daffodils and tulips are among The New York Botanical Garden's harbingers of spring.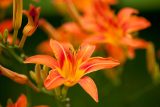 Daylilies with large, colorful blooms fill the Perennial Garden in late spring. Citron daylily (Hemerocallis citrina) has bright-yellow flowers.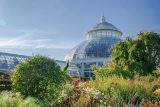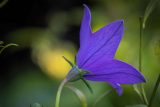 Balloon-flowers (Platycodon grandiflorus) form puffy buds that burst open like a balloon. The purple, bell-shaped flowers appear in June and continue to bloom throughout summer.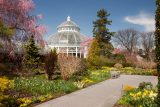 In fall, find red-leafed trees and shrubs. A decorative, planted globe at the center of the room draws the eye.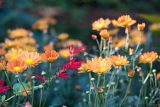 In fall we plant bountiful Korean chrysanthemums (Chrysanthemum cv.), which are hardy in cold weather and produce many flowers.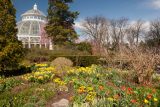 The central path in the Perennial Garden is alive with activity for much of the year, attracting birds, bees, and butterflies with its many flowers.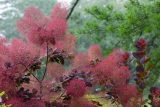 In bloom, smoketree (Cotinus sp.) resembles a fluffy pink cloud. The flowers are small and yellow-green, but the stems are covered in long, rosy hairs.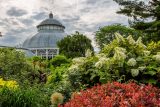 The long and narrow planting beds on either side of this path are known as mixed borders. They feature a blend of shrubs and herbaceous perennials and annuals planted to create masses of color.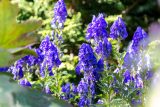 Monk's hood (Aconitum carmichaelii 'Arendsii') gets its name from the helmet-like shape of each purple flower, which resembles a medieval monk's headwear.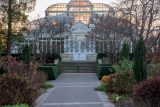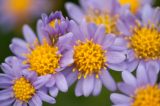 Tatarian aster (Aster tataricus 'Jindai') grows very tall, typically about four feet high. Lavender-blue flowers bloom in fall.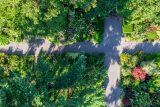 This lush, shady corner of the Perennial Garden overflows with low-lying plants that complement trees such as crape-myrtle and an enormous white pine.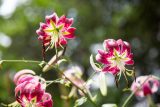 This hybrid lily (Lilium 'Black Beauty') produces dozens of fragrant flowers on each stem. The flowers hang toward the ground and their raspberry-colored petals curl sharply backward.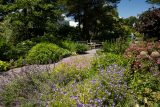 Inside the Cool Room, a rustic, mulch-lined garden is centered around a stately mature white pine (Pinus strobus).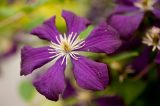 A clematis vine climbs this tuteur (obelisk-shaped trellis). This cultivar (Clematis 'Etoile Violette') produces abundant, deep-purple flowers in late summer.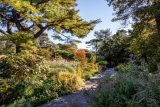 The paved path south of the Cool Room is framed by country-style, informal mixed borders, with several shade-loving plants such as hostas.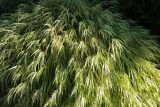 Japanese hakone grass (Hakonechloa macra) is a long-lived perennial that forms elegant, arching mounds. Many varieties turn striking golden or bronze hues in fall.
Nancy Bryan Luce Herb Garden
Herbs are plants used for flavoring, medicine, and fragrance. The New York Unit of the Herb Society of America first designed this formal herb garden in 1948. The design was inspired by English knot gardens of the Tudor period (1485–1603).
In a knot garden, clipped plants form parterres (plant borders) that resemble intricate woven patterns when viewed from above.
In 1991 Penelope Hobhouse, a prominent English garden designer, created a new plan for the Herb Garden based on a design from a 17th-century gardening book, featuring two central knots of dwarf boxwood hedges. The carefully pruned, structured hedges contrast with the various shapes and textures of the herbs planted among them. In 2009 Martha Stewart and her team of horticulturists replanted the Herb Garden to feature more culinary herbs and added obelisk-shaped trellises, called tuteurs, that encourage vines to climb.