Initially designed by renowned landscape architect Beatrix Farrand (1872–1959) in 1916, this garden was not completed until decades later. Iron shortages during World War I made the completion of the fence and gazebo, central design features of the garden, impossible. In the mid-1980s Garden Board member Beth Strauss saw the original designs and showed them to David Rockefeller, who then generously supported the completion of Farrand's fully realized designs in 1988. The garden is named after his wife, Peggy, a horticulturist and conservationist who loved roses.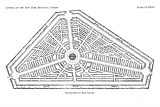 Farrand (1872–1959) was a founding member of the American Society of Landscape Architects and a leading force in her profession at a time when few women worked outside the home. Her design for this garden nestles gracefully into a valley and provides ample space for a diverse display of roses.
Journal of the New York Botanical Garden, volume 51 number 612 (August, 1916).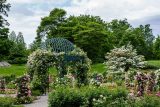 Rosa Awakening is a pale-pink climbing rose that clambers over the central gazebo in the Rockefeller Rose Garden.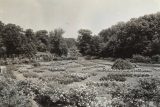 The original design for the Rose Garden included 90 rectangular beds.
Rose Garden, 1930. Courtesy of LuEsther T. Mertz Library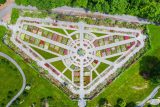 Today the Rose Garden features more than 3,000 roses representing more than 700 different species, hybrids, and cultivated varieties.
Symbolism of Roses
Roses are recurring symbols in mythology and storytelling worldwide. A group that meets "sub rosa" (under the rose) does so in secret. Roman banquet rooms were decorated with roses to remind guests that what happened at the party, stayed at the party.
In ancient Greece and Rome, roses were associated with Venus, the goddess of love and beauty. The birth of Venus is often depicted with sea foam transformed into white roses to represent her beauty and purity. It is said that a rose bush grew from a pool of Adonis's blood, symbolizing his immortal love for Venus. Roses have also appeared on coats of arms. In the 15th-century War of the Roses, two families—the House of Lancaster, represented by the red rose, and the House of York, represented by the white rose—battled for the English throne.
In Victorian England, flower dictionaries assigned meanings to different plants. Known as floriography, the language of flowers and arrangement was used to convey messages. Flowers were arranged by season, lore, and meaning. Roses of different colors have come to convey different messages to its recipient. A red rose symbolizes love and passion; yellow, friendship; and white, innocence and purity.