The Corpse Flower – Amorphophallus Titanum
The July 2016 corpse flower bloom has concluded. Stay tuned for future updates on the progress of other Amorphophallus titanum plants in our collection.
After Nearly 80 Years, a Botanical Phenomenon
Returns to NYBG
The bloom of our Amorphophallus titanum, known to many as the corpse flower, is a horticultural jewel 10 years in the making. Each day of careful tending and feeding has led up to this moment: a brief yet glorious window in which the enormous plant (up to eight feet high) will unfurl, displaying the striking red interior and uncanny scent to which it owes its name. This is the first time that a blooming titan-arum has been put on display at the Garden since 1939, and this unique plant is unpredictable—it may be in flower for only one or two days.
Whenever this rare plant blooms, it causes a sensation. Maybe it's because it is known for having one of the largest inflorescences in the world, but more likely it's because of the infamous odor it releases during its brief 24–36-hour peak, like the smell of rotting flesh, the reason the plant is more popularly known as the corpse flower.
Follow us here and on Facebook, Twitter, and Instagram for updates on this incredible event.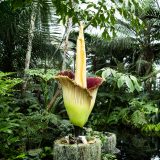 Corpse Flower in the News
See what top media outlets are saying about this rare cultural event.
"You Can Watch A Rare, Stinky 'Corpse Flower' Bloom On Live Video"
---
"SMELL IT: Stinky Corpse Flower Set To Bloom Soon At New York Botanical Garden"
"Corpse Flower Causes Big Stink in New York City"
---
"Flower That Smells Like Rotting Flesh to Bloom at NY Botanical Garden"
---
"Corpse flower set to bloom at New York Botanical Garden"
---
"It Might Smell Like Somebody Died at the Botanical Garden"
"Corpse Flower Causes Big Stink in the City."