Over time and generations, plants and animals change in a variety of ways and develop specific features in order to survive. This process is known as adaptation. Plants and animals living in wetland areas have adaptations suited to the moist conditions of their surroundings.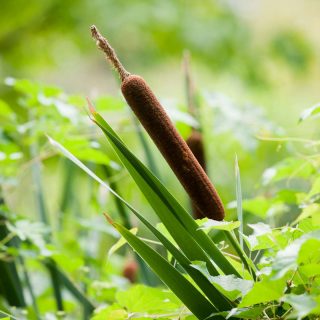 Cattails (Typha latifolia) grow in the muddy water at the edges of ponds and lakes. Their tall stiff stems extend high above the water and other nearby plants, which helps them take in more sunlight. Large airspaces in the stems and roots help cattails get oxygen to all parts of the plant.
Patches of cattails are natural hiding places for many insects, birds, and small mammals. Red-winged blackbirds build nests among the cattails using the plants' leaves, stems, and flowers, and many animals eat the seeds.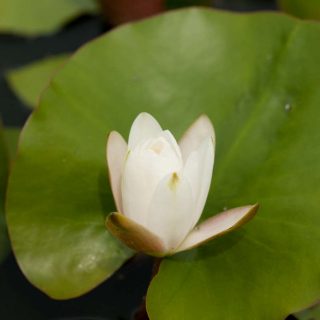 The round leaves of water lilies (Nymphaea sp.) float on the surface of the water while the stems and roots grow in soil and below where oxygen is in short supply. While many plants use both their leaves and roots to get the oxygen needed to live, water lilies rely on their leaves for air.
The leaves also enable water lilies to float above the surface of the water. Inside each leaf are tiny air pockets, and the outside has a waxy coating. This coating causes water to roll off the leaf instead of weighing it down. This adaptation allows damselflies, dragonflies, and other insects to use the tops of water lilies for resting or even laying their eggs.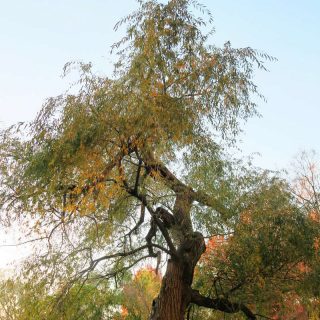 Willow trees (Salix sp.) thrive in moist environments and grow naturally near bodies of water. Their far-reaching and dense roots enable them to absorb water while anchoring them firmly in the wet soil.
This adaptation and others benefit the wetland ecosystem. The extensive roots system helps to prevent soil erosion, stabilizing the soil and providing a place for other plants to grow. Willows also grow fast in their native environments, quickly creating shade and shelter for animals and shade-tolerant plants.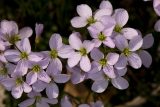 Cuckoo flower, Cardamine pratensis, is a perennial that grows in moist conditions and can be found in swamps and wet woodlands across North America. The cluster of small white flowers appears in early spring, around the time the cuckoo bird begins to coo, lending the flower's common name.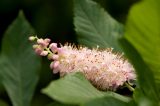 Sweet pepperbush or summersweet, Clethra alnifolia, is a deciduous shrub. In the heat of summer small, very fragrant, white flowers bloom, attracting bees, hummingbirds, and butterflies. In fall the foliage turns butter yellow. It thrives in moist soils, and can be found in marshes, swamps, and even sea shores due to its ability to tolerate salt.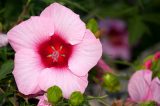 Swamp rose mallow, Hibiscus moscheutos, has large pink or white, red-centered trumpet-shaped flowers, and can be found in the wetlands of the eastern and central U.S.. During peak bloom it can produce up to 20 flowers a day.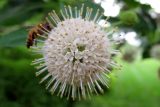 Buttonbush, Cephalanthus occidentalis, is a deciduous shrub that grows in moist conditions such as swamps and along the edges of ponds or streams. In late summer, small orb-shaped clusters of white flowers appear, giving the buttonbush its common name. The flowers emit a sweet fragrance and attract bees, butterflies, and other insects.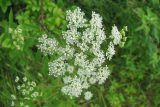 Water hemlock, Cicuta maculata, is a perennial that can reach up to eight feet tall. In spring and summer it grows large, dome-shaped clusters of delicate five-petal white flowers. Native to much of North America, it thrives in moist soil conditions such as swamps and marshes. While similar in appearance to other edible plants native to wetlands, this plant is toxic to humans and animals. Image : Choess / CC BY-SA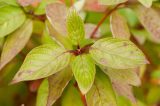 Red-osier dogwood, Cornus sericea, is a shrub that grows in swamps and around the edges of ponds or streams. "Osier" typically refers to willow trees used to make wicker baskets. Red-osier dogwoods are unrelated but have similar long red stems, which brighten in winter with the onset of colder temperatures.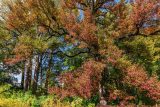 Sweetgum, Liquidambar styraciflua, grows in moist woodlands from New England south to Mexico and as far west as Texas. Its common name is inspired by its sticky, fragrant sap, which when hardened can be chewed like bubble gum. Sweetgum trees have star-shaped leaves, furrowed bark, and hard, spiky globe-shaped fruit.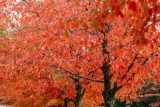 The brilliant scarlet leaves of red maples, Acer rubrum, are one of the glories of eastern forests from Canada to Florida. The tree's name refers not only to its foliage but also to its reddish stems and twigs, clusters of red flowers in early spring, and red two-winged seed pods that drop in fall.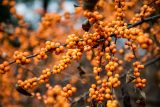 Winterberry, Ilex verticillata, is a deciduous holly native to the swamps and low-lying woods of eastern North America. Most commonly red, the berries can also be yellow or orange. They persist through winter and often until early spring, providing food for birds and other wildlife.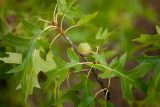 Pin oaks, Quercus palustris, can reach more than 70 feet in height, with glossy-green, deeply cut leaves that turn red and bronze in fall. Their small acorns are a food source for mammals and birds. Native across much of eastern North America as far west as Oklahoma, pin oaks can grow in wet soils and tolerate flooding for weeks at a time.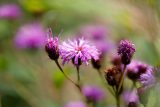 New York ironweed, Vernonia noveboracensis, is a tall perennial with rough, lance-shaped leaves. Its vibrant, bright-purple flowers grow atop sturdy stems and mature into clusters of tiny seeds with beige tufts.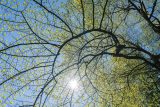 One of Nyssa sylvatica's common names, tupelo, comes from the language of the Creek tribe in the southeastern U.S., deriving from ito (tree) and opilwa (swamp). Black tupelo trees are found in wetlands across the eastern U.S. and Mexico. This tree produces edible yet very tart fruit, lending it another name, sour gum.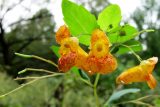 The yellow-orange flowers of jewelweed, Impatiens capensis, can be found across North America in summer. Once the flowers are spent, seed pods emerge that, when touched, open and disperse seeds. Sap from the flower and leaves is known to relieve itching from poison ivy, nettles, and hives.