Unlock the natural world through botany.
Do you have a desire to get closer to nature? Take one of our botany classes and gain a deeper understanding of how plants connect us to the natural world. Take a class for fun, or pursue a Certificate.
The NYBG Botany Certificate Program is designed to deepen a student's scientific understanding of the plant kingdom. Engage in subjects such as native flora, ethnobotany, ecology, and botanical nomenclature. Botany classes reflect the Garden's strengths in botanical science research, as well as its world-famous and unequaled resources—the William and Lynda Steere Herbarium, housing 7.8 million dried plant specimens; and the LuEsther T. Mertz Library, with its collection of more than 550,000 volumes, nearly 12,000 serial titles, and over 11 million archival documents.
During the course of the Botany Certificate Program, students will come to know plants: how they function, grow, develop, and reproduce; and learn to identify a wide array of plants by stems, leaves, flowers, and fruits.
Student Testimonial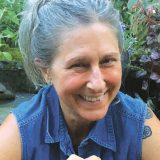 I was a self-taught estate gardener and wanted to learn more. The Botany Program at NYBG was exactly what I'd been looking for. Each instructor offered professionalism and passion. From the cellular to the tangible, I left every session with my mind expanded! I've broadened my understanding and deepened my connection to the plants that grow around me and humbly realize there is still so much more to learn.
Kristen Garnier
2017 Graduate, Owner of Go Flower Go