Throughout the year, The New York Botanical Garden offers lectures in which outstanding landscape architects and garden designers present their signature works and insights, and internationally recognized speakers address topics of global interest related to the study, preservation, and appreciation of the plant kingdom. We are delighted to announce our 2018 lectures and symposia, below.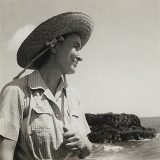 Georgia O'Keeffe: A Creative Life
June 13, 2018, 6:30–7:30 p.m.
Two expert authors discuss O'Keeffe's coming of age in modernist America and her identity as an independent artist and trailblazing feminist.