State-of-the-Art Expansion Opening June 2018
The Edible Academy, with the Ruth Rea Howell Family Garden as its centerpiece, is a state-of-the-art facility for education, hands-on activities, and programs that will help children, families, teachers, and the general public learn about growing and preparing vegetables, fruits, and herbs while encouraging a lifelong interest in gardening and healthy living. Opening with a special weekend celebration on June 16 and 17, 2018, the expanded three-acre campus will feature a classroom building with a green roof, demonstration kitchen, and technology lab; a teaching greenhouse; a solar pavilion; and a terraced amphitheater, as well as new display gardens, to accommodate a broader range of programs and double the number of people served each year.
The Edible Academy will provide plenty of fun for kids and adults alike, with daily, hands-on gardening activities; special cooking demonstrations; and other year-round program offerings that enhance NYBG's reach and impact.
Explore the facilities of this brand-new campus.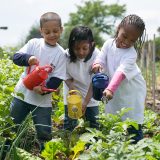 Our Goal
NYBG sits in an area with one of the highest rates of food insecurity in the nation. Many Bronx residents lack access to affordable fruits and vegetables and suffer from high rates of obesity and related diseases. Understanding at a young age where food comes from is an important first step in making the important connections among plants, science, and the benefits of a healthful lifestyle.
NYBG is responding to this nutrition crisis through the new Edible Academy opening in June 2018. This year-round, state-of-the-art facility will revolutionize and expand NYBG's acclaimed garden-based educational programs and offer life-changing opportunities to more than 100,000 children, families, and teachers.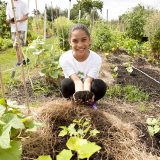 Edible Academy Programs
Children are invited to roll up their sleeves and help tend the gardens. Dig in the soil, sow seeds, water the seedlings, and harvest ripe produce through Dig! Plant! Grow! programs. Each season offers new themes to investigate.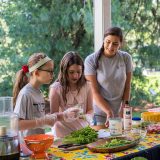 Edible Academy Opening Weekend Celebration
June 16–17
Celebrate the opening of the state-of-the art facility with cooking demonstrations, hands-on gardening, music, and family fun.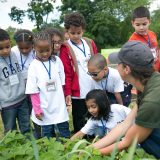 Donate Today!
Make a donation to our Edible Academy initiative in support of programs that will teach thousands of kids, parents, and teachers all year long.
LEADERSHIP SUPPORT:  Anonymous Family Friend of NYBG, Amy Goldman Fowler, Ph.D. and Lillian Goldman Charitable Trust, Mr. and Mrs. Coleman P. Burke, Cleveland H. Dodge Foundation, Inc., Susan and Gregory Palm, Robert F. Gossett, Jr., Mr. and Mrs. Charles M. Royce, The Goergen Foundation
Speaker of the New York City Council and Members of the Bronx Delegation of the New York City Council, Mayor of New York City and the New York City Department of Cultural Affairs, New York State Senator Jeffrey D. Klein, New York State Assembly Speaker Carl E. Heastie and Members of the Bronx Delegation of the State Assembly
MAJOR SUPPORT: Caroline A. Wamsler, Ph.D. and DeWayne N. Phillips, Susan E. Lynch, Stavros Niarchos Foundation, Jill and Alan Rappaport Family, Wallace Genetic Foundation, Kate Solomon and David Wasserman, Jill Joyce, Larry E. Condon and John J. Hoffee, Eric P. and Evelyn E. Newman Foundation, Phyllis and Howard Schwartz Philanthropic Fund