Everett Children's Adventure Garden
The Everett Children's Adventure Garden encourages children to actively investigate science and nature in a 12-acre landscape that features a series of lush environments, including a pond, woodland, and meadow.
Climb the boulders and view the landscape below from your high perch. Check out the cattails and lily pads at the Pond Pavilion. Self-guided exploration enhances the experience in the Adventure Garden. Discover all of our outdoor nature exploration programs for families below.
An imaginative staff and a corps of energetic teen Explainers hailing from all over New York City bring family-friendly adventures to life here every day. If you are interested in joining our team of interns, apply to be a part of the Explainer Program.
Nature Quest Interactive Mobile Experience
Interactive and educational mobile experience for kids 3–10. Learn more.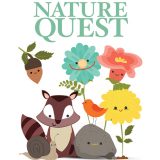 Visit Accessibility at nybg.org to learn about resources for people with disabilities, including Social Guides for NYBG and the Everett Children's Adventure Garden for introducing first-time visitors to these spaces.