Everett Children's Adventure Garden Restoration
Fall 2023 – Winter 2025
The Everett Children's Adventure Garden (ECAG) restoration project is the first update since the garden was created in 1998. The Children's Garden is a 9-acre landscape dedicated for families that is safe and fun for kids to explore. The Children's Garden encourages children and their caregivers to investigate nature through immersive outdoor environments and changing seasonal activities. Families can actively engage in science practices and nature study while exploring a series of lush environments, including a pond, woodland, meadow, and rock outcrops.
Over 175,000 kids and adults visit the Children's Garden annually. This includes over 18,000 PreK-5th grade students who participate in field trips at the site—59.5% of which are from Bronx schools, and 72.3% are from Title I schools.
A talented staff and a corps of energetic teen educators, called the Explainers, bring family-friendly science and nature activities to life. The Explainer Program is an innovative tiered internship that enriches teens' science knowledge while helping them gain practical work experience, develop problem-solving and interpersonal skills, make connections with adults and peers, and assume leadership roles within their community.
Redevelopment
In Fall 2023, the Everett Children's Adventure Garden will close for renovations to enhance the outdoor landscape and indoor facilities to reflect current science education pedagogy, specifically regarding STEM and environmental education. In addition, this project will ensure that the Children's Garden can continue to accommodate the large audiences it serves.
The redevelopment process began in 2012, when NYBG engaged Randi Korn & Associates to undertake a formal evaluation of the outdoor exhibits. Based on this study and after conversations with stakeholders, NYBG developed these goals: To enhance and renovate the landscape and buildings; develop age-appropriate exhibit concepts; enrich learning stations; and improve circulation, way-finding, and visibility.
The redevelopment will provide new nature exploration and authentic science learning opportunities, ensuring that the Children's Garden continues to provide a welcoming and engaging learning environment that meets today's outdoor learning standards and visitor expectations. Using the existing topography, along with new signage and enhanced plantings, the redesigned children's garden will provide nature-based investigations in varied local ecosystems. The redevelopment will also improve access to the Wetland Walk through a boardwalk and viewing platforms and create a dedicated nature space for toddlers and their caretakers. An ADA-accessible Tree Top Walk will provide a series of walkways that lead to the pine tree tops for children of all abilities. Finally, both the existing activity center buildings will receive face-lifts and repairs, as well as upgrades to their lighting and circulation. A new family restroom in the Dodge Activity Center—the first in the Garden—will be accessible to all visitors.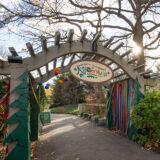 Project Timeline
Overview of the timeline from estimated start to estimated finish.
May 1998: The Everett Children's Adventure Garden (ECAG) opens!
2010: After 12 years of operation, successfully educating over 1.5 million visitors, the Children's Adventure Garden begins to show wear-and-tear from its popularity.
2011: Gyroscope Inc. conducts focus groups of internal and external stakeholders to help envision a renovated ECAG and the goals of new exhibitry, facilities, and plantings
2012–2013: The Garden receives a grant from The Institute of Museum and Library Services to conduct an evaluation of Adventure Garden programming and begin prototyping new exhibitry ideas
2013: Children's Education staff visit other children's gardens and museums across the nation to learn about new and innovative exhibitry and facilities for children
2014: NYBG Capital Projects submits an RFP for the redesign of ECAG's exhibitry and facilities
2015–2017: The Garden begins work with Metcalfe Architecture & Design on new exhibitry designs and signage, as well as Towers Golde LLC on new landscape designs and plantings
2016–present: NYBG fundraising campaign with City, State, foundations and corporations to restore and support the programmatic and structural needs of ECAG.
2022: ECAG staff prototype new signage to observe audience use and feedback
Fall 2023: ECAG closes to the general public, and programs move to remote locations around the Garden
Winter 2023: Start of construction inside ECAG to introduce nature play exhibitry, new signage and plantings, as well as improvements to the interior aspects of ECAG facilities
Winter 2025: ECAG reopens with new exhibitry, signage, and facilities for children of all ages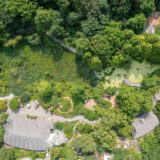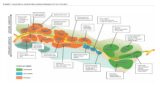 Overview of the Renovation map for the Everett Children's Adventure Garden new gardening features and spaces. Highlighting the focus on new areas for young learners, self-directed - an area that ECAG has been a leader in, and facilitated with excellent professionals and the High School Explainer Program.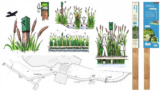 Wetland Walk is a linear gallery with a boardwalk flanking a wetland where visitors learn about the plants, animals, and birds that are part of the swamp, marsh, and pond ecosystems. Nearly 200' long and with three viewing platforms, it will define a dry path over soggy ground, leading from one ecosystem to the next. Meandering through tall cattails and other native plants, Wetland Walk Boardwalk will allow visitors to get up close to environments that can be difficult to access, and a chance to see things often hidden from view.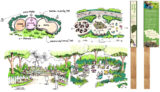 The three Seedlings galleries: Circle, Arts and Maze, are linked spaces designed to be a special, protected enclave specifically for the youngest of visitors. Controlled access to all three spaces from one central point in the Circle will provide younger toddlers, infants just learning to crawl and their families with a space to themselves away from older and more active children. Seedlings Circle will be a gathering and seating area with a soft lawn for crawling and a concrete seat wall for caregivers to rest while keeping a watchful eye on their charges.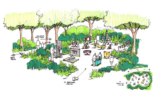 Seedling Arts will offer ways to make music with instruments made of natural materials. Kids will handle materials like twigs, seeds, stones and flowers to make artistic creations.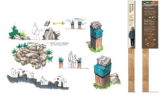 Nature play is built into the current configuration of the boulders in this area, with opportunities for climbing, jumping, and exploring between rocks. Rocks of New York State are revealed through signage that will help children learn about the physical properties of rocks, rock identification, and the rock cycle. In this space, kids can become geology scientists while playing and having fun.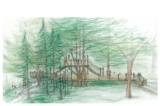 A design illustration of the Treetop Walk in the Everett Children's Adventure Garden.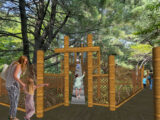 The Treetop Walk is wheel-chair accessible allowing kids of all size and abilities to explore this amazing new addition to the Children's Garden.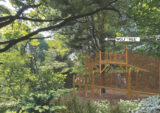 Throughout this elevated structure children can observe and learn about cone-bearing plants, how they survive the harsh winter as an evergreen, and produce seeds using cones.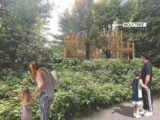 Kids will have the opportunity to explore above the forest floor surrounded by our native pines, and even climb up to an elevated platform using two flexible bridges for a better view of the trees and the surrounding garden.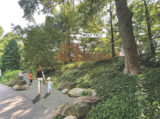 The Treetop Walk will provide an adventurous and educational experience for children visiting the renovated Children's Garden.
With thanks to our generous donors:
City of New York
New York State
LuEsther T. Mertz Charitable Trust
William Randolph Hearst Foundation
Cleveland H. Dodge Foundation
Booth Ferris Foundation
Stavros Niarchos Foundation