Humanities Institute Colloquia & Symposia
NYBG is a venue for discussions by historians, authors, and other accomplished thinkers at the intersection of the plant world and the humanities. Here, see recordings of past events at the Garden.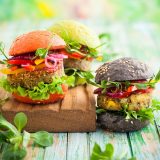 Plant-Based Foods & the City: From Seed to Take-Out
View the recording of this event from October 1, 2021.
Rooted in Culture and Nature: Jamaican Root Tonics in New York City
The Food Dialogues: A Conversation with Von Diaz and Maricel Presilla
The Food Dialogues: A Conversation with Michael Twitty and JJ Johnson
The Food Dialogues: A Conversation with Carla Hall and Tonya Hopkins
Earth Day Documentary Premiere: Plants & People of Vanuatu
Humanistic Uses of Herbaria
Botany, Race & Power: The History of Expeditions to Cuba
Rashad Bell & Nuala Caomhánach
Black Botany: The Nature of Black Experience
Lucian Freud's Paintings of Plants: From Symbolism to Truth
First Nations: Ethical Landscapes, Sacred Plants
Carolyn Finney: Black Faces, White Spaces: Christian Cooper, John Muir & (Re)claiming a Green World
Alley Creek Wetlands: A Floristic Quality Assessment
Beyond Barriers: Accessing Nature for People with Disabilities
Queering Botanical Science: A Discussion in Celebration of LGBTQ+ Pride Month
Implementing a Citywide Management Framework for New York City's Wild Forests
Earth Day @ 50: Tools for 21st-Century Ecology
Botanies of Desire: Fragrance, Healing, and Sexual Attraction in the Amazon
Andrew W. Mellon Fellows Presentation
People, Plants, & Languages
Roberto Burle Marx: Innovation and Activism
Roberto Burle Marx—A Total Work of Art
2019 Research Fellows Presentations II
2019 Research Fellows Presentations I
Polynomials, Pictures, and Slaves
Threshold: Biodiversity, Climate, and Humanity at a Crossroads