Humanities Institute Colloquia & Symposia
NYBG is a venue for discussions by historians, authors, and other accomplished thinkers at the intersection of the plant world and the humanities. Here, see recordings of past events at the Garden.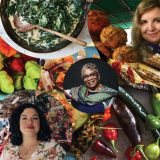 The Food Dialogues: A Conversation with Von Diaz and Maricel Presilla
View the July 23 recording of this event.
The Food Dialogues: A Conversation with Michael Twitty and JJ Johnson
The Food Dialogues: A Conversation with Carla Hall and Tonya Hopkins
Earth Day Documentary Premiere: Plants & People of Vanuatu
Humanistic Uses of Herbaria
Botany, Race & Power: The History of Expeditions to Cuba
Rashad Bell & Nuala Caomhánach
Black Botany: The Nature of Black Experience
Lucian Freud's Paintings of Plants: From Symbolism to Truth
First Nations: Ethical Landscapes, Sacred Plants
Carolyn Finney: Black Faces, White Spaces: Christian Cooper, John Muir & (Re)claiming a Green World
Alley Creek Wetlands: A Floristic Quality Assessment
Beyond Barriers: Accessing Nature for People with Disabilities
Queering Botanical Science: A Discussion in Celebration of LGBTQ+ Pride Month
Implementing a Citywide Management Framework for New York City's Wild Forests
Earth Day @ 50: Tools for 21st-Century Ecology
Botanies of Desire: Fragrance, Healing, and Sexual Attraction in the Amazon
Andrew W. Mellon Fellows Presentation
People, Plants, & Languages
Roberto Burle Marx: Innovation and Activism
Roberto Burle Marx—A Total Work of Art
2019 Research Fellows Presentations II
2019 Research Fellows Presentations I
Polynomials, Pictures, and Slaves
Threshold: Biodiversity, Climate, and Humanity at a Crossroads