The New York Botanical Garden is proud to announce its social media influencer program, NYBG Cultivators. This program is a unique opportunity to learn about NYBG's mission in education, horticulture, and science—from NYBG's community gardening program in the Bronx to its research and conservation efforts around the world.
This selective program will give a small group of 8–12 participants access to NYBG with program-curated behind-the-scenes tours, explorations of our exhibitions with experts, networking and mentorship opportunities from established NYBG Plantfluencers, and one-on-one time with our esteemed staff members. Through this program, we hope NYBG Cultivators will learn about NYBG's important role in protecting biodiversity, and—through their creativity and personal perspectives—advocate the importance of conserving nature.
Applications due June 2, 2023
NYBG Cultivators Overview
As part of the program, Cultivators will:

Attend four on-site events a year.
Attend one virtual event a year.
Build an authentic and engaging online community through plant education.
Have a strong interest in nature, arts, and culture, and share their unique perspectives.
Learn more about NYBG's work in science, horticulture, and education.
Capture plant content and develop knowledge to speak confidently and compellingly about plants and environmental action.

NYBG Cultivators Program participants will receive:

Access to five exclusive events throughout the year. This could include, but is not limited to, curated behind-the-scenes tours of our gardens, collections, and buildings; access to NYBG experts in horticulture, science, and education; and online sessions and networking opportunities with marquee and previous NYBG Plantfluencers.
$500 credit towards a Continuing Education course
One year of a dual NYBG Membership ($125 value)
Official digital badge for participating in the program

Applicants will be vetted by members of the NYBG Marketing team based on the following criteria:

Interest and experience with museums, cultural institutions, scientific institutions, or educational institutions. Passion for botanical gardens or environmental causes a plus.
Interest in becoming an ambassador for NYBG and sharing information to educate your audiences.
Comfortable working on camera to develop content for both personal and NYBG accounts.
The effective use of social media to share important, engaging information.
Commitment to inclusion, diversity, equity, and access.

Applications due June 2


Zoom interviews with finalists week of June 12


Selected Participants notified by June 30


Virtual Meet & Greet on July 14


First Event: Mid-to-late July

Check out photos from our previous influencer events!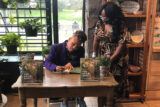 Plantkween Book Signing March 2022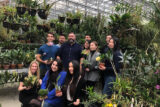 Plantfluencer Event at Nolen Greenhouse February 2020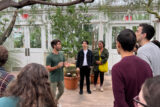 Farmer Nick Sustainable Plant Demo October 2022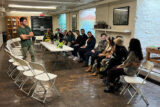 Farmer Nick Sustainable Plant Demo October 2022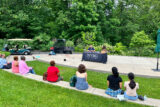 Maria Failla "Growing Joy" Book Launch Event June 2022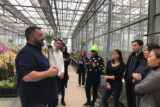 Plantfluencer Event at Nolen Greenhouse February 2020