Scott A. Mori (1941-2020)
Curator Emeritus, Institute of Systematic Botany
Ph.D., The University of Wisconsin
Madison, Wisconsin, 1974
Specialty
Systematics and ecology of Lecythidaceae and neotropical floristics.
Expertise
Systematics and ecology of Neotropical Lecythidaceae; neotropical floristics
Research locations
Neotropics, especially Amazonia, French Guiana, Saba, and the Osa Peninsula, and Westchester County, New York.
Profile
Dr. Scott A. Mori, who spent the vast majority of his long and distinguished career at The New York Botanical Garden, passed away in August 2020. The following summary of his research, which he provided for this profile, indicates the broad range of his scientific pursuits and accomplishments.
My research on flowering plants focuses on the taxonomy and ecology of trees of the lowland New World tropics. I am especially interested in co-evolution between plants and their pollinators and seed dispersers. In order to investigate these relationships, I pursue taxonomic research on the Brazil nut family (Lecythidaceae) for which my colleague Iain Prance and I have completed a Flora Neotropica monograph. In addition, I have selected geographic areas of high species diversity of the Brazil nut family for detailed study of its ecological relationships. For example, my colleagues and I have published the results of a study of the 27 species of the family found in central French Guiana and another study of the 39 species of Lecythidaceae found in a 100-hectare central Amazonian plot. This research has given me a better understanding of the evolution of the family as well as permitted me to make specific recommendations for the conservation of lowland, neotropical trees. My most important current project is an NSF Opportunities for Promoting Understanding Through Synthesis grant which is allowing me and my colleagues to synthesize what we have learned about the Brazil nut family in an electronic monograph called The Lecythidaceae Pages (see link in right hand panel).
With the participation of many other botanists, I organized and carried through to publication the Guide to the Vascular Plants of Central French Guiana. This flora was done in collaboration with the Institut de Recherche pour le Développement (IRD), one of the organizations responsible for research in France's overseas departments. The book is designed to allow botanists as well as non-botanists to determine the names of plants in this, one of the last wilderness areas of the world. In collaboration with French scientists associated with IRD and the Centre National de la Recherche Scientifique (CNRS, I have initiated e-Floras for the Nouragues Nature Park and all of French Guiana.
My wife, Carol Gracie, and I have prepared an electronic checklist of the flowering plants of the Caribbean island of Saba in the Netherlands Antilles and Reinaldo Aguilar, Xavier Cornejo, and I initiated an e-flora of the Osa Peninsula of Costa Rica.
My latest book, entitled Tropical Plant Collection. From the Field to the Internet, is designed to pass on what I have learned as a botanist in order to make it easier and safer for others to carry out biological research in the tropics.
Scott Mori (1941-2020): Friend, mentor, and colleague
This past August, The New York Botanical Garden community was deeply saddened to learn of the passing of our dear friend and treasured colleague, Curator Emeritus Scott A. Mori, Ph.D.
Scott spent the majority of his long and distinguished career at NYBG, arriving in 1975 as Research Associate to work on the systematics and ecology of the Brazil nut family, Lecythidaceae. Some four decades later, Scott retired in 2014 as Nathaniel Lord Britton Curator of Botany in the Garden's Institute of Systematic Botany. Scott was a prolific researcher, a prodigious plant collector, and an active and passionate teacher and mentor. His legacy lives on in more than 140 scientific publications (including 12 books) and 27,000 herbarium specimens, and in the students, post docs, and interns he mentored.
Since Scott's passing, his career has been recognized and appreciated by those who worked with Scott for many years and benefited from his influence. Every wonderful tribute adds a different perspective of Scott's life and contributions.
In remembrance of: Scott A. Mori (1941-2020), Tropical Botanist Extraordinaire
Ghillean T. Prance, Robert Naczi, and Lúcia G. Lohman
(Biotropica; January 24, 2021)
The 'Adopt-a-tree' strategy – A legacy of Scott Mori (1941-2020)
Pierre-Michel Forget
(Ecotropica; January 5, 2021)
Scott Alan Mori (1941-2020): An Appreciation
Brian Boom
(The Botanical Review; November 9, 2020)
The Scientific Legacy of Scott Mori
Brian Boom
(Plant Talk Blog; August 19, 2020)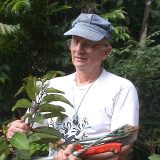 Web Sites
Selected Publications
Mori, S. A., A. Berkov, C. A. Gracie & E. F. Hecklau. 2011. Tropical Plant Collecting. From the Field to the Internet. TECC Editora, Florianópolis, Brazil. 332 pp.
Mori, S. A., G. Cremers, C. Gracie, J.-J. de Granville, S. V. Heald, M. Hoff, & J. D. Mitchell. 2002. Guide to the vascular plants of central French Guiana. Part 2. Dicotyledons. Mem. New York Bot. Gard. 76(2): 1-776.
Mori, S. A., C.-H. Tsou, C.C.Wu, B. Cronholm & A. A. Anderberg. 2007. Evolution of Lecythidaceae: information from combined ndhF and trnL-F sequence data. Amer. J. Bot. 94(3): 289-301.
Mori, S. A. 2007. Lecythidaceae. Pages 173-186. In Hammel, B. E., M. H. Grayum, C. Herrera & N. Zamora (eds.). Manual de Plantas de Costa Rica. Volumen VI. Dicotiledóneas (Haloragaceae-Phytolaccaceae). Missouri Botanical Garden, INBio & Museo Nacional de Costa Rica.
Smith, N., S. A. Mori, A. Henderson, D. Wm. Stevenson & S. V. Heald. 2004. Princeton University Press, Princeton and Oxford. 594 pp.