Cultural Competency Training Program for Health Care Providers
Ina Vandebroek
The cultural tradition of using medicinal plants for health care by Caribbean and Latino communities in New York City has important implications for biomedical health care delivery, such as patient compliance with treatments prescribed by physicians, potential adverse effects of herbal remedies, and herb-drug interactions. One of the main challenges in the clinical practice is that Caribbean and Latino patients tend to not disclose their use of herbal remedies to health care providers. Physicians, on the other hand, tend to not engage in a dialogue with their patients about this subject either, as they may not feel knowledgeable about many of the exotic herbal remedies their patients are taking. Deficits in understanding, communication, empathy, and consideration of culturally specific health care beliefs and practices have been found to promote racial and ethnic health disparities. To tackle these challenges, scientists at The New York Botanical Garden have developed a cultural competency training program for health care providers that aims to bridge the communication gap about this subject between physicians and patients from Caribbean and Latino communities. On-going ethnobotanical and ethnomedical research is used to develop curricular materials. Since 2008, more than 740 medical students and practicing physicians have been trained during 49 individual training activities, consisting of lectures, interview and role play exercises, classes of ethnomedical Spanish, guided visits to a New York City botánica shop that sells medicinal plants, and tours at the Enid A. Haupt Conservatory of The New York Botanical Garden to discuss the cultural uses and potential adverse effects of the living Caribbean medicinal plan collection. We collaborate with medical schools and their affiliated hospitals in New York City, as well as with community clinics and health centers.
More information
Related project: Improving Health Care for Immigrant Caribbean and Latino Communities in New York City
Download our brochure of cultural competency training for healthcare providers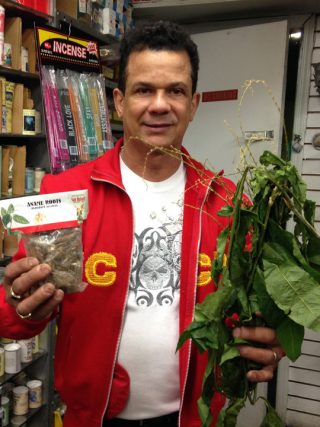 Guided visit to a New York City botanica with medical trainees.