The Hudson Garden Grill is now open
Providing an intimate sit-down dining space for NYBG visitors and the general public, this farm-to-table restaurant spotlights the innovative flavors of New American cuisine as inspired by locally sourced, ethically produced ingredients from Hudson Valley farms and other regional producers. The Hudson Garden Grill offers seasonal menus that draw inspiration from the Garden's acclaimed Edible Academy program.
Hours
11:30 a.m.–6 p.m.
Saturdays, May–June; last reservation at 7 p.m.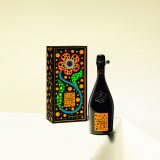 Veuve Clicquot proudly supports The New York Botanical Garden and its new exhibition, KUSAMA: Cosmic Nature. At NYBG's Spring Gala on June 3, 2021, Veuve Clicquot will introduce a special sculpture designed by Yayoi Kusama that is a vibrant tribute to "la grande dame" of champagne: Madame Clicquot. Veuve Clicquot will also have an exclusive offering at the Hudson Garden Grill featuring the Veuve Clicquot La Grande Dame 2012 champagne designed by Kusama.
Please note: Walk-ins are welcome, but reservations are recommended on opentable.com. Indoor dining is in accordance with New York City and State guidelines. Those wishing to dine indoors must receive a temperature check, and one person from each party must provide contact information for tracing purposes. Visitors with a temperature higher than 100 degrees Fahrenheit will be asked to leave the Garden. Face coverings must be worn at all times in the Hudson Garden Grill, except when seated and dining.