Enjoy farm-to-table dining at the Hudson Garden Grill
Providing an intimate sit-down dining space for NYBG visitors and the general public, this farm-to-table restaurant spotlights the innovative flavors of New American cuisine as inspired by locally sourced, ethically produced ingredients from Hudson Valley farms and other regional producers. The Hudson Garden Grill offers seasonal menus that draw inspiration from the Garden's acclaimed Edible Academy program.
Please note: Beginning September 1, valid proof of COVID-19 vaccination and ID will be required for entry to indoor exhibition spaces and facilities, and all dining areas. Face coverings are required except when seated and dining. Learn more.
Hours
Tuesdays–Fridays; 11:30 a.m.–3 p.m.
Saturdays & Sundays; 11:30 a.m.–6 p.m.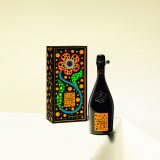 Veuve Clicquot proudly supports The New York Botanical Garden and its new exhibition, KUSAMA: Cosmic Nature. At NYBG's Spring Gala on June 3, 2021, Veuve Clicquot introduced a special sculpture designed by Yayoi Kusama that is a vibrant tribute to "la grande dame" of champagne: Madame Clicquot. Veuve Clicquot will also have an exclusive offering at the Hudson Garden Grill featuring the Veuve Clicquot La Grande Dame 2012 champagne designed by Kusama.