Craft Your Own Garden Adventures
Every day at the Garden families can embark on an exciting adventure to discover the world of plants. Each season brings new opportunities to explore and to make lifelong connections with nature.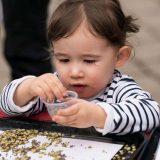 Drop-In Gardening Activities
in the Edible Academy
Discover the relationship between corn, squash, and beans—known as the Three Sisters—and pot up a sunflower to take home. Then stay to explore the beautiful display of fruits and vegetables in the Barnsley Beds.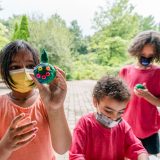 Drop-In Nature Exploration
in the Everett Children's Adventure Garden

Kids can pick up a Scavenger Hunt pamphlet for fun, self-guided activities, pot up a polka dot plant, enjoy a reading of Yayoi Kusama: From Here to Infinity on Saturdays and Sundays, and more.