Read and Share Garden Stories
Explore the memories and moments shared by visitors new and old as we gather recollections from throughout the Garden's history.
Here's what others have said about NYBG
SAVONA BAILEY-MCCLAIN from New York said:
---
RoseAnn Hermann from NY said:
George and I had our first date at the Gardens on December 19th, 1999. The Train Show had already opened. Two strangers discovered a mutual love of this place. George, because he came back to NYC after living in SoCal for a number of years, and yearned to be around beautiful flora, and me, raised in walking distance of the Gardens, a familiar favorite my entire life. Strolling through the Enid Haupt Conservatory, who could control themselves from exclaiming at the beauty and magic of the models of NYC buildings, the landscaping, and the model trains decorating the rooms of the conservatory? Certainly not me. That first date turned into a proposal the following Memorial Day weekend, very close to the Peggy Rockefeller Rose Garden, which was not yet re-opened after a beautiful restoration. A few years later we donated a bench in memory of George's parents, and our friends joined us at that same bench to remember George's sister when we held a small service after her passing. We sat there tonight with 2 friends who joined us at this evening's concert with Wynton Marsalis. We are all members, for years. George and I often say that it is the best membership we have ever had. We go to the gardens year round, and bring our grandchildren, their parents and friends. it's where I want to go on my birthday and Mother's Day. It's where I need to go when I need a break from the "Big City". This year, when we couldn't go on our traditional trip out-of-town, we celebrated Valentine's Day at the Gardens, another perfectly lovely event. I can go on and on, but suffice it to say, we love a few places we have been in the world, but we both consider the New York Botanical Garden our favorite place in the world.
---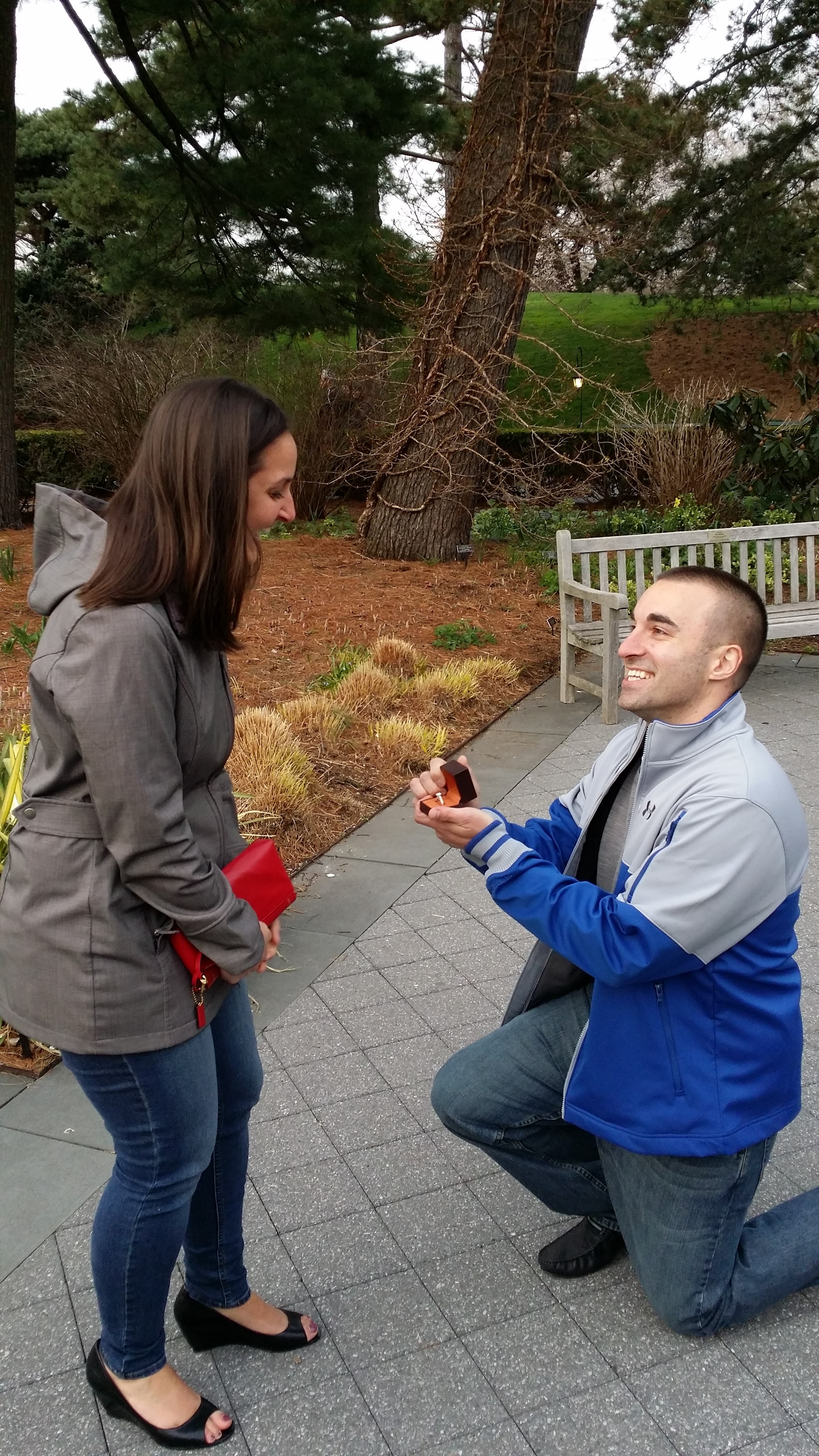 Amy and Matt Wachtler from Westfield, NJ said:
On April 18, 2014, Matt got us tickets to Orchid Evenings. Before we entered the event, he walked me all around the gardens looking for the perfect place to pop the question. It was a cold, windy day, and to say the least, spring had not yet sprung. We went by daffodil hill, the azalea garden and around the reflecting pool, however nothing was bloomed! He didn't let on, but he says he was nervous. I should have known something was up, because he was adamant we keep looking for something in bloom. As we entered the beautiful perennial garden, he knew it was the place. Once we made it to the center of the garden, he got down on one knee....and the rest is history! We will be back this weekend for our one year anniversary, but we will also be bringing our 12 week old son! Thanks for the great memories!
---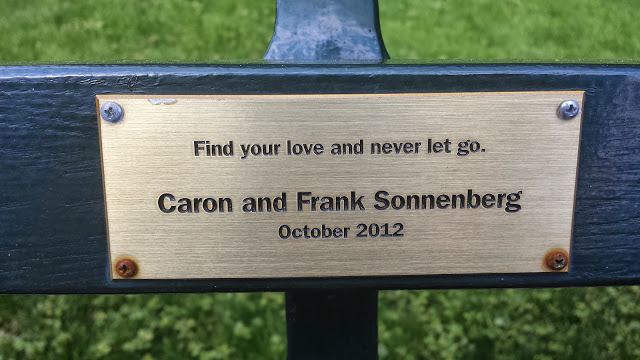 Sasha Winslow from Bronx, NY said:
On May 2nd 2014 my husband and I went to The New York Botanical Garden (Bronx, NY) for the first time. The flowers were in bloom, we did a tour (very fun), and best of all we reconnected. As we walked the beautiful grounds we came upon a bench by Caron and Frank Sonnenberg, and it stated: "Find your love and never let go." This spoke to us; what a jewel we found! We were grateful for that moment. As new members, we look forward to bringing our 13-month-old son to experience the wonder that is the New York Botanical Garden.
---
Gunnar Sahlin from Stamford, CT said:
Jen Morris gave children and adults alike a great session at the Edible Academy. She was also very informative about volunteering at NYBG. Thank you Jen!
---
Renata Jelito from Kew Gardens, NY said:
I joined The NYBG as a young mother of 3 young children. We participated in many activities throughout the years. My kids grew up moved on but whenever they return to NY we visit this wonderful place that is so imbedded into our hearts. Now creating new memories with our grand children by our side. When I remarried, my new husband and I exchanged our vows under a big old tree next to the Snuff Mill in the garden. A more appropriate place we could not find. A memorable time was had by all that were able to join us for this wonderful event, now years later and they still speak of that magical moment under the stars. Not long after that I signed up for some courses that seemed interesting at the time and before I new it I had a Certificate in Landscape Design. Now living my dream all thanks to this wonderful place that my family and I have enjoy for so many years.
---
Lisa Cornacchia from Tuckahoe, NY said:
My dad always loved when the azaleas would bloom every Spring. He would point out the vibrant colors wherever he would spot them. He loved that what looked like an ordinary green bush one day would burst with color the next, even if only for a few weeks. One day I read about Azalea Way being in bloom at the NY Botanical Garden, and I knew we had to go. Neither my father nor I had ever been, even though it was such a short ride from where we lived. It was such a beautiful day, and the azaleas were spectacular! But we found so much more! This was later in my dad's life, so we got to return at different points only about four more times. But the memories created at this beautiful place are lasting me a lifetime. This is one of my all-time favorite pictures of my Dad, taken maybe a dozen years ago. It brings back so many beautiful memories of our times spent together at this magical place!
---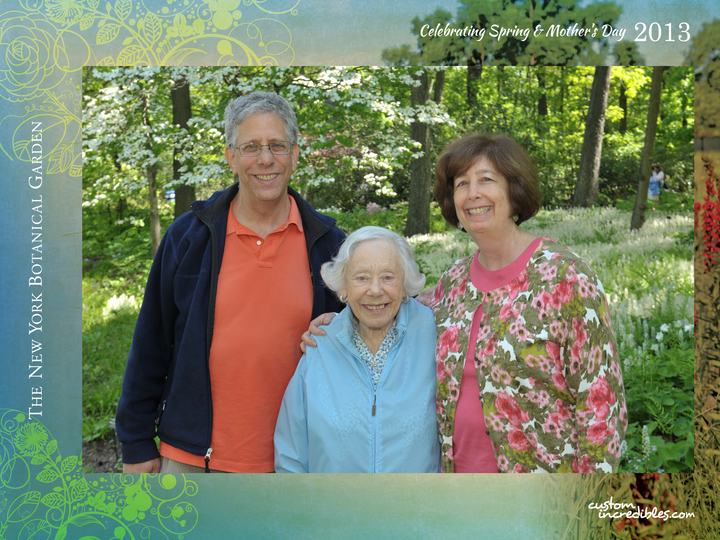 Joanne Levitan from Pelham, NY said:
My beloved mother-in-law Anne Warner loved flowers. She used to say "Nature is the best artist". One of her favorite places was the NYBG. She passed away in November of 2014 at the age of 93. We have so many happy memories of the times we spent at the garden with Anne. Every time we go we feel like she is there with us. The attached picture is Anne at age 92!
---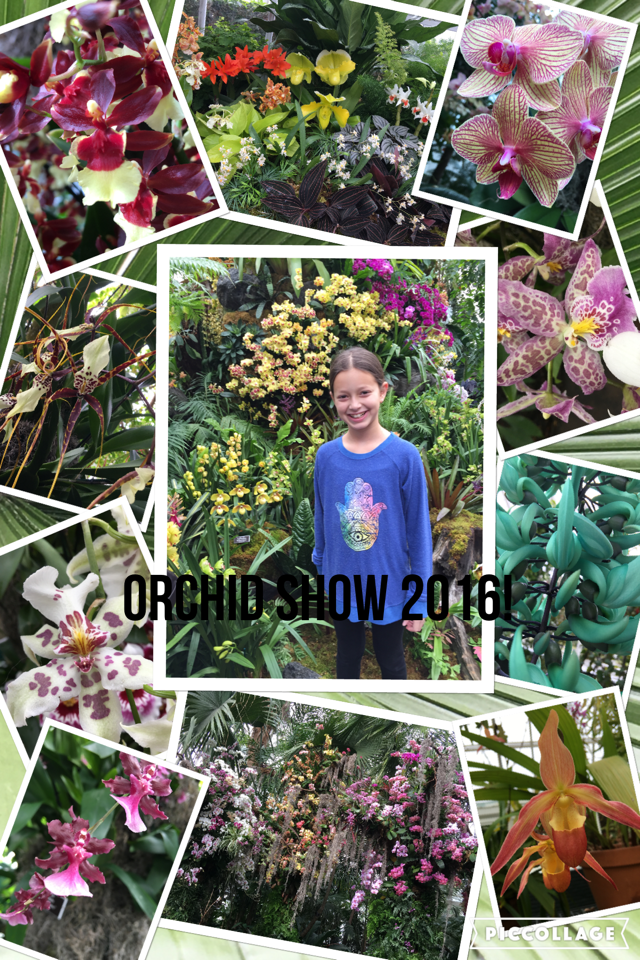 Sandy Spitz from East Norwich,NY said:
The family's love of NYBG continues with this year's Orchid Show. The mid March day allowed us to see the beginning of the spring...witch hazel, crocuses, daffodils and freshly blooming magnolias and forsythia as well as the orchids. Emma once again made a collage of her day with us.
---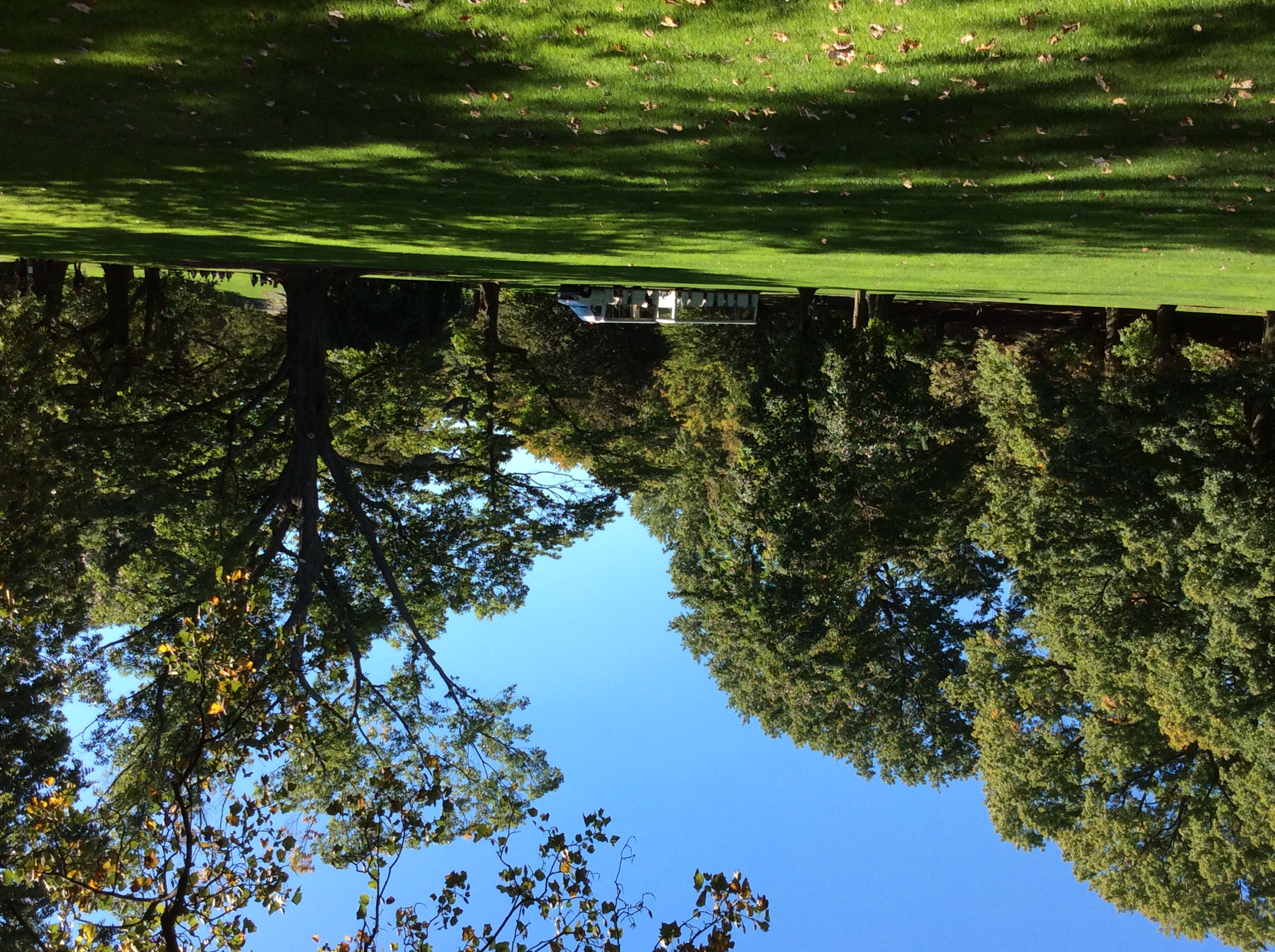 Barbara Anderson from NEW YORK said:
NYBG is my Zen space.
---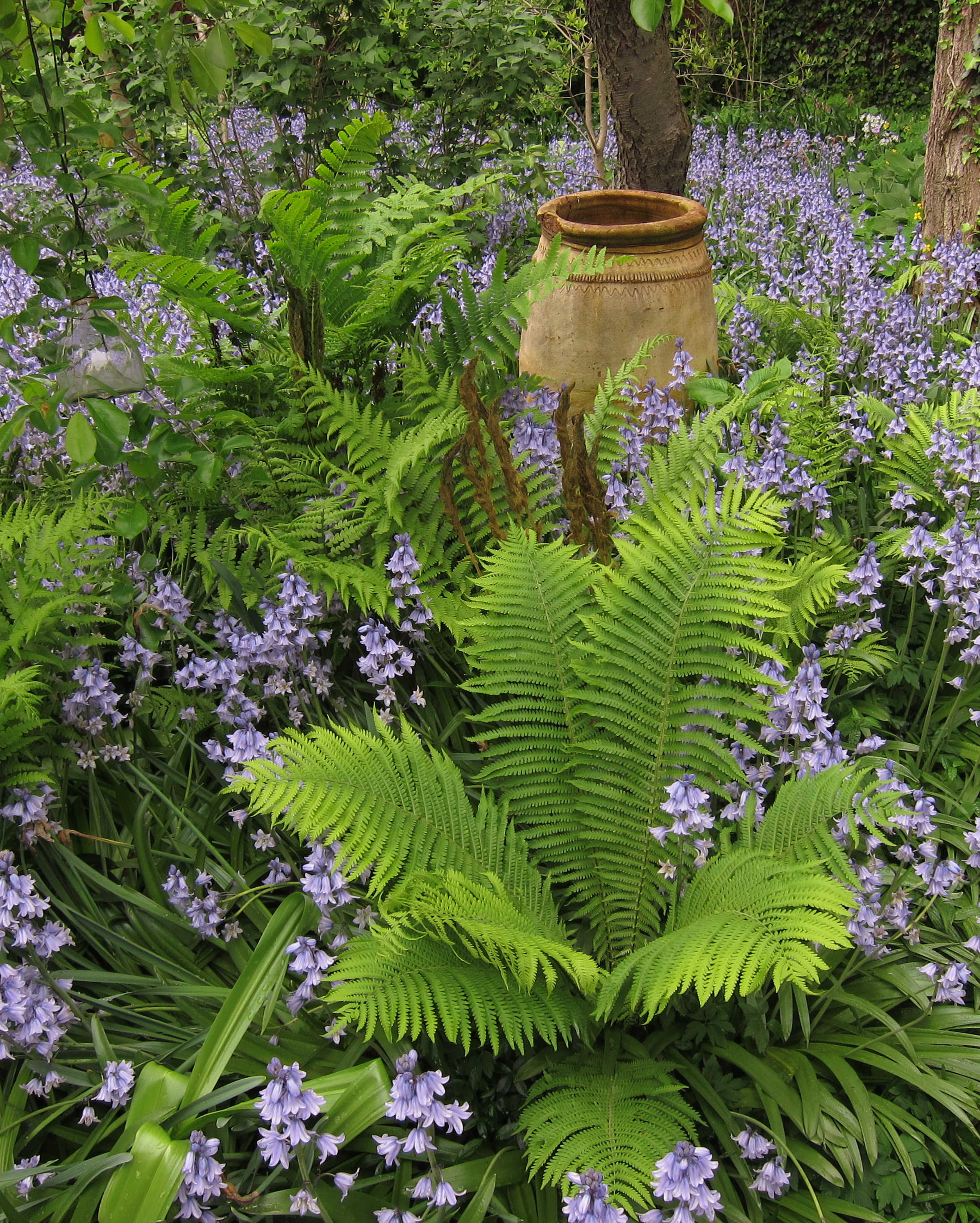 Diego Celis from Bridgeport, CT said:
Bryant Park opened a green world for me, I worked nearby and I became obsessed with everything about it. It led me to taking a landscaping course @ NYBG, to learn more about how to create such beauty in my own backyard. Lessons on color, texture, fragrance. Mrs. Boogaerts was one of my favorite instructors, with her exploration of plant material gathered from catalogs you cut up to create designs.
---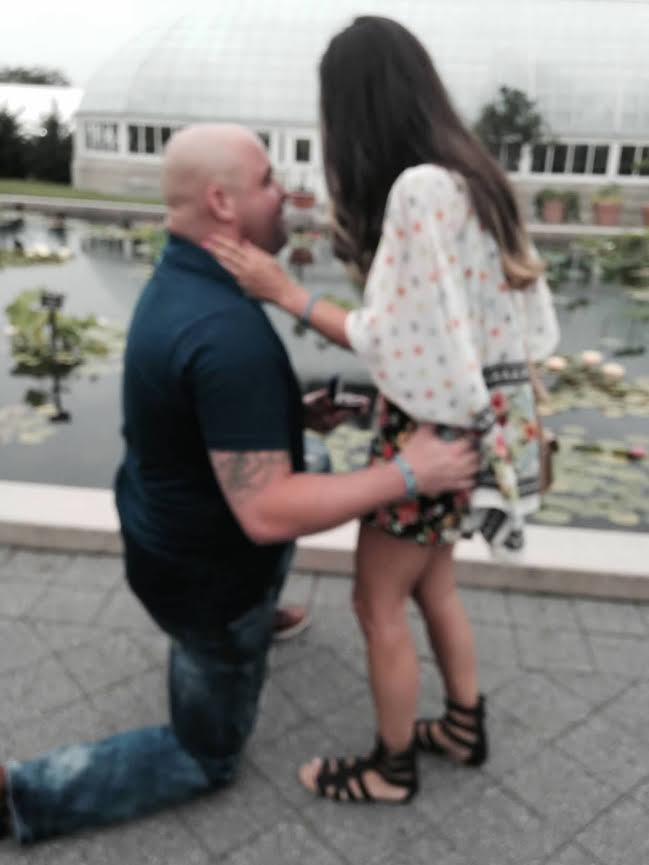 Lisa Genova from Port Chester NY said:
My fiancé proposed to me in June 2015 at the Enid A. Haupt Conservatory Lilly pad Pool. My childhood favorite spot that parents would bring my family.
---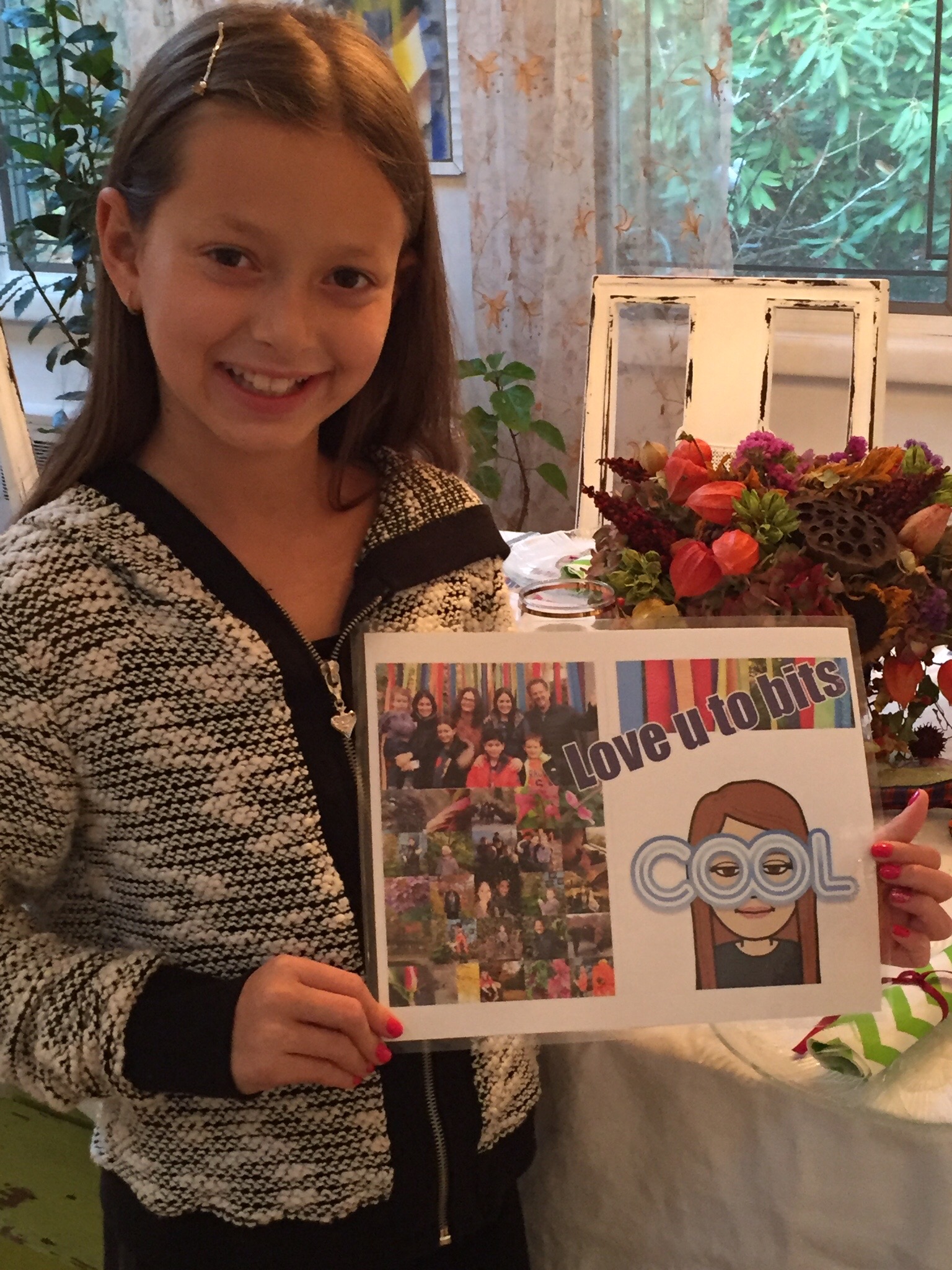 Sandy Spitz from East Norwich, Long Island said:
Each year our family has a theme for Thanksgiving...this year was NYBG obviously! We had a great time putting it together. We have a family membership and make full use of it to visit every exhibit.
---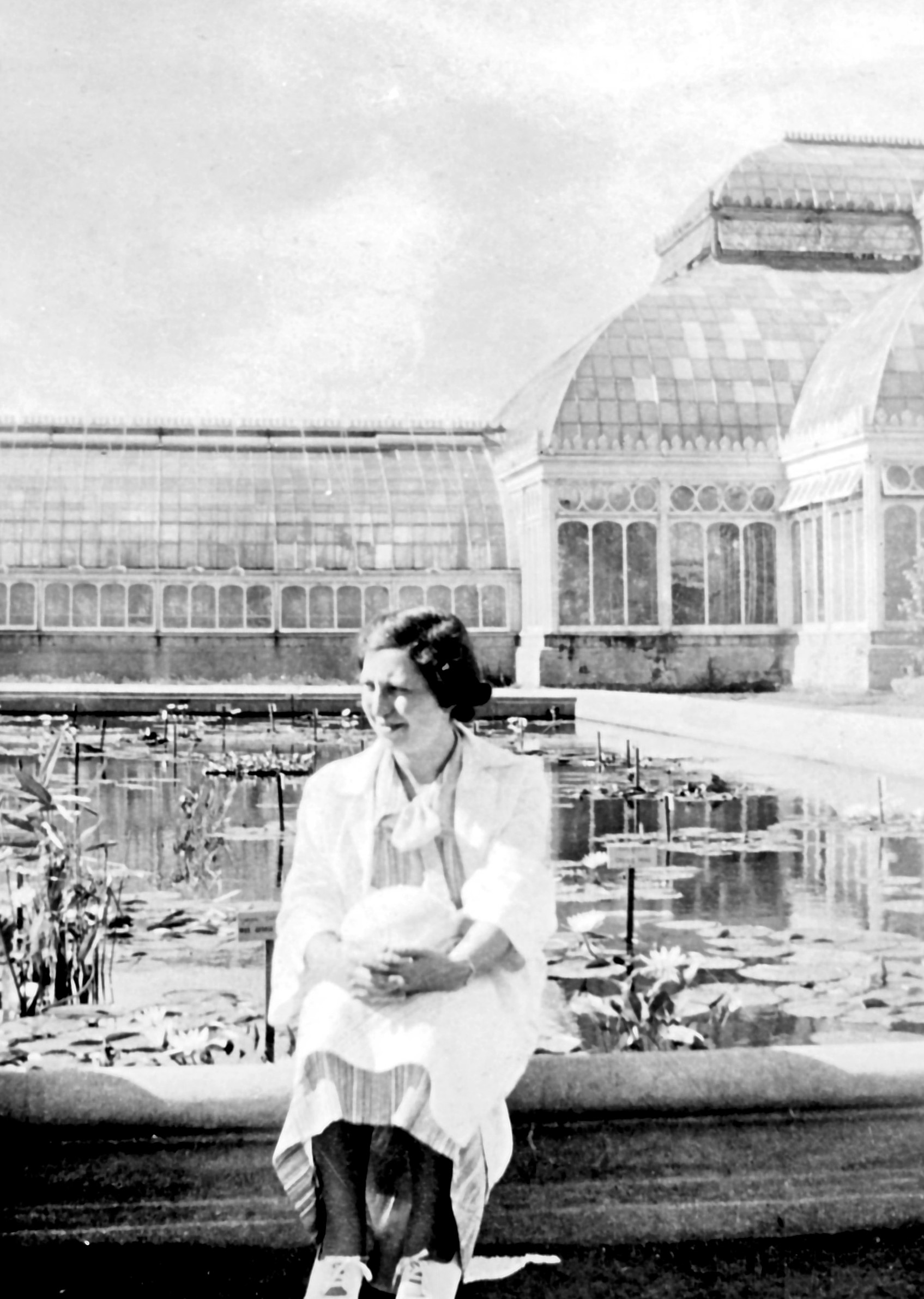 Michelle Campione from Mohegan Lake NY said:
This is a picture taken in 1936 of my grandmother sitting by the lily pool. My family still enjoys visiting the gardens. I am looking forward to going to the winter show in December.
---
Janet Mattox from Delmar, NY said:
I have wanted to visit NYBG for a long time. My company has a perk called the "day of reflection," which employees can use to find inspiration and consider their lives. I had wanted to see the Frida Kahlo exhibit since I heard about it back in the summer, and so I wrote a proposal, which was approved by my employer, and I set out to drive to NYC from Albany for the first time. I was in something of a low mood that I couldn't seem to shake -- until sometime after I arrived, when the exhibit and garden worked their charms on me. My mood lightened, and I felt happiness walking around and about the amazing and gorgeous gardens. This was October 29, after all, not "peak flower season." And then the conservatory.... How I would love to know even a fraction of the many plants. I took the tram ride and was so happy to see it was equipped with a loop system for people with hearing loss. I turned my hearing aid to T and enjoyed the first accessible tour of my life. I look forward to returning in the spring and have already made plans to do so with a friend who has never been to NYBG. I left after three hours and drove home without getting lost, no small triumph for me. Thanks so much for this wondrous NYBG experience. -Janet
---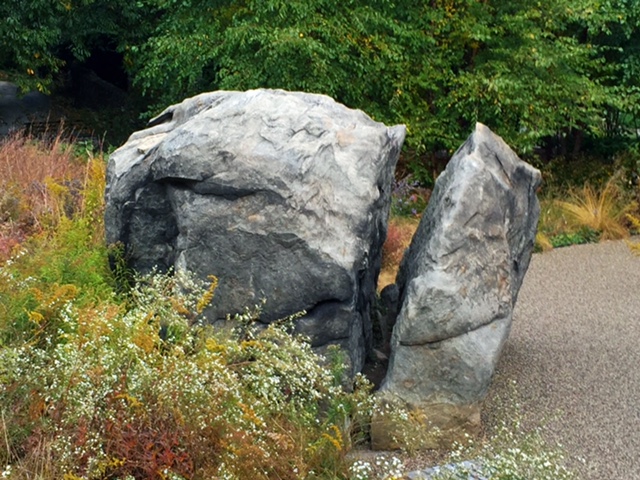 Kevin Barry McHugh from Brooklyn, NY said:
My first visit to the New York Botanical Garden was in 1957 when I was but a month or so old. My family lived a few blocks from the Garden's Mosholu Gate entrance. Since I was in a baby carriage for my first visit, I imagine I just looked up at the trees and inhaled the Garden's fragrance of plants and trees. On weekdays, when we were young, my mother would take my siblings and I to the Garden with the other mothers and toddlers who lived in our apartment building. The moms would sit on a bench and chat while us kids played in front of them on the grass or in the dirt. Growing up, my father would take us for walks in the Garden on Saturday or Sunday afternoons. I recall Thanksgiving Days when my father would take us children for a walk in the Garden for a couple of hours so my Mom could cook Thanksgiving dinner without us kids underfoot. I also recall my father taking us to see the New York Philharmonic Orchestra play on a summer evening, a rare treat to be in the Garden after dark. As I got older, I also played in the Garden on many Saturday afternoons, climbing all over Split Rock or walking through the forest along the Bronx River, imagining it when Native Americans roamed the same trails. I continued going to the Garden on a regular basis and knew the Garden like the back of my hand. I would go with friends or take long walks alone into my mid 20s, when I moved away. I was there in every season; rain or shine, and even in the snow. Growing up so close to the Garden gave me a lifelong love of nature and appreciation of the many different plants we saw on an almost daily basis growing up. We always knew that the Garden was a special place to be respected and that some of the visitors came from far away and we that we were very lucky to live so close. It was almost like our backyard. I visited the Garden a few years ago on a mid September weekday for the first time in many years. Entering through the Mosholu Gate entrance and seeing the Tulip Tree Allee for the first time in decades felt like going home. The trees are much larger than when I first saw them. I still knew my way around the Garden after all the years despite the many changes. I haven't been able to get back to the Garden again until last week and renewed my membership and have promised myself to visit at least several times each year. There is still so much to see and enjoy. I attach a few photos of just 2 of my favorite spots in the Garden. Kevin Barry McHugh Brooklyn, New York
---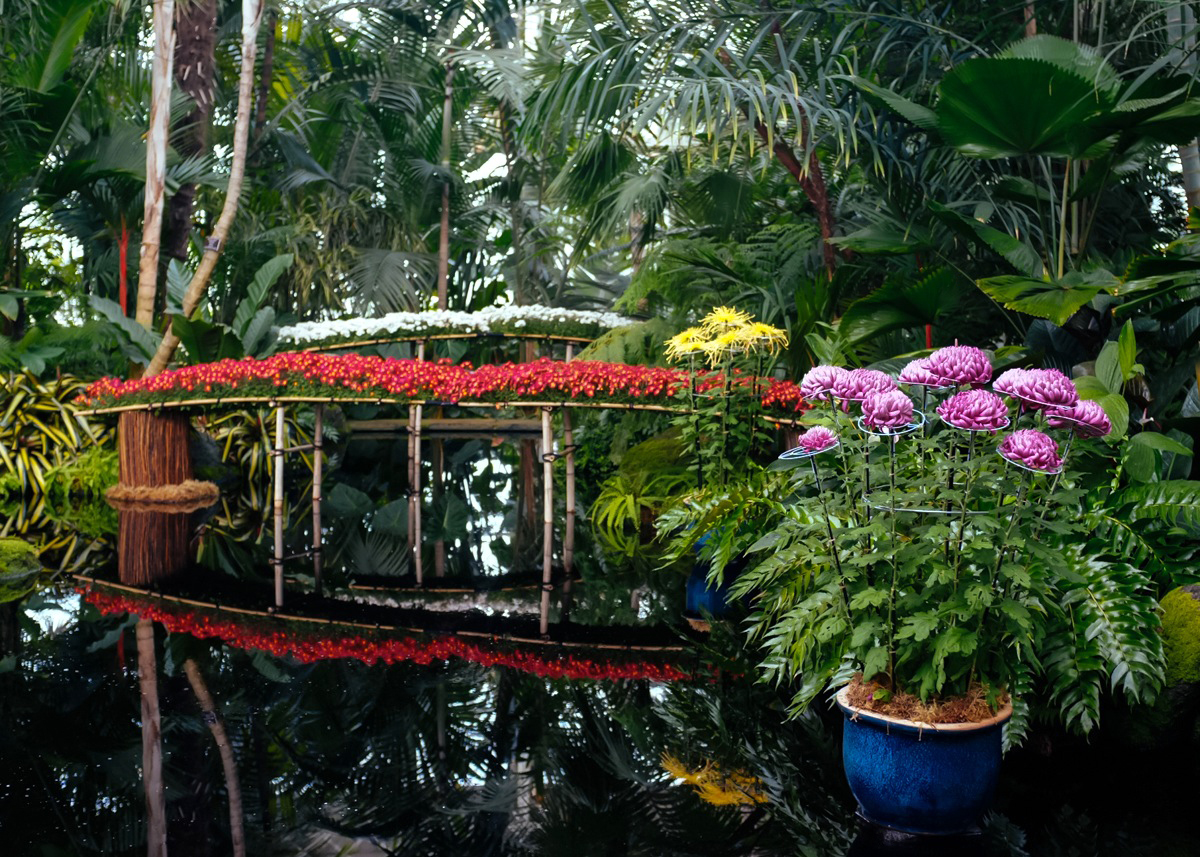 Cindy K from Woodside, NY said:
More than 25 years ago, my husband's coworker offered us free passes to the New York Botanical Garden and we visited for the first time on a cold day in March. The exhibit in the Conservatory was likely an English-inspired garden and we were totally hooked. We became members for a mere $35 and often say that it was the best gift we ever received. The NYBG has always been a place to inspire curiosity and offer respite from the stresses of living in a big, glorious city and we have been members ever since. Happy 125th!
---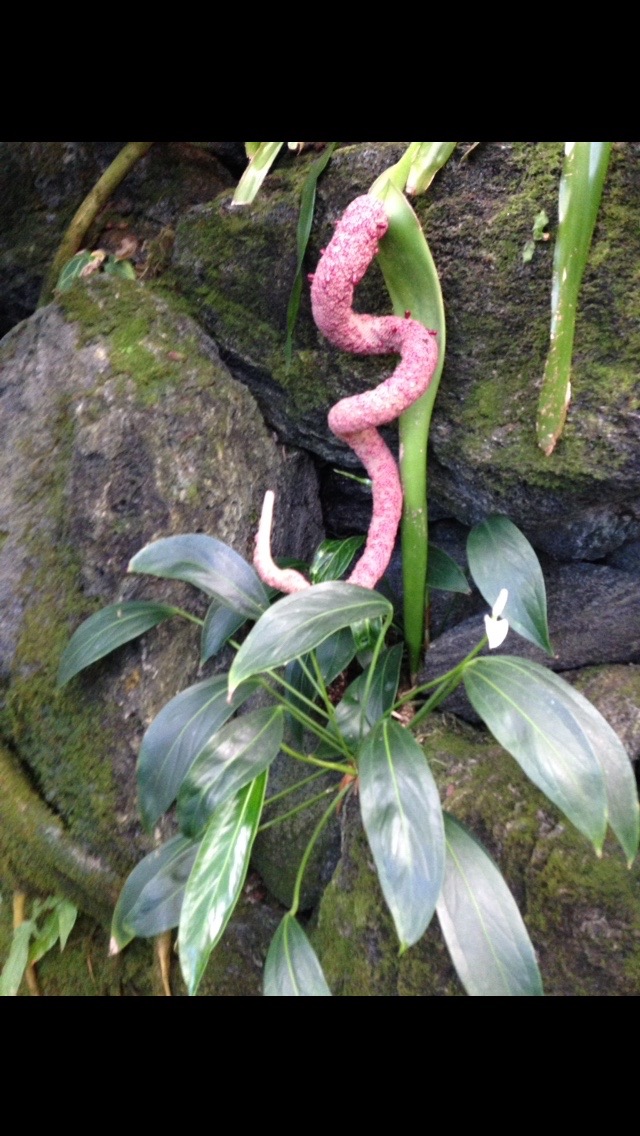 Mariel DiDato from Hazlet, NJ said:
My first trip to the NYBG was over this past summer. My best friend and I had taken the trip to visit the Frida Al Fresco event. I was absolutely blown away; the combination of beautiful plantlife that I had never seen before, the celebration of Frida and Mexican culture, and the celebration of feminism was incredible. And the free cocktail was delicious! (I had a prickly pear margarita :D) The weather was perfect, the paper butterflies were beautiful, and the all-female mariachi band solidified the night. It was, no doubt, my favorite day of the summer, and I want to express my extreme gratitude for the opportunity to attend this wonderful event.
---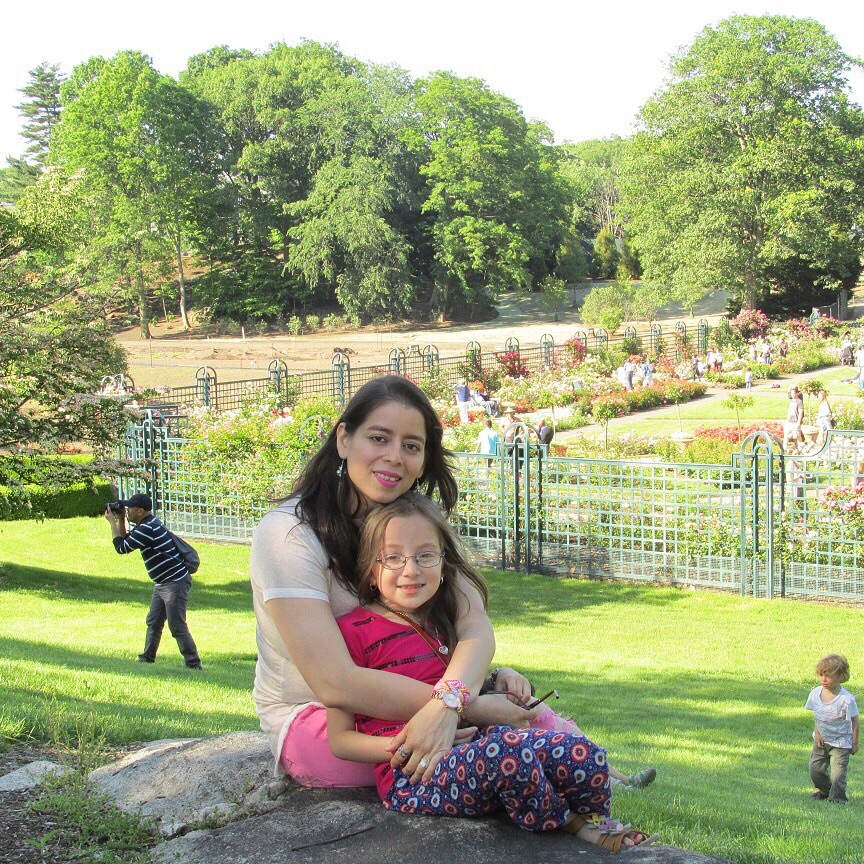 Ixsy Bonilla from Bronx, NY said:
I came to live to the USA on 1998, my boyfriend from that time, whom later became my husband, took me to the NY Botanical garden, i fell in love with the place since i felt connected to Nature. Since then, I always go to the garden, every year, three times at least. I received a marriage proposal there, i also go with my best friends, any people that come to visit me from outside NY, i take them to the garden. Everybody loves it! I am now a mother of a 6 year old princess. Since she was born, i decided to be a member so she can explore and appreciate nature. She loves it! I want to win the lifetime membership because the NYBG has been part of my life in the United States and even if I dont win, I know i will be visiting it every year!
---
Susan Geisler from Yonkers, New York said:
I worked as a perennial gardener in Westchester County for 25 years, maintaining residential gardens. I felt so lucky to be working in such gorgeous surroundings, eventually in my own small business, and most days it was a joy to go to work. I was forced to retire before my time due to serious spinal conditions plus chronic Lyme disease. My heart and soul were hurting at being ripped away from this work I loved and I joined NYBG for the first time, in order to continue being in touch with nature. I learned to enjoy nature with my eyes. I walked and walked, building myself up more and more. Many folks probably recognize me there because I visited the gardens at least twice a week, sometimes more. I observed critically, the work being done, and approved (smile). I drank in the beauty of each season. NYBG helped me so much to make the transition from a working gardener to an appreciator of gardens. I'm now in my third year of membership in this wonderful place.
---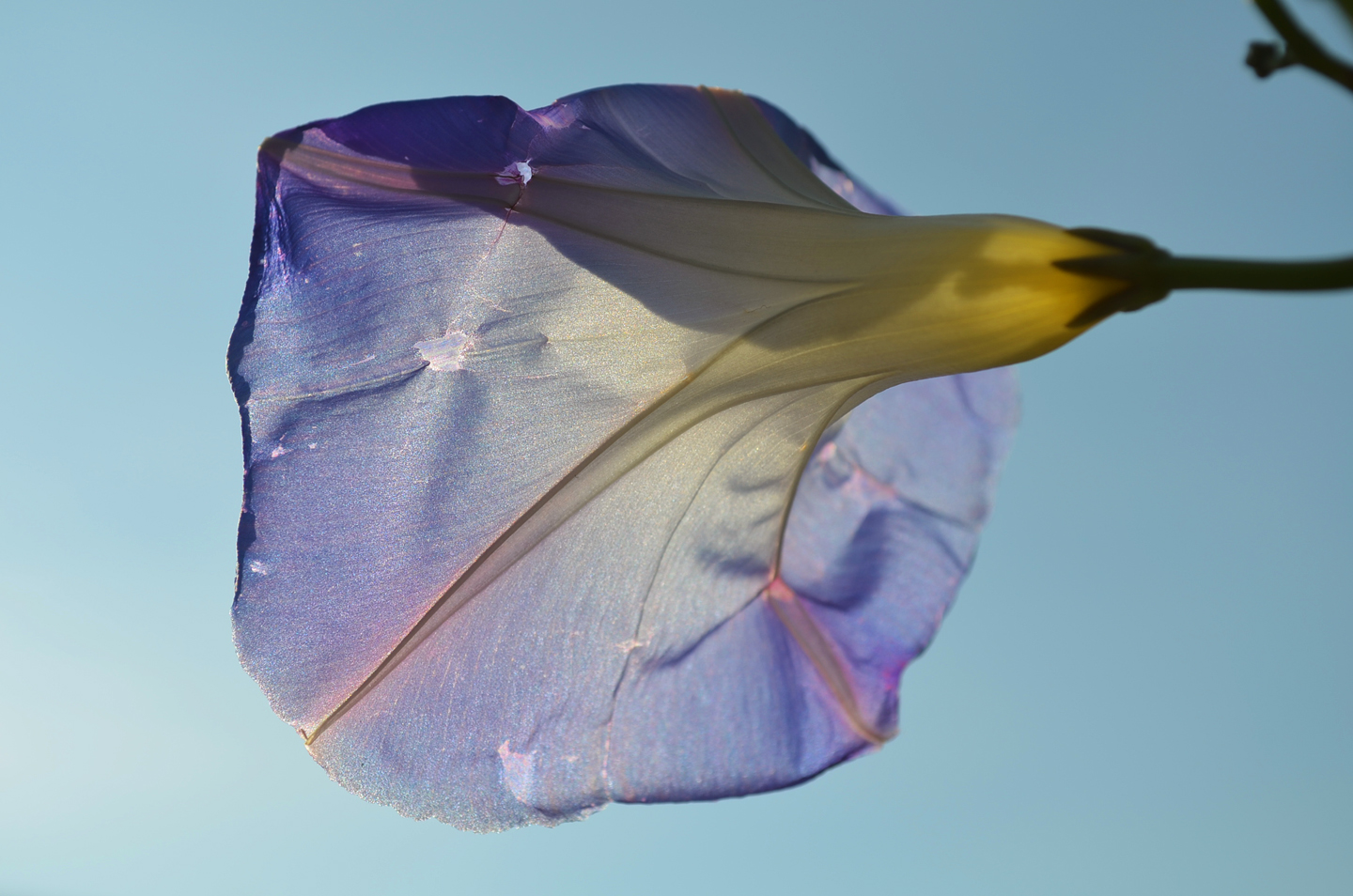 Benjamin Chiang from New York, NY said:
Every moment I spend at NYBG is an amazing moment. Every corner I turn at NYBG is a precious find. Every living creature, flora or fauna, I encounter at NYBG is fascinating. This breathing and ever-changing museum of nature provides a sweet sanctuary away from the hustle and bustle of the metropolis. I've fallen in love as a fan for this fantastic oasis.
---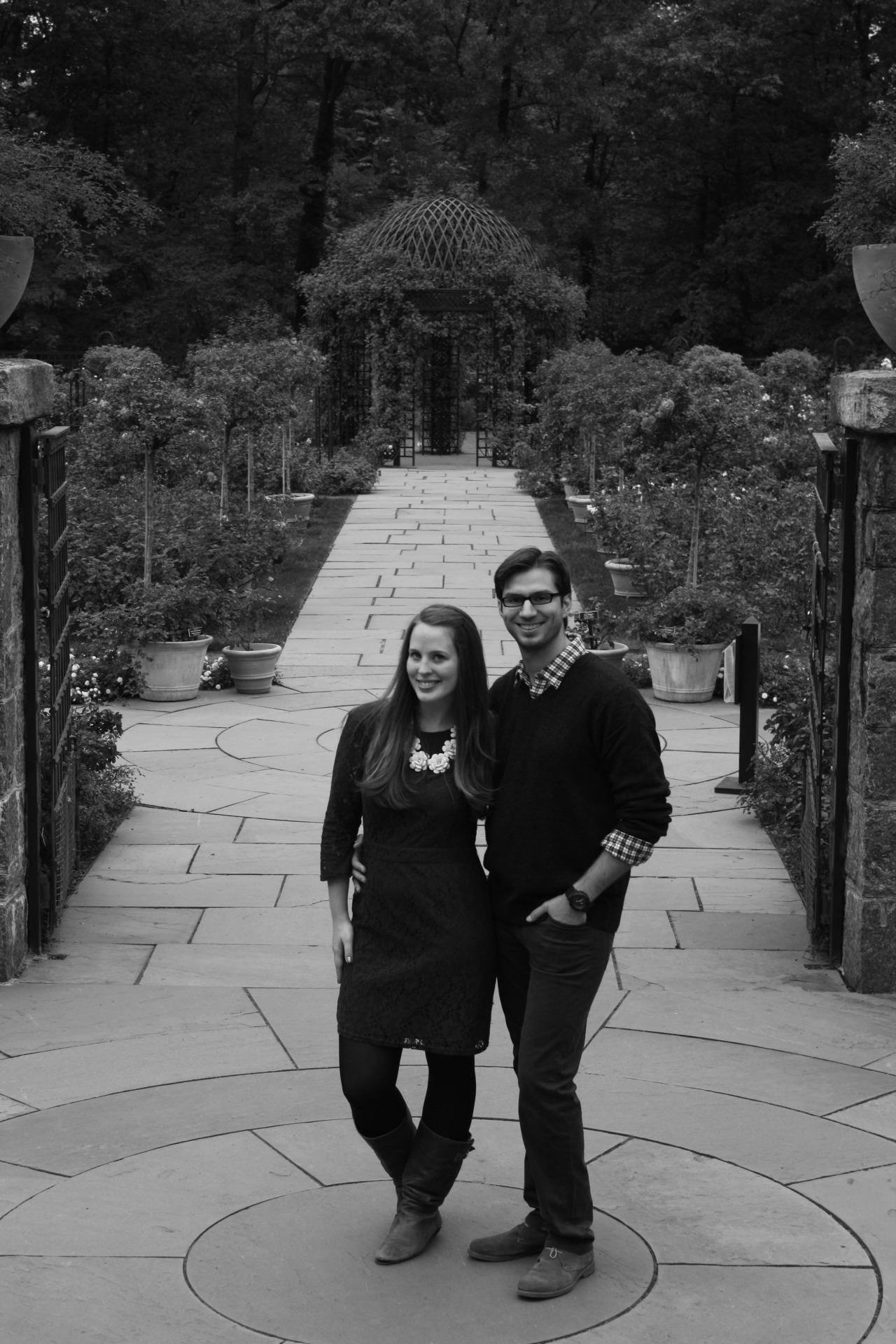 Karl Urban from Mt Vernon, NY said:
Growing up in the Bronx isn't the easiest for a kid so in tune with nature as I was. An eagle scout in the making, I spent many weekends camping with my friends and family. When my parents wanted to get me away from the concrete for the day, they would often take me and my brother to the Botanical Garden to get our fill of fresh air. I soaked up as much knowledge as I could from my parents and the many placards throughout the park. There is even a rock in the Thain Family Forest I recognize to this day as my thinking spot. In High School I ran track on the Fordham Prep team, and we would often practice for cross country on the grounds of the Garden. Loving and knowing the area as well as I did at that point made the grueling practices meditative instead, a wonderful escape from the stresses of school. I would frequently stay beyond practice and enjoy my time amongst the trees, asking my parents to pick me up there instead of returning to campus. Soon after in college I began dating my current wife, and one of our earliest dates was, of course, to the NY Botanical Garden. I showed her all of my favorite places, from the landmark Conservatory to the Peggy Rockefeller Rose Garden. It soon became treasured to her as well, and we would return again to see the Kiku display in 2005, choosing to name our beloved kitten after the show. In 2013 I knew it was time to ask this kindred spirit to take my hand forever. I could think of no better place to ask her this most important question than the NY Botanical Garden. On March 16th, 2013, I led her through the Thain Forest on a seemingly normal date. I recounted all the meaningful spots through my childhood and proceeded to add a new one. We became engaged on Hester Bridge in the last, light snowfall of the season. We soon returned to take our engagement photos throughout the park, and many times since to relive the memory. The NYBG will forever be a part of my life, and a major one. The storied and sacred ground is a place where I have collected my thoughts and built my character since before I was even aware of them. Countless meaningful days have been crafted there for me, and I look forward to the days in the future.
---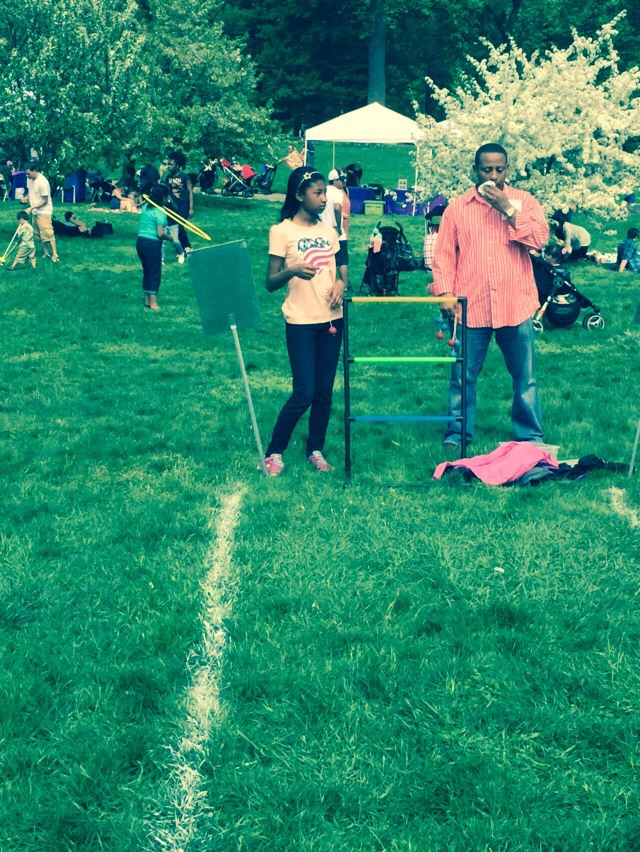 Judith from Bronx, New York said:
I have been enjoying the beautiful scenery and landscape of The New York Botanical Garden for over thirty seven years. I remember visiting NYBG as a child on field trips and studying the different plants during the different seasons of the year. As a young adult, I can remember strolling through the garden on dates. I have always admired the beauty of the garden. All of the flowers and plants have always provided a serene environment for me to reflect and focus on situations in my life. The Native Plant Garden is one of my favorite places to reflect. It is not unusual to find me there reflecting in the summer and spring. As an older adult my husband and I enjoyed visiting with our daughter. There are so many educational programs there for children. In the Everett Children's Garden my daughter learned all about botany and was given hands on experience with planting seeds, and creating biomes. As my daughter grew older we enjoyed spending time in The Ruth Rea Howell Family Garden, where she could dress up scarecrows for Halloween, or make marigold bracelets. She also learned to tend a garden here, and how to prepare delicious meals fresh from the garden. Today my family and I still frequent NYBG. In fact, it is an annual tradition for us to attend The Mother's Day Picnic there, where we play various lawn games such as badminton, croquet, listen to a live band and get a wide variety of food choices and desserts from the various food vans that participate in this event. As you can see I'm really passionate about NYBG, and I am proud to say that after visiting NYBG with me, many of my family members and friends have become members too.
---
Susan Walter from Bronx, NY said:
When I was a child growing up in the Bronx we went to the Botanical Gardens several times a month. We would walk there from Kingsbridge Rd, near Poe Park. One day my mother, brother and I went there and brought baloney sandwiches to eat. We were in the Rock Garden by the pond and along came a dog, he was frolicking around in the water and surrounding area. He came over to us and we gave him some of our baloney sandwiches. He didn't seem to belong to anyone. We begged our mother to let us keep him, she said no. He would run off and play in the woods and the water, but would always find his way back to us as we walked around the park. We kept begging to keep him, mom kept saying no. Finally out of pure exasperation, she told us that if he followed us home we could keep him. Surely she didn't think this was a real possibility. However he did follow us out of the park and all the way home, about a thirty or so minute walk. She kept her promise and named him Fala after FDRs dog. He was the best dog. He never barked and never caused any trouble. We all loved him, my mother especially. When we finally had to put him to sleep, my mother was the one who took him to the vet. When she was coming home she was very upset and out of sorts. A man came up behind her and attempted to mug her. She was so distraught about Fala that she swung wildly and scared the man off. She felt that Fala was her Guardian Angel and that he had watched over her and protected her. I must say, I thought so too. I've been to the Botanical Gardens hundreds of times and I always think of the day Fala found us.
---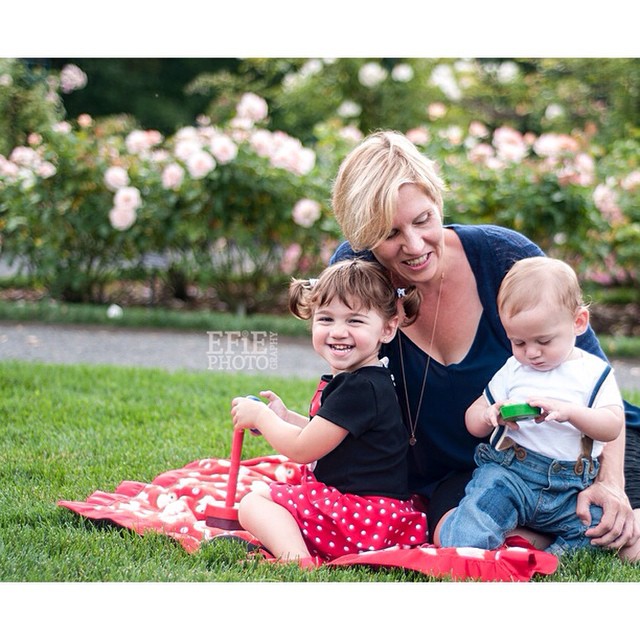 Erin Edwards from Bronx, NY said:
I stayed at home with my baby girl for 10 months before returning to full time work. When she was around 6 months, we started making weekly trips to NYBG on Wednesdays. It was so peaceful and beautiful. She always napped and nursed while there. As a natural light photographer I'm always looking for beautiful natural settings to take my clients to. So one humid day, last summer I took a family to NYBG and we had a great time exploring the gardens and looking for beautiful locations to shoot (see attached photo)! This place is a true gem in NYC.
---
Barbara Golub from Stony Brook, NY said:
A Day with Frida It was 6 AM on Tuesday June 29, 2015, much too early to go anywhere. I had to be at the tour bus at 8 AM in Setauket, NY to go to the New York Botanical Gardens to see the Frida Kahlo Exhibit. Half asleep a group of us seniors from the OLLI program at Stony Brook University were on our way. Shame on me for complaining! This was one of the best days I've ever had. I had never seen a more magnificent garden than what lie before me. The tram ride around the grounds was breathtaking. The Frida Kahlo Exhibit was more than I had hoped for. The ambiance of a Mexican hacienda, the native plants set in a cascading tower and the colors and variety of the flowers were all a gift for the eyes. To complete this beautiful experience was seeing Frida Kahlo's original paintings. Thank you New York Botanical Gardens for making an 87 year old grandma very happy.
---
frank kolovic from NY said:
Happy Childhood Memories.
---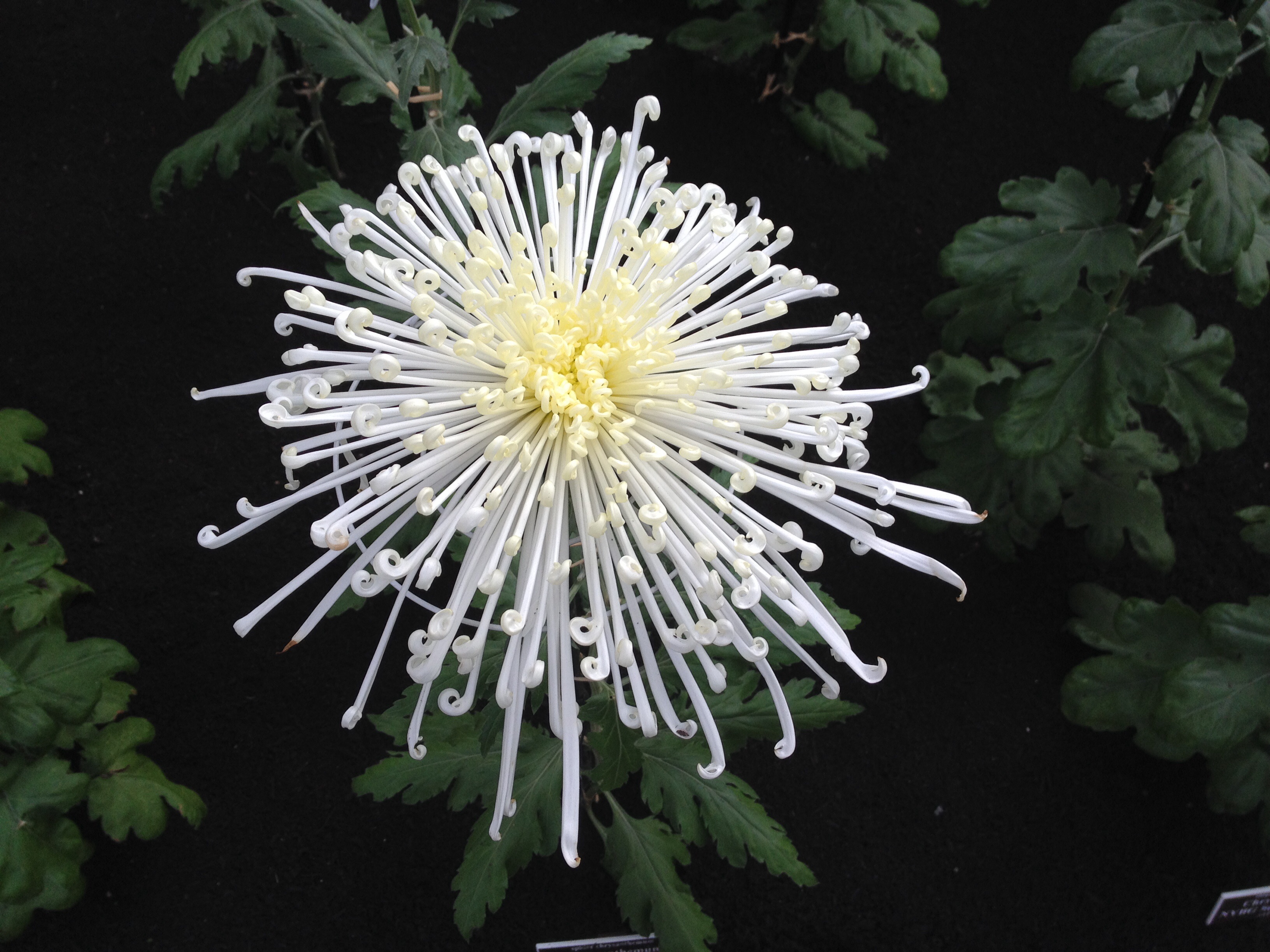 Joan Blank from Bronx, New York said:
I was born on the Grand Concourse. My parents arrived in New York after World War Two. I remember walking in the Botanical Garden as soon as I could do so on my own. I still live in The Bronx, and I visit the Garden on a regular basis. First, I was a member, and then I had a family membership. After that, i became a Supporting Member. Now I am a volunteer at the Garden! It just anchors me!
---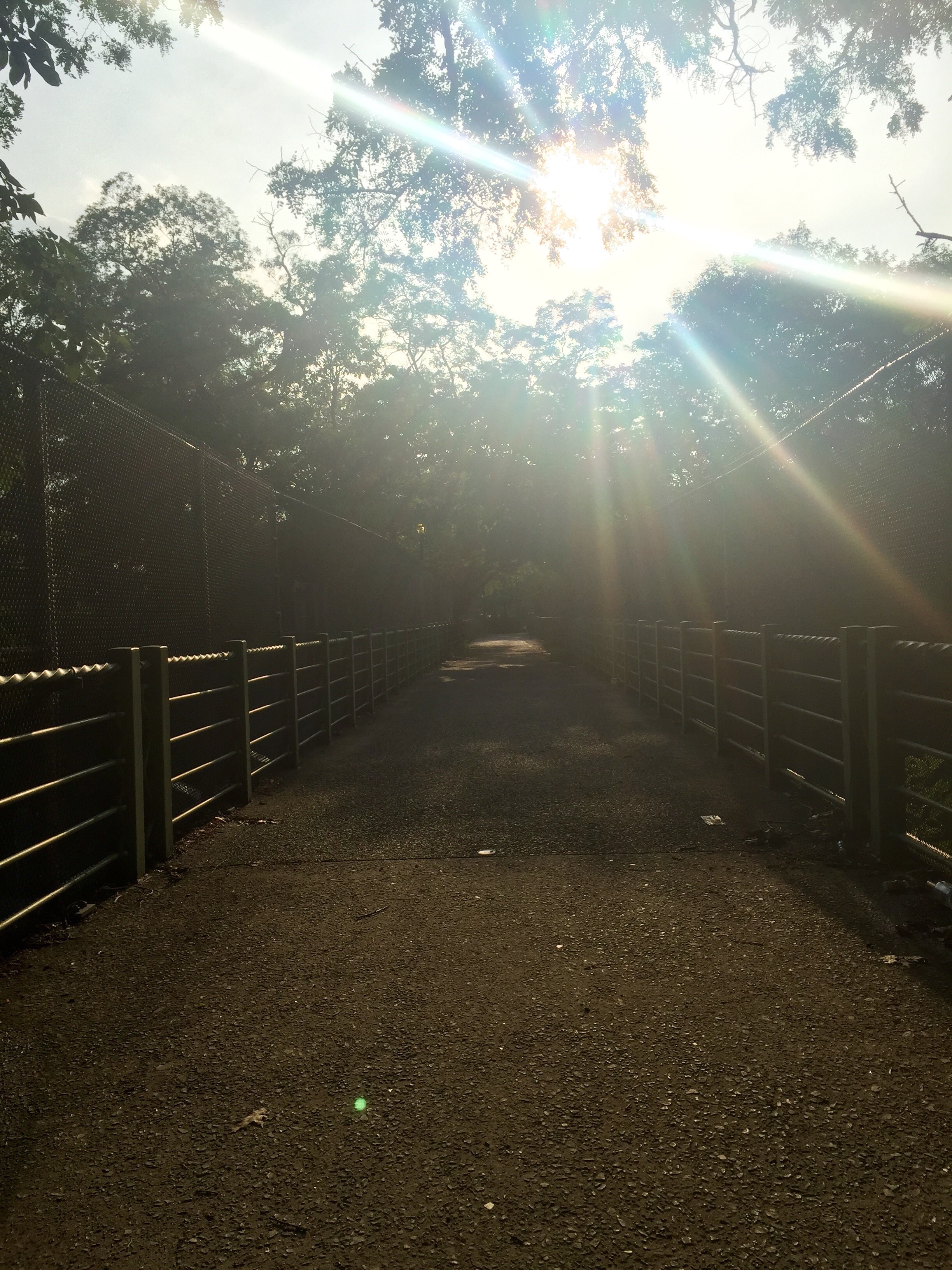 Panthea Saidipour from Bronx, NY said:
I love the walk to the botanical garden. The entrance I use is hidden from the road, at the end of a short trail. There are no signs for it. To get to it, you cross a pedestrian bridge over 6 lanes of noisy traffic. Just a few steps into the garden—silence—then, the sounds of chipmunks, birds, rustling leaves, and the river. This is my favorite place in New York City.
---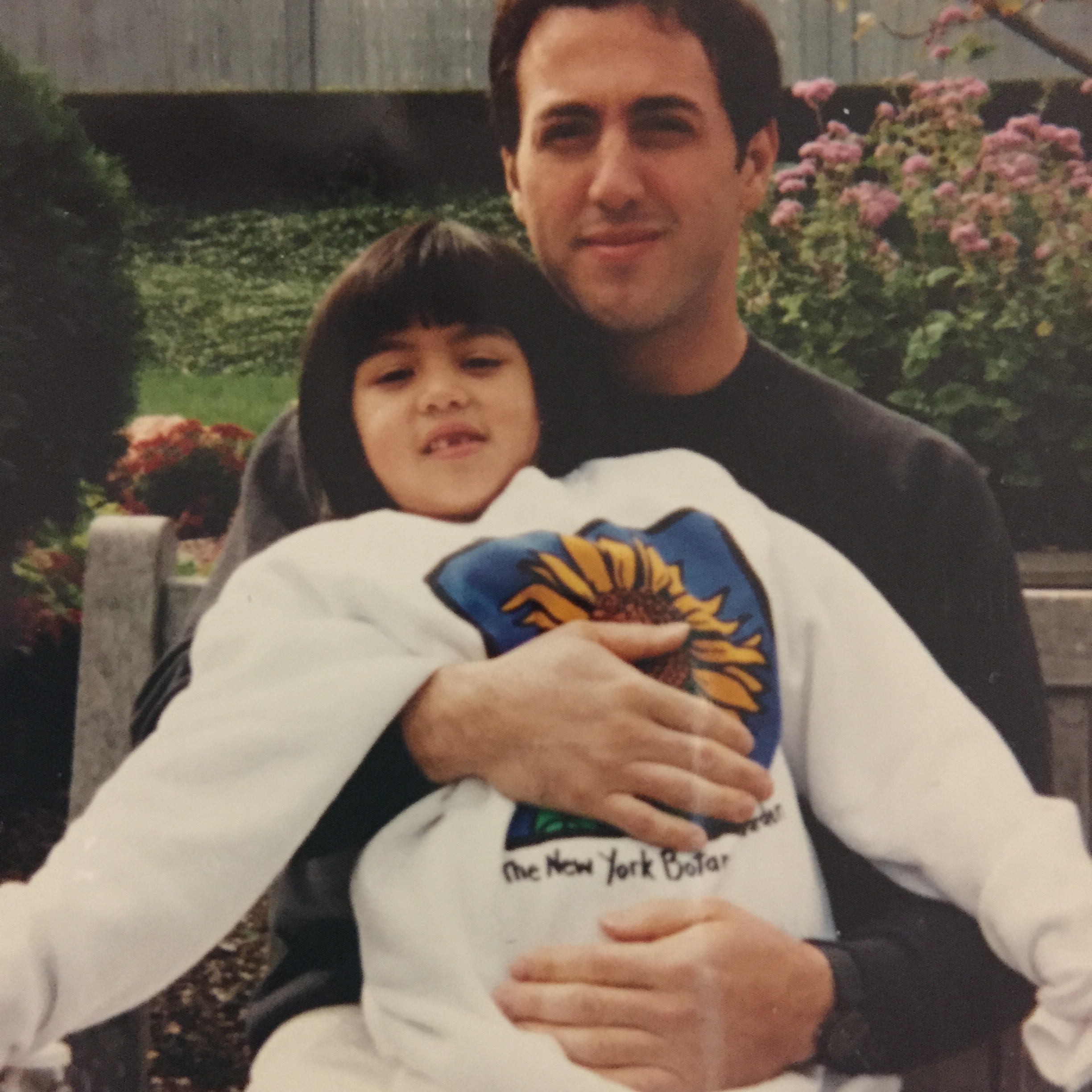 Angela from Stamford, CT said:
It all started back in 1964 when my grandparents came to America from Italy. My grandmother and her family settled in the Bronx, NY and she took frequent trips to the New York Botanical Gardens with my father when he was a little boy. Fast forward to my father having kids of his own, he continued the tradition and took me as a child. I ended up going to Fordham University for 4 years and often visited the Botanical Gardens since it was so close. Ten months ago my father passed away suddenly at only 50 years old. I came across this picture and I cherish it so much. It was the two of us at the Botanical Gardens and I am wearing a sweatshirt from there as well! Two months ago, the love of my life proposed to me on my 25th birthday. While wedding planning and doing some research, I thought about how perfect the Botanical Gardens would be. A beautiful place with such special meaning. My father may not be here physically to walk me down the aisle on my wedding day, but I know he will be with me in spirit every step of the way.
---
Gabriel from Trenton, NJ said:
I had known about the NY Botanical Garden for years growing up in NJ but only visited last year. I took my wife there on a date during a nighttime event and we had such a good time! We will defintely go again in the future.
---
Addy from Washington, DC said:
I went to the Garden last year when I was looking for something different to do, since I've visited the City many times before. A friend recommended the New York Botanical Garden and I was blown away! The roses were just blooming, so the garden was bursting with color and the staff was so friendly when I got lost. Easily one of my favorite places in New York now.
---
Samuel Kazemi from New York, NY said:
My friend dragged me to see The Orchid Show a few years ago, and while initially I wasn't excited, once we stepped through that giant glass Conservatory I changed my tune! Ever since then I visit the Garden yearly for The Orchid Show, and try to come up a few other times throughout the year. I now love introducing NYBG to other New Yorkers who have never been and watching their faces as they see what an incredible place it truly is! Thanks NYBG!
---
Steve from Los Alamos, NM said:
I live in a desert climate. Coming to NYBG and seeing the tropical plants and stuff in the conservatory was really different and cool. There is so much greenery in the place. This was an awesome experience and something I didn't think was in New York City.
---
Jen from Ogdensburg, NY said:
My trips down to the city aren't complete without a stop at the NYBG. We usually drive and the last time we went was this spring- the seasonal bloom was so pretty!! We were walking to the conservatory from the front gate when we came upon a giant hawk bathing in the fountain there. Even up north we don't always see them that close! As an amateur bird watcher it was a joy for me and my family. I can't wait for my next visit.
---
Gracie Gutierrez from New York, NY said:
Walking up to the Conservatory, I saw a penny on the ground and picked it up for good luck–something I desperately needed, as I was awaiting some life changing news within the next few days. As I walked through the herb garden, I got a call. Squeals ensued, as I was told that I had received the grant I needed! My long-time goal, which would take me to Cambodia for a year of studying their elephant population, was becoming a reality. I ended up taking that penny and donating it back to the Garden when I saw a little box asking for donations. To me, the Garden is where dreams come true, literally!
---
Natalie from Los Angeles, CA said:
The first time I went to NYBG - I was blown away! In Los Angeles we have lots of green, manicured lawns, and flowers - but I had never seen something like the Garden. Where every tree placement, blade of grass, flower plug was put there with a purpose, a grand design. Being so close to the busy feel of New York and then to transcend into this curated space was a "wow" moment. Every trip to New York, I make it a point to visit NYBG, and every time is amazing.
---