Chief Executive Officer and The William C. Steere Sr. President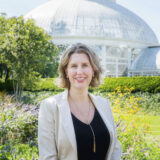 The New York Botanical Garden proudly named Jennifer Bernstein as Chief Executive Officer and The William C. Steere Sr. President in 2021. She is the 10th leader of NYBG in its long and storied history.
Jennifer brings more than 20 years of experience in nonprofit management and organizational development to NYBG, where she drives the institution's fiscal, marketing communications, and programmatic growth. Since joining the Botanical Garden, she has launched a new strategic and comprehensive master site planning process to ensure the continued vitality of NYBG's National Historic Landmark landscape and its buildings and facilities; welcomed dynamic new Trustees to NYBG's Board; and helped solidify the institution's financial and organizational strength.
Jennifer is committed to using NYBG's leading science, education, and horticultural programs to advance environmental stewardship and conservation. She is honored to carry forward the Garden's tradition of bringing inspiring exhibitions and programs to the Bronx and New York City communities, as well as to the Garden's visitors from around the world.
Prior to joining NYBG, Jennifer led fundraising and development for major nonprofit, cultural, and educational institutions. She previously served as Chief Development Officer and interim Chief Operating Officer at Natural Resources Defense Council (NRDC), as leader of advancement at Pace University, and in administrative and development roles at New York University, Playwrights Horizon and Roundabout Theatre. She earned her undergraduate degree from Santa Fe University of Art and Design and her master's degree in business administration from New York University Stern School of Business.