The Board of Trustees of The New York Botanical Garden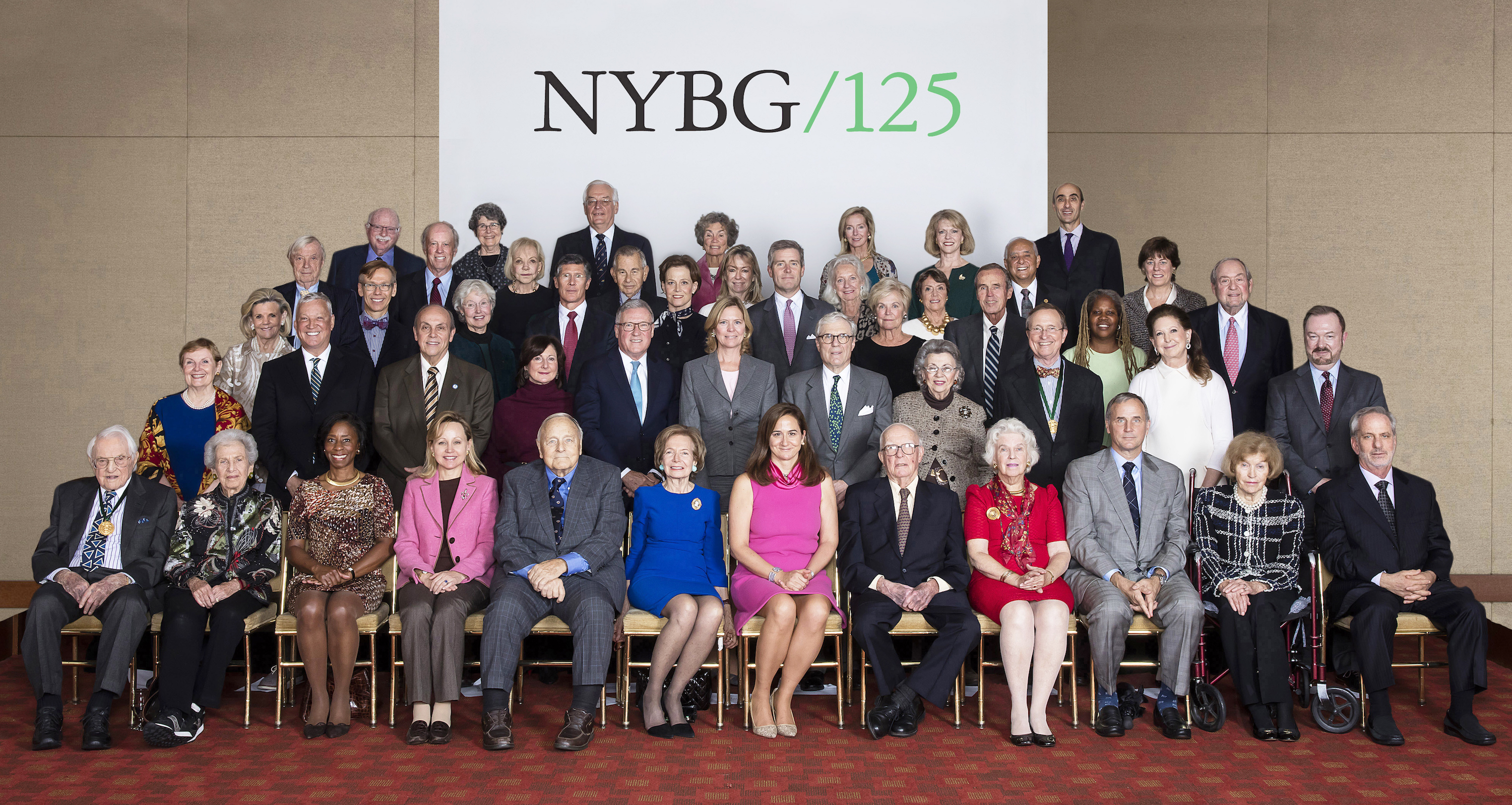 Top row from left to right: Michael Steinhardt, Jacqueline Dryfoos, Barclay Collins II, Susan Lynch, Susan E. Kay Matelich, Diane Katzin, John Bernstein;
Second Row: Gilbert Maurer, George Milne, Barbara Robinson, Kenneth Roman, Gillian Steel, Friederike Biggs, Edith Kean, Serafin Mariel, Julie Sakellariadis;
Third Row: Mary Davidson, Mish Tworkowski, Jean Burn, John Thain, Sigourney Weaver, Henry Johnson, Susan Burke, William O'Connor, Karen Washington, Gary Beller;
Fourth Row: Janet Ross, Larry Condon, Ricardo Fernández, Marjorie Rosen, Gregory Long, Maureen Chilton, Lionel Goldfrank, Edith Everett, Thomas Lovejoy, Amy Goldman Fowler, JV Cossaboom;
Bottom Row: Lewis Cullman, Marian Heiskell, Dianne Renwick, Deborah Royce, Wilson Nolen, Shelby White, Caroline Wamsler, Thomas Hubbard, Lynden Miller, Malcolm Nolen, Anne Hubbard, Leonard Abess;
Trustees not pictured: Edward Bass, Mario Batali, James Benenson, Whitney Clay, Florence Davis, Robert Gossett, Eugene Grisanti, Weslie Janeway, Jill Joyce, Karen Katen, Hidemoto Mizuhara, Janet Montag, Jessie Norman, Marc Porter, William Steere, Eleanor Sullivan, Sally Susman, Douglas Thomas, Joseph Thompson, Carmen Thain, Craig Vosburg, Michael Zarcone.
OFFICERS

Chairman

Maureen K. Chilton

Chairman of the Executive Committee

Amy Goldman Fowler, Ph.D.

Chief Executive Officer
The William C. Steere Sr. President

Gregory Long

Vice Chairman for Strategic Planning

Mrs. Nicholas J. Sakellariadis*

Secretary/Treasurer

Craig Vosburg





Vice Chairmen

Edward P. Bass
Larry E. Condon
Marjorie G. Rosen
William C. Steere, Jr.
Shelby White

Executive Committee

Amy Goldman Fowler, Ph.D., Chairman
Edward P. Bass
Maureen K. Chilton
Larry E. Condon
Lionel Goldfrank III
Diane Katzin
Gregory Long
William B. O'Connor, Esq.
Marjorie G. Rosen
Deborah Goodrich Royce
Mrs. Nicholas J. Sakellariadis
William C. Steere, Jr.
Carmen M. Thain
Caroline A. Wamsler, Ph.D.
Shelby White

Trustees

Leonard Abess
Mario Batali
Gary A. Beller
John W. Bernstein
Mrs. Jeremy H. Biggs
Mrs. Coleman P. Burke
Mrs. Harry Burn III
Mrs. Jonathan C. Clay
J. Barclay Collins II
Mrs. Marvin H. Davidson
Florence A. Davis
Jacqueline H. Dryfoos
Mrs. Edith B. Everett
Robert F. Gossett, Jr.
Eugene P. Grisanti
Mrs. Thomas J. Hubbard
Weslie R. Janeway
Henry P. Johnson
Jill Joyce
Karen Katen
Edith W. Kean
Thomas E. Lovejoy, Ph.D.
Susan E. Lynch
Serafin U. Mariel
Susan E. Kay Matelich

Gilbert C. Maurer
Lynden B. Miller
George M. Milne, Jr., Ph.D.
Hidemoto Mizuhara
Janet M. Montag
Malcolm C. Nolen
Jessye Norman
Marc Porter
Hon. Dianne T. Renwick
Mrs. John R. Robinson
Mrs. Arthur Ross
Gillian Steel
Michael H. Steinhardt
Eleanor F. Sullivan
Sally Susman
John A. Thain
Douglas D. Thomas
Joseph A. Thompson
Mish Tworkowski
Karen Washington
Sigourney Weaver
Michael A. Zarcone

Chairmen Emeriti

Thomas J. Hubbard
Wilson Nolen

Life Trustees

Lewis B. Cullman
Mrs. Andrew Heiskell
Kenneth Roman

Trustees Emeriti

William S. Beinecke
Mrs. Thomas H. Choate

DISTINGUISHED COUNSELLORS TO THE BOARD

Sir Peter R. Crane, FRS
Helen Dillon
Vartan Gregorian, Ph.D.
Penelope Hobhouse, Hon.D.Litt. VMH
Professor Sir Ghillean Prance, FRS, VMH
Edward O. Wilson, Ph.D.

EX OFFICIO TRUSTEES

Hon. Bill de Blasio
Hon. Ruben Diaz Jr.
Hon. Carmen Fariña, Ph.D.
Hon. Tom Finkelpearl
Hon. Melissa Mark-Viverito
Hon. Mitchell Silver
Hon. Scott M. Stringer

BOARD OF ADVISORS

R. Ellen Avellino
Cynthia D. Brodsky
Susan Cohen
Cristina Cuomo
Patricia Fast
Aramina Vega Ferrer, Ph.D.
Mrs. Robert C. Graham, Jr.
Mai Hallingby Harrison
Mrs. Wm. Mitchell Jennings Jr.
Mrs. Charles B. Johnson
Nathalie Kaplan
Alexandra Lebenthal
Lawrence Lederman
Peter R. McQuillan
Gillian Miniter
Mrs. Andrew Safran
Nicholas J. Sakellariadis
Kate Solomon
Mrs. B. Robert Williamson, Jr.