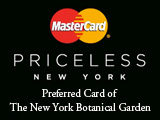 The Garden has partnered with MasterCard to provide Priceless New York experiences that you simply can't get anywhere else. From exclusive evenings to early access to special savings, you can now experience the Garden like never before--but only when you use your MasterCard. Visit priceless.com/ny for details.
---
Exclusive Early Access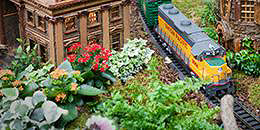 Get a jump on the holidays with a visit to the magical Holiday Train Show before the Garden opens to the general public--enter at 9:15, 9:30, or 9:45 a.m. Enter early, and stay at the Garden for an entire day of fun. Get tickets for November 24, December 8, 15, or January 4.
Bar Car Night with Pre-Party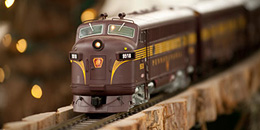 On these nights for grown-ups at the Holiday Train Show, leisurely view this wondrous exhibition while sipping a complimentary cocktail. Use your MasterCard to purchase a VIP ticket that includes an exclusive pre-party. Start your night at Shop in the Garden from 6-7 p.m., where you'll enjoy complimentary champagne and artisanal chocolate plus 10% off your purchase at the Shop when you use your MasterCard. The December 14 and 21 Pre-Parties are sold out. Get tickets for December 20.
MasterCard Budding Masters: Gingerbread Workshop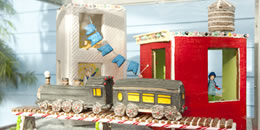 Kids ages 8-12 learn to make a gingerbread house from an expert NYC cake artist, and explore the spices that go into this holiday favorite. The December 7 workshop is sold out, get tickets for the December 14 workshop.
Exclusive Family Evening, December 10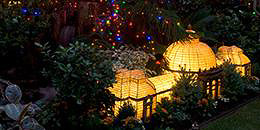 After the Garden closes, see the Holiday Train Show as few others get to see it. Get into the holiday spirit as a family by exploring the Holiday Train Show in the evening, under the magic of thousands of twinkling lights. Get tickets for December 10.
VIP Access to Thomas & Friends™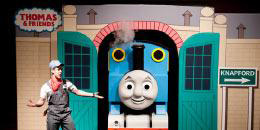 Thomas & Friends™ are pulling into the station! MasterCard cardholders enjoy VIP access with special reserved seating and a first-in-line position at a meet and greet and photo-op with Thomas. Join Thomas and Driver Sam on a fun-filled, sing-along, mini-performance adventure. Get tickets for January 5 or January 12.
Thomas the Tank Engine and Friends ©2014 Gullane [Thomas] Limited.
Certain restrictions and terms & conditions apply. Limited quantities available and limited time offer. For MasterCard cardholders only. MasterCard, the MasterCard brand mark, and Priceless are registered trademarks of MasterCard International Incorporated.