About the Holiday Train Show®
Meet the Artists
What one may see as just a piece of bark or a fallen berry, Laura Busse Dolan and the creative team at Applied Imagination envision as stone on the Brooklyn Bridge or an ornament on St. Patrick's Cathedral.
In 1991, Paul Busse founded Applied Imagination. Applied Imagination was a great artistic convergence of Paul's work with landscaping, garden railroads and his unique use of plant material to create "botanical architecture". Since Paul Busse first brought his wondrous landscapes of trains and plant-based structures to The New York Botanical Garden with the first Holiday Train Show® in 1992, Applied Imagination have gone on to produce special exhibits for many other venues around the country.
Paul is now retired, and the company is owned and operated by his daughter, Laura Busse Dolan. On a walk through the woods on the Applied Imagination property in Alexandria, Kentucky, Laura and the artists of Applied Imagination inevitably bring back some interesting tidbit that can be used in crafting one of their magical displays. Learn more about their work here.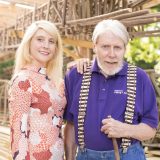 Discover the Landmarks
More than 190 scaled iconic buildings and structures such as the Brooklyn Bridge, Yankee Stadium, and the Statue of Liberty are displayed under thousands of twinkling lights. Step into a miniature city where famed New York architecture is re-created using bark, leaves, and other natural materials.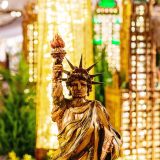 Catch the Trains
See more than 25 G-scale model trains and trolleys hum along nearly a half-mile of track. Don't forget to look up—NYC bridges come together to create an aerial display of trains soaring overhead!