About the Holiday Train Show®
Meet the Artists
What one may see as just a piece of bark or a fallen berry, Laura Busse Dolan and the creative team at Applied Imagination envision as stone on the Brooklyn Bridge or an ornament on St. Patrick's Cathedral.
In 1991, Paul Busse founded Applied Imagination. Applied Imagination was a great artistic convergence of Paul's work with landscaping, garden railroads, and his unique use of plant material to create "botanical architecture." Since Paul Busse first brought his wondrous landscapes of trains and plant-based structures to The New York Botanical Garden with the first Holiday Train Show® in 1992, Applied Imagination has gone on to produce special exhibits for many other venues around the country.
Paul is now retired, and the company is owned and operated by his daughter, Laura Busse Dolan. On a walk through the woods on the Applied Imagination property in Alexandria, Kentucky, Laura and the artists of Applied Imagination inevitably bring back interesting tidbits that can be used in crafting one of their magical displays. Learn more about their work here.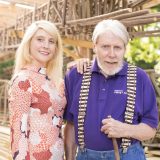 Discover the Landmarks
Nearly 200 scaled iconic buildings and structures such as the Brooklyn Bridge, Yankee Stadium, and the Statue of Liberty are displayed under thousands of twinkling lights. Step into a miniature city where famed New York architecture is re-created using bark, leaves, and other natural materials.
The addition of the all-new display of model trains traversing towering mountainscapes sited on the Haupt Conservatory Lawn expands the exhibition, creating an indoor and outdoor experience, and hearkens back to the outdoor roots of the Holiday Train Show, which began in 1992. It's sure to be an ideal location for holiday photos!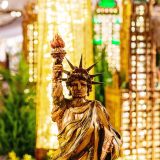 Catch the Trains
See more than 25 G-scale model trains and trolleys hum along nearly a half-mile of track. Don't forget to look up—NYC bridges come together to create an aerial display of trains soaring overhead and outdoors on our all-new Conservatory Lawn display.
American steam engines, streetcars from the late 1800s, and modern freight and passenger trains travel along overhead trestles, through tunnels, and across familiar NYC structures, providing merriment for all ages.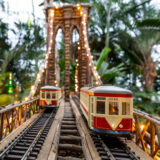 Discover the Botany Behind the Beauty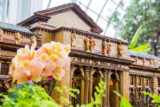 Lining the façade of the New York Public Library model, European alder (Alnus glutinosa) seeds look like adorable mini pine cones.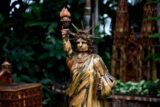 The Statue of Liberty has a been beacon to immigrants and visitors to New York since 1886. Applied Imagination represents her hair with screwbean mesquite pods (Prosopis pubescens), a curious legume with twisty pods.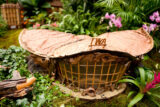 The futuristic TWA flight center is re-created with a roof of enormous grandleaf seagrape (Coccoloba pubescens) leaves.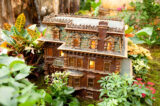 The Mott House's roof is made with scales from the longest pine cone in the world—belonging to the sugar pine (Pinus lambertiana).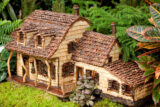 Pale colored paper birch bark (Betula papyrifera) recreates the shingled exterior of the historic Lott House, the oldest Dutch Colonial house in Brooklyn.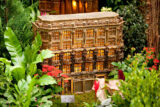 Eucalyptus (Eucalyptus globulus)—fragrant aroma or invasive species? Look for the tree's distinctive bell-shaped seed pods in the between-floor details on the Saks Fifth Avenue model.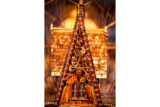 Ancient relatives of the honey-locust tree (Gleditsia triacanthos) evolved to grow large thorns to defend themselves against woolly mammoths and other Pleistocene-era megafauna. They also make excellent material for Holiday Train Show buildings, including roof details on the Marine Railway Station.