Breathtaking works of art that dazzle with color, light, and form—by day and night
Artworks by world-renowned artist Dale Chihuly will be on view at NYBG in his first major garden exhibition in New York in more than ten years. CHIHULY, presented by Bank of America, will showcase approximately 20 installations and include drawings and early works that reveal the evolution and development of Chihuly's artistic process during his celebrated career. Set within NYBG's landmark landscape and buildings, this sensory-filled exhibition is a must-see throughout the changing seasons from spring through fall.
The Garden's dramatic vistas become living canvases for work created specifically for NYBG, showcasing Chihuly's signature organic shapes in brilliant colors. Among the singular sights, a new monumental work inspired by his storied 1975 Artpark installation will enliven the water features of the Native Plant Garden and the Enid A. Haupt Conservatory Courtyard's Tropical Pool, reflecting the interplay and movement of color and light.
Special weekend celebrations, films, poetry, and fun-filled art programs for kids offer colorful and imaginative tributes to nature. On CHIHULY Nights, the exhibition is infused with a magical energy as the artworks are spectacularly illuminated amid NYBG's sweeping vistas and magnificent Conservatory.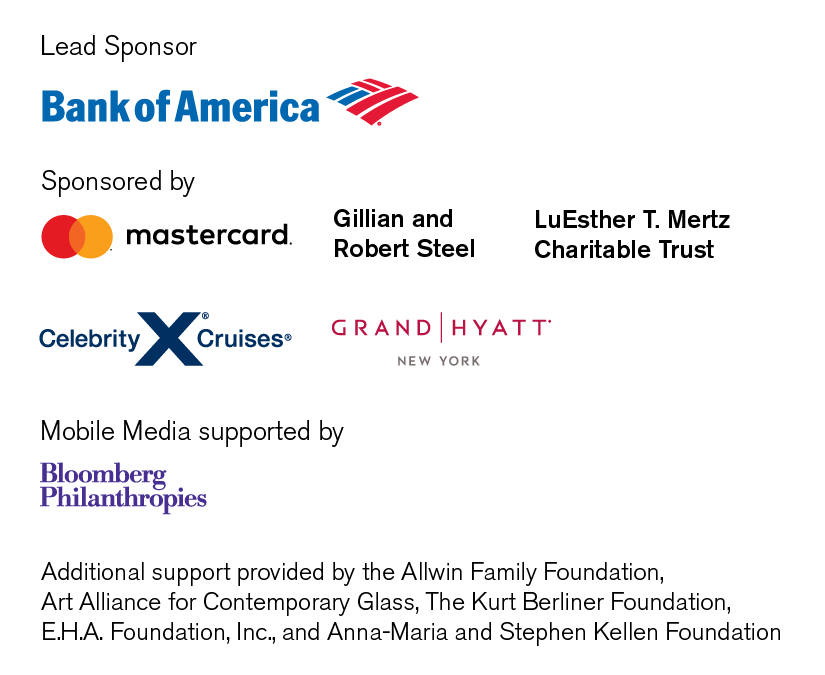 About the Exhibition
New Chihuly Installations throughout NYBG
Installations created specifically for NYBG will complement the Garden's landscape and architecture. The water features of the Native Plant Garden and the Enid A. Haupt Conservatory Courtyard's Tropical Pool will be the setting for dramatic installations inspired by Chihuly's early exploration of the contrast between glass and environment, resulting in a physical expression of light. Chihuly will be re-imagining his Artpark installation that he first created in the summer of 1975 when he was among nearly 40 artists invited to create temporary outdoor works in Lewiston, New York, near Niagara Falls. Chihuly will revisit this concept at NYBG, creating two new compositions drawing inspiration from the 1975 installation. The transition from day to night will provide a rare opportunity to view the effects of light as it passes through and illuminates these panels.
In an homage to the 2006 exhibition at NYBG, Chihuly's Blue Herons, originally in the Tropical Pool, will be showcased in a new display within the Haupt Conservatory, itself considered a work of glass art. These graceful forms will be one of many examples of Chihuly sculptures seen in within the grand architecture of the landmark Victorian-style glasshouse. Other sites for the artist's creations throughout NYBG's 250-acre National Historic Landmark landscape include the Lillian and Amy Goldman Fountain of Life, Leon Levy Visitor Center, and Arthur and Janet Ross Conifer Arboretum. These one-of-a-kind installations will highlight the connections of artwork to the natural world.
Chihuly Works on Paper and Early Works in the LuEsther T. Mertz Library Building
In the LuEsther T. Mertz Library's Art Gallery, visitors will see an exhibition of works on paper by Dale Chihuly alongside his early works. Drawing and painting on paper has been a consistent form of expression for the artist throughout his career. Beginning as a means of communication with his team and creative outlet, his drawings developed into a unique series.
Elsewhere in the Mertz Library Building, Chihuly will present a grouping of Fire Orange Baskets, graceful forms first developed in 1977, evoking Northwest Coast Indian baskets. Chihuly sought to replicate the effects of gravity, as it shapes and distorts the medium, creating uniquely asymmetrical artworks. These seemingly effortless sculptures first began in muted colors, typical to the Native American baskets after which they were named, gradually evolving in color and size. Chihuly continues to revisit this series and experiment with scale, color, and composition.
About the Artist
Dale Chihuly, an American artist, has mastered the translucent and transparent qualities of ice, water, glass and neon, to create works of art that transform the everyday experience. He is globally renowned for his ambitious site-specific installations in public spaces as well as exhibitions presented in museums and gardens worldwide.
Born in 1941 in Tacoma, Washington, Dale Chihuly was introduced to glass while studying interior design at the University of Washington. After graduating in 1965, Chihuly enrolled in the first glass program in the country, at the University of Wisconsin. He continued his studies at the Rhode Island School of Design (RISD), where he later established the glass program and taught for more than a decade.
In 1968, after receiving a Fulbright Fellowship, he went to work at the Venini glass factory in Venice. There he observed the team approach to blowing glass, which is critical to the way he works today. In 1971, Chihuly cofounded Pilchuck Glass School in Washington State. With this international glass center, Chihuly has led the avant-garde in the development of glass as a fine art.
Chihuly is globally renowned for his ambitious site-specific architectural installations in public spaces, and in exhibitions presented in more than 250 museums and gardens worldwide including the Metropolitan Museum of Art, the Smithsonian American Museum, and the Corning Museum of Glass. Major exhibitions include Chihuly Over Venice (1995–96); Chihuly in the Light of Jerusalem (1999); Garden Cycle (2001–present); de Young Museum in San Francisco (2008); the Museum of Fine Arts, Boston (2011); Virginia Museum of Fine Arts, Richmond (2012); and the Montreal Museum of Fine Arts, Montreal, Canada (2013). Chihuly Garden and Glass opened at Seattle Center in 2012. Chihuly's lifelong fascination with glasshouses has grown into a series of exhibitions within botanical settings.
For more information about Dale Chihuly and his art, please visit chihuly.com.
Benefits
Young Garden Circle Individual – $500
Art and garden enthusiasts, ages 21–40, who come together throughout the year for private viewings of exhibitions, educational programs, and social occasions.
Membership Benefits:
One complimentary ticket to each of the YGC Private Evenings
Invitation to purchase discounted tickets to the Winter Wonderland Ball, the Garden's annual holiday gala event in the beautiful Enid A. Haupt Conservatory
Special behind-the-scenes tours with curators and environmental scientists
Dedicated phone line to assist with tickets, parking, and events
Volunteer opportunities
Invitations to private evening receptions and the annual Andrew Carnegie Distinguished Lecture
Morning access to each exhibition during Muffins and Mimosas events
Complimentary reserved parking
Free admission for 6 adults and 6 children
Discounts on Adult Education courses
10% discount at NYBG Shop
Access to the Garden's Plant Information Hotline and Circulating Library
Acknowledgment in the Annual Report
Young Garden Circle Dual – $750
All the benefits of YGC Membership for two.
Antique Garden Furniture Fair Preview Party and Collectors' Plant Sale
April 28; 5:30 p.m.
Join the benefit that attracts over 600 guests to enjoy cocktails and preview the oldest and most beautiful collections of antique garden furniture and architectural artifacts in the country. The evening includes a Silent Auction with one-of-a-kind items and experiences, and a Collectors' Plant Sale that features rare and exotic plants. Special ticket required.

Sign up for Ticket Alerts.



Above images, left to right:
Macchia Forest, Dale Chihuly, The New York Botanical Garden, 2006
Yellow Boat, Walla Wallas, & Red Reeds, Dale Chihuly, The New York Botanical Garden, 2006