CHIHULY Opening Weekend Celebration: Earth Day and Research & Conservation Open House
April 22 & 23, 2017
10 a.m.–5 p.m.
CHIHULY opens with a colorful tribute to nature in the city's greatest natural landscape—celebrating Earth Day with outdoor events and a look into how NYBG is saving the plants of the world.
Earth Day Celebration
View glassworking demonstrations from local artisans, enjoy live music and DIY crafts, and join in a colorful procession of dance, drums, and stiltwalkers in celebration of Earth Day at the Garden.
DIY Craft – Streamers
11 a.m.–2 p.m.
Conservatory Lawn
Kids and families can make their own colorful streamers and join the Earth Day processions at 1 and 3 p.m. Materials available while supplies last.
Live Music & Lawn Games
12–5 p.m.
Conservatory Lawn
Moonshine Falls
A band that bridges the gap between traditional bluegrass and the New Blue movement, Moonshine Falls create a harmonious sound that is steeped in tradition without drowning in it.
Flame Work Demonstrations
12–4 p.m.
Conservatory Plaza and Visitor Center
Artists from UrbanGlass—a contemporary glass center in Brooklyn—demonstrate the fascinating art of melting and manipulating hot glass using a torch and flame.
Earth Day Procession
1 & 3 p.m.
Starts at the Native Plant Garden
Join this participatory parade throughout the Garden! Featured artists include:
FogoAzul, an all-women Brazilian drumline, leads the parade.
The Brooklyn Jumbies stilt walkers perform parts of Ocean(s) Blue, charting mankind's relationship with the ocean and the urgent need for collective transformation.
A giant inflatable 10' Earth Ball will be carried by the NYBG Explainers, a team of volunteer teen educators from the Children's Adventure Garden.
Alice Farley Dance adds a note of surrealist street theater with her bold and beautiful star horn dancers.
Lucrecia Novoa's Giant Monarch Butterfly Puppets join in to add even more color and life to the procession.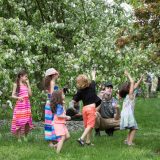 Research and Conservation Open House
Learn about NYBG's programs and facilities to explore, understand, document, and conserve Earth's plant and fungal diversity. Hands-on demonstrations in the Mertz Library Building let visitors learn what it is like to work in the field, while tours led by NYBG scientists introduce you to the Steere Herbarium and Pfizer Lab.
"Grass and Glass" Information and Demonstration Booths
11 a.m.–5 p.m.
Conservatory Lawn
Learn about NYBG's programs and facilities to explore, understand, document, and conserve Earth's plant and fungal diversity. Hands-on demonstrations at Conservatory Plaza allow visitors to learn what it is to work in the field. Visitors are also welcome to attend behind-the-scenes tours led by NYBG scientist of the Steere Herbarium and the Pfizer Lab.
Research & Conservation Information Booth
See critical components of a scientist's tool kit used on expeditions around the world. See stand-out examples of specimens collected in the field. Learn about some of the plants, such as grasses, that contain silica – the essence of glass.
Behind-the-Scenes Tours of the Plant Research Laboratory
11 a.m. & 2 p.m. 
Meet in the lobby of the Plant Research Laboratory
Walk through the Garden's state-of-the-art laboratory and meet some of the scientists who lead teams studying DNA and genomes in order to understand plants, fungi, and algae at their most essential levels.
Film Screenings: Look Who's Minding Our Planet
12 p.m.
Ross Hall
Filmmaker Sara Lukinson explores the visionary partnership between philanthropist Lewis Cullman and The New York Botanical Garden, which has resulted in a world-class plant research program.
Tours of What in the World is a Herbarium?
10 a.m.–5 p.m.
Herbarium Open House, 12–3 p.m.
Ross Gallery
After viewing the exhibit, come to the Herbarium to see how plant specimens are prepared and digitized and learn how they are used in research and conservation. You will see a wide variety of herbarium specimens, ranging from truffles to peanuts to palms. Herbarium staff will be on hand to provide interpretation and answer questions.
Space on tours is limited; first-come, first-served.