About CHIHULY
THE EXHIBITION IS NOW CLOSED
New CHIHULY Installations at NYBG
Installations created specifically for NYBG complement the Garden's landscape and architecture.
The water features in the Native Plant Garden and the Enid A. Haupt Conservatory Courtyard's Tropical Pool are the settings for dramatic new artworks inspired by Chihuly's Artpark installation in summer 1975. For Artpark, Chihuly collaborated with Seaver Leslie to create temporary outdoor works in Lewiston, New York, near Niagara Falls. Three new works—Koda studies—provide a rare opportunity to view the stunning effects of reflection and light created by these colored panels as day transitions to night.
In an homage to the 2006 exhibition at NYBG, Chihuly's Blue Herons, originally in the Tropical Pool, are showcased in a new display entitled Persian Pond and Fiori within the Haupt Conservatory, itself considered a work of glass art. These graceful forms are among many of Chihuly's artworks seen within the grand architecture of the landmark Victorian-style glasshouse, including White Tower with Fiori. Other sites featuring the artist's creations throughout NYBG's 250-acre National Historic Landmark landscape include the Lillian Goldman Fountain of Life with Blue Polyvitro Crystals, Leon Levy Visitor Center with three Chandeliers, and Arthur and Janet Ross Conifer Arboretum with Sapphire Star. These one-of-a-kind installations highlight the synergy between Chihuly's organic shapes and the natural environment.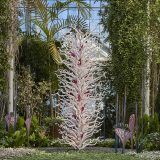 Chihuly's Early Works in the LuEsther T. Mertz Library Building
In the LuEsther T. Mertz Library's Art Gallery, visitors can see an exhibition of works on paper by Dale Chihuly alongside his early works.
Drawing and painting on paper has been a consistent form of expression for the artist throughout his career, both as a means of communicating with his team and as their own creative outlet. Elsewhere in the Mertz Library Building, Chihuly presents a grouping of Fire Orange Baskets, graceful forms first developed in 1977, evoking Northwest Native American baskets. He continues to explore this series and experiment with scale, color, and composition. Two acrylic paintings are also part of a display that includes Palazzo Ducale Tower, one of the most recognizable works from the monumental Chihuly Over Venice exhibition in 1996.
About Dale Chihuly
Dale Chihuly, an American artist, has mastered the translucent and transparent qualities of ice, water, glass, and neon, to create works of art that transform the everyday experience. He is globally renowned for his ambitious site-specific installations in public spaces as well as exhibitions presented in museums and gardens worldwide.
Born in 1941 in Tacoma, Washington, Chihuly was introduced to glass while studying interior design at the University of Washington. After graduating in 1965, Chihuly enrolled in the first glass program in the country, at the University of Wisconsin. He continued his studies at the Rhode Island School of Design (RISD), where he later established the glass program and taught for more than a decade. In 1968, after receiving a Fulbright Fellowship, he went to work at the Venini glass factory in Venice. There he observed the team approach to blowing glass, which is critical to the way he works today. In 1971, Chihuly cofounded Pilchuck Glass School in Washington State. With this international glass center, Chihuly has led the avant-garde in the development of glass as a fine art. Major exhibitions include Chihuly Over Venice (1996); Chihuly in the Light of Jerusalem (2000); Garden Cycle (2001-present); Chihuly at The New York Botanical Garden (2006); de Young Museum in San Francisco (2008); the Museum of Fine Arts, Boston (2011); Virginia Museum of Fine Arts, Richmond (2012); Montreal Museum of Fine Arts, Montreal, Canada (2013); and the Royal Ontario Museum, Ontario, Canada (2016). Chihuly Garden and Glass opened at Seattle Center in 2012. Chihuly's lifelong fascination with glasshouses has grown into a series of exhibitions within botanical settings. For more information about Dale Chihuly and his art, please visit chihuly.com.