CHIHULY Nights
Saturdays beginning April 29–June;
Thursdays, July–August;
Thursdays–Saturdays, September–October;
6:30–10:30 p.m.
On CHIHULY Nights, the exhibition is infused with a magical energy as the artworks are spectacularly illuminated amid NYBG's sweeping vistas and magnificent Conservatory. After sunset, the atmosphere is thrilling: experience the heightened drama and luminous quality of Dale Chihuly's colors and forms when lit under the evening sky. In the Visitor Center plaza, a rotating lineup of performing artists and musicians provides entertainment while you relax and enjoy shopping, food, and themed cocktails available for purchase.
Non-Member Adult $35, Child (ages 2-12) $15 / Member $25, (ages 2-12) Child $10 | GET YOUR TICKETS
Advance purchase recommended. Read on for tips to help you plan your visit.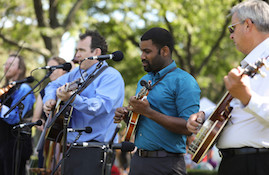 Performers
A rotating lineup of performing artists and musicians sets the stage for an entirely different CHIHULY experience.
More details coming soon.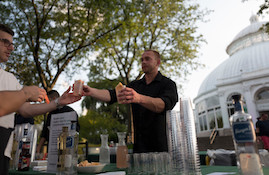 Festive Treats and Signature Drinks
Enjoy al fresco food, themed cocktails, and more for a perfect night out in every season.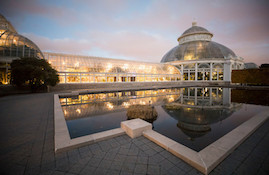 A Night at the Garden
A perfect night out with friends surrounded by the beauty of the Garden and a unique chance to see CHIHULY after-hours.

Tips for Your Visit
Special tickets must be purchased for CHIHULY Nights and are discounted for Members. Guest passes are not accepted. We strongly recommend reserving in advance, as sell out is likely.
CHIHULY Nights take place at night and darkness is required to fully enjoy the experience. Optimal viewing varies, but generally follows this monthly schedule: April: 8 p.m.; May, June, & July: 8:30 p.m.; August: 8 p.m.; September & October: 7 p.m. CHIHULY Nights take place from 6:30 to 10:30 p.m.; arrive at any time during this time range.
Plan for approximately two hours to experience CHIHULY Nights. Tram service does not operate at night. Wheelchairs are available on a first-come, first-served basis.
The Library Building is closed during CHIHULY Nights. Access to the Conservatory is granted on a space-available basis and there may be a wait on peak days.
About the Exhibition
New Chihuly Installations throughout NYBG
Installations created specifically for NYBG will complement the Garden's landscape and architecture. The water features of the Native Plant Garden and the Enid A. Haupt Conservatory Courtyard's Tropical Pool will be the setting for dramatic installations inspired by Chihuly's early exploration of the contrast between glass and environment, resulting in a physical expression of light. Chihuly will be re-imagining his Artpark installation that he first created in the summer of 1975 when he was among nearly 40 artists invited to create temporary outdoor works in Lewiston, New York, near Niagara Falls. Chihuly will revisit this concept at NYBG, creating two new compositions drawing inspiration from the 1975 installation. The transition from day to night will provide a rare opportunity to view the effects of light as it passes through and illuminates these panels.
In an homage to the 2006 exhibition at NYBG, Chihuly's Blue Herons, originally in the Tropical Pool, will be showcased in a new display within the Haupt Conservatory, itself considered a work of glass art. These graceful forms will be one of many examples of Chihuly sculptures seen in within the grand architecture of the landmark Victorian-style glasshouse. Other sites for the artist's creations throughout NYBG's 250-acre National Historic Landmark landscape include the Lillian and Amy Goldman Fountain of Life, Leon Levy Visitor Center, and Arthur and Janet Ross Conifer Arboretum. These one-of-a-kind installations will highlight the connections of artwork to the natural world.
Chihuly Works on Paper and Early Works in the LuEsther T. Mertz Library Building
In the LuEsther T. Mertz Library's Art Gallery, visitors will see an exhibition of works on paper by Dale Chihuly alongside his early works. Drawing and painting on paper has been a consistent form of expression for the artist throughout his career. Beginning as a means of communication with his team and creative outlet, his drawings developed into a unique series.
Elsewhere in the Mertz Library Building, Chihuly will present a grouping of Fire Orange Baskets, graceful forms first developed in 1977, evoking Northwest Coast Indian baskets. Chihuly sought to replicate the effects of gravity, as it shapes and distorts the medium, creating uniquely asymmetrical artworks. These seemingly effortless sculptures first began in muted colors, typical to the Native American baskets after which they were named, gradually evolving in color and size. Chihuly continues to revisit this series and experiment with scale, color, and composition.
About the Artist
Dale Chihuly, an American artist, has mastered the translucent and transparent qualities of ice, water, glass and neon, to create works of art that transform the everyday experience. He is globally renowned for his ambitious site-specific installations in public spaces as well as exhibitions presented in museums and gardens worldwide.
Born in 1941 in Tacoma, Washington, Dale Chihuly was introduced to glass while studying interior design at the University of Washington. After graduating in 1965, Chihuly enrolled in the first glass program in the country, at the University of Wisconsin. He continued his studies at the Rhode Island School of Design (RISD), where he later established the glass program and taught for more than a decade.
In 1968, after receiving a Fulbright Fellowship, he went to work at the Venini glass factory in Venice. There he observed the team approach to blowing glass, which is critical to the way he works today. In 1971, Chihuly cofounded Pilchuck Glass School in Washington State. With this international glass center, Chihuly has led the avant-garde in the development of glass as a fine art.
Chihuly is globally renowned for his ambitious site-specific architectural installations in public spaces, and in exhibitions presented in more than 250 museums and gardens worldwide including the Metropolitan Museum of Art, the Smithsonian American Museum, and the Corning Museum of Glass. Major exhibitions include Chihuly Over Venice (1995–96); Chihuly in the Light of Jerusalem (1999); Garden Cycle (2001–present); de Young Museum in San Francisco (2008); the Museum of Fine Arts, Boston (2011); Virginia Museum of Fine Arts, Richmond (2012); and the Montreal Museum of Fine Arts, Montreal, Canada (2013). Chihuly Garden and Glass opened at Seattle Center in 2012. Chihuly's lifelong fascination with glasshouses has grown into a series of exhibitions within botanical settings.
For more information about Dale Chihuly and his art, please visit chihuly.com.
LGBT @ NYBG
NYBG is a member of NGLCCNY and proud to partner with them and the Loft for the LGBT @ NYBG series. LGBT @ NYBG is an initiative that hosts events throughout the year to celebrate the LGBT community. Stay tuned for upcoming events during CHIHULY.
Program Partners: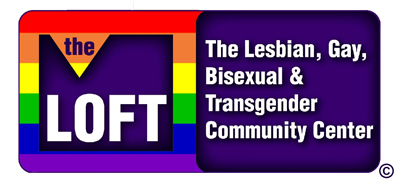 Festive Treats and Signature Drinks
Drink Special for Friday, December 16 & Saturday, December 17:

The Nutcracker
Hazelnut liqueur
Vodka
Ginger ale
Lemon juice

STREET PERFORMERS
An unforgettable part of New York City culture, experience the exciting art of these talented performers.
Street Dancing
November 19 & 26; December 2, 3, 16, 17, 23, & 30
In the Visitor Center
Energetic and inspiring, the Cartier Williams Dance Theatre performs original works that are a unique blend of tap, hip-hop and classical dance. Founder Cartier Williams has danced for Presidents, performed on The Oprah Winfrey Show, Good Morning America, and the Tonight Show, and has shared the stage with tap legends Gregory Hines and Savion Glover. cartierwilliams.com/
Stilt Walking and Buugeng
Ongoing
Along Perennial Garden Way and in Conservatory Tent
Be transported to a magical snow kingdom as a stilt-walking snow queen strolls among you, and become entranced by the buugeng, an LED spectacle.
Ice Sculpting Demonstration
Ongoing
In the Visitor Center
Expert ice carvers from Okamoto Studio take ordinary blocks of ice and transform them into holiday works of art right before your eyes. okamotostudionyc.com/
LIVE MUSIC
The Pine Tree Café hosts a rotating lineup of musicians.
The Lovesome
November 19; December 2, 16, 23 & 30; and January 7
Upscale and always tasteful, The Lovesome performs soulful Jazz and vintage R&B from the '40s to the '70s in a classic, effervescent style. Anchored by the lush vocals of Kelsey Jillette, the group plays songs made famous by Ray Charles, Patsy Cline, Elvis Presley, Etta James, and Frank Sinatra (to name but a few) in a romantic, danceable, and engaging style. thelovesome.com
The Smoke Rings
November 26; December 3 & 17, 2016
The Smoke Rings evoke the elegance and charm of the Swing Era. Anchored by the unique vocals of Sarah King, the group specializes in songs from The Great American Song Book. The rhythm section is comprised of Alex Levin (piano), Scott Ritchie (bass), and Ben Cliness (drums). thesmokerings.com
Love, Charley
January 14, 2017
The Gilded Age—the era of Gatsby, flappers, speakeasies, and fun—inspires Love, Charley, New York City's romantic jazz and swing band. Be transported back in time to the era when dance music crackled on gramophones and the radio, and New York was a hotbed of jazz. Centered around the lush vocals and ukulele of Martina, Love, Charley sparkles with champagne melodies and dance rhythms. lovecharleynyc.com
Upgrade Your Bar Car Night Experience with the Young Garden Circle Lounge
December 16 & January 7
$100 per person | Get Tickets | Become a YGC Member
Experience Bar Car Nights like a VIP with your own private entrance to the Conservatory featuring skip-the-line access. Also enjoy an open bar featuring beer, wine, and a specialty cocktail, and light bites in an exclusive space in the Conservatory. The Young Garden Circle Lounge is brought to you by the Young Garden Circle, a community of art and garden enthusiasts ages 21-40. Join today and gain complimentary admission to the Young Garden Circle Lounge during both evenings, in addition to many other events hosted throughout the year and special member benefits. Learn more about the Young Garden Circle.